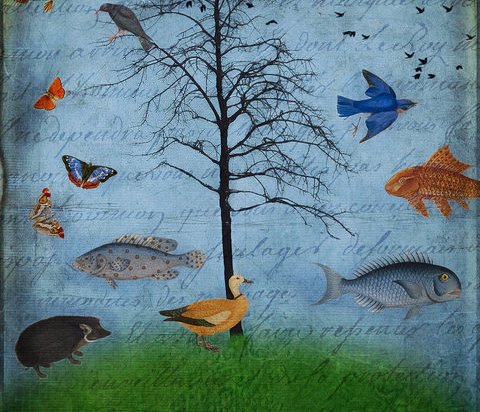 For many of us, it was fiction that fed our souls as children, and now as adults who are still 'growing up', it feeds us still. Fiction makes, remakes and unmakes us who walk in worlds of the imagination. It liberates us to dream various versions of ourselves and others into being as the articles in this month's In Plainspeak eloquently reveal.
Shohini Ghosh talks with Radhika Chandiramani about how books and comics were her entry into other worlds of being and about how it is the telling of the tale that makes a good story. But, as Shweta Krishnan insightfully reflects in the Issue in Focus, we also see that this telling is often circumscribed in feminist circles and we risk losing many a story to thought censorship and the boundedness of politically correct language.
Luckily, many of us manage to shake off these sorts of fetters when it comes to our choice of partners in fiction (if not in bed) and we follow our fictional fancies to where they may lead us in our quest to sometimes simply escape the humdrumness of daily life and sometimes to serendipitously arrive at that sacred space where we cease to be of this world and instead, inhabit other ones. Fiction allows us to make ourselves as we will be. In this making of us, as sexual beings who love, lust, and blunder along, Shikha Aleya poignantly asks in the I Column: Does fiction birth reality?
What is fiction? What is reality? Is all fiction unreal? Is truth told in objective facts? Maybe the telling of some truths is best conveyed through fiction as Kaustav Bakshi's review of Siraj's book Māyā Mridanga has us see.
Plus, there's more. Swati Vijaya critiques two erotic stories from Aranyani's collection of erotica. We have a list of feminist science fiction in the Books Corner and you can take a look at Priyanka Paul's re-imagining of goddesses as modern day feminists in Brushstrokes. In the Video page we have a lovely film that even if you have seen, is well-worth watching again, Sita Sings the Blues, and in the Bollywood Corner we get some rarely seen glimpses of woman power in vintage movies. In the TARSHI corner we have a campaign on Comprehensive Sexuality Education – CSE in the Classroom – that we are running with Feminism in India, that highlights that it is a fiction that young people do not need sexuality education.
In the Mid-month Issue…

We see what may happen when fiction crosses over into 'real' life with Asmi's piece on being a Gorean 'slave'. The Blogroll carries Manjula Padmanabhan's ironic take on fairy tales, Devdutt Patnaik's queering of stories from Indian mythology, an article on Urdu short stories about women and marriage, and an essay on the iconic Amrita Pritam in English and in Hindi ­­(they are somewhat different, so bi-lingual interested readers can read both). And to top it all, a must-watch lovely short film, In a Heartbeat that really tugs at the heartstrings!
It's a truly eclectic collection, as it should be – it's Fiction and Sexuality, after all!
Enjoy reading!

Cover Image: (CC BY 2.0)