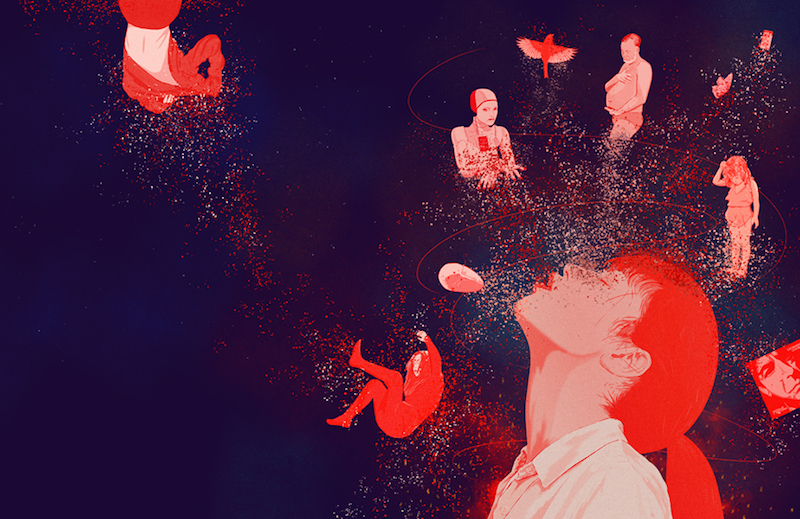 "Feminism without borders is not the same as "border-less" feminism. It acknowledges the fault lines, conflicts, differences, fears, and containment that borders represent. It acknowledges that there is no one sense of a border, that the lines between and through nations, races, classes, sexualities, religions, and disabilities, are real – and that a feminism without borders must envision change and social justice work across these lines of demarcation and division."

– Chandra Talpade Mohanty, Feminism Without Borders
The boundaries are the most interesting bits. No definitions can be identified without them, and yet they themselves remain in a state of flux – neither here nor there, neither this nor that, but both, all, nothing, and so much more. None can stake their claim on the borderland; it is unseizable, enigmatic, most ungraspable. In its ambiguity it has the power to comfort the outlier at its best, and at its worst, leave bereft those who seek refuge in the absolute.
Drawing lines, however, can be useful tools in defining ideas; boundaries of personal space help keep us secure from unwanted advances, boundaries of privacy help cultivate our creativity and thought, boundaries of age aid us in determining the right kind of nourishment to give young ones or the attention and care to give to those who are ageing.
There are also times when boundaries can limit us; discrimination can turn into discrimination against, and the lines that helped us mark meaning in our world can hinder accessibility, opportunity, and growth. In Plainspeak's April issues examine boundaries both real and imagined in their influence on sexuality.
Our contributors this month each interpret the intersection of boundaries with sexuality in their own interesting ways. Shweta Krishnan gives us an overview of what it can mean to draw boundaries in matters of gender and sexuality (and we know how tightly bound in barbed wire those boundaries are) and yet remain kind enough to acknowledge that transgressions come with the package. Shikha Aleya carries her piece in the same vein as she explores how boundaries in our sexual expression and freedom can be defined.
A guest writer talks about the lessons she learnt about drawing boundaries from the sexual abuse she experienced as a child, and Divya Swaminathan's review of Nishit Saran's evocative personal documentary film, Summer in My Veins (1999) recognises how crossing boundaries can liberate us, bringing us closer to ourselves and the ones we love.
The Brushstrokes section features the illustrated story of the badass, one-eyed Queen Amanirenas of the ancient kingdom of Kush (now Sudan) and her defence of the boundaries of her kingdom, and the Video Page is a refreshing ad film of an archaically sexist brand undertaking an image makeover in all the right ways.
Dipika's Srivastava's article in the Hindi section on the issues of 'NRI brides' is a repost worth revisiting from one of our 2016 issues.
In the mid-month issue, Tanisha Chadha interviews psychoanalytic psychotherapist Neetu Sarin on boundaries and sexuality in her practice, while lawyer-in-the-making Nikita Garg wonders what secret reasons there could be for why her high-standing colleague believe that law isn't a profession for women. The Brushstrokes section complements Nikita's line of thinking with an artist's take on 26 things we need to stop telling young women.
Surbhi Dewan writes on how she doesn't let sexist ideas about her gender get in the way of her connections with the world. Also making connections with the world dispelling harmful stereotypes about Muslim women of colour are these talented ladies who know how to keeping swagging their hijabs in the Video Page of this issue.
The Featured Video (you'll find it in the magazine's right-hand column) is a brilliant and funny short film starring celebrated actors Jackie Shroff and Neena Gupta who play a long-married couple who stumble upon a way to reignite their sexual spark.
In the Blog Roll are articles curated from the Web about Sudhir Kakar's explanation of how 'the land of the Kamasutra' moved towards sexual repression, female camaraderie in the world of bonobos, a mother's account of what she did when her 12-year-old asked her what oral sex is, and Devdutt Pattanaik's take on the boundary between a female yogi and an erotic witch(!)
We return next month with two new issues on the theme of Money and Sexuality.
Until then, happy reading!
The TARSHI Team
---
Cover image courtesy of The Gaysi Zine, from their latest issue.