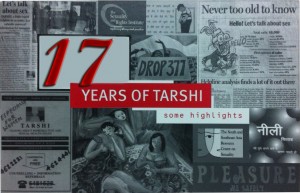 Greetings from TARSHI!
We are very pleased to bring to you the first issue of In Plainspeak, our new monthly blog. Taking off from TARSHI's seventeen plus years of work in sexual and reproductive health and rights, our blog is an attempt to engage extensively and constructively with many issues, age-old and emerging – issues that deserve our attention, warrant our opinions and will, hopefully, inspire much debate and argument.  As the name suggests, we aim to converse with you simply (but not simplistically) about the many issues that shape our understanding of what sexuality is, how we define it, how we live it and how we challenge and subvert societal definitions of sexuality.
Our blog will feature a different theme every month. For our inaugural issue this December 2013, the theme is Sexual Rights. We know that sexuality is a deeply contested field, a hotbed of ideas and opinions, arguments and challenges, questions and sensitivities. TARSHI's work has made it imperative for us to make sexuality from a rights-based perspective more visible in the public domain. This blog is an attempt to do just that. Bringing voices from across the Global South– voices young and old, straight and queer, local and foreign – we hope to challenge myths and misconceptions and raise many more questions on the manifold complexities of sexuality.
The fight for sexual rights has been fought for long, and continues to be fought across geographical boundaries. In India, as we await the Supreme Court's Judgment on the Delhi High Court's reading down of the draconian Article 377, a discussion on the universality of sexual rights becomes immensely topical. We hope that the voices featured in our blog will help draw a much needed focus on the fight for freedom from patriarchal constraints and gendered shackles.
This issue features Radhika Chandiramani's acute observations on our theme for this month, Sexual Rights in the Issue in Focus section. Nikzad Zangeneh's personal musings in the I column gives us a glimpse of the realities of gender and sexuality in Iran, while Jasmine George's exquisite art work makes us confront the pressures we allow society's gaze to impose upon us, sometimes even at the expense of losing much of ourselves in the process. In our Reel Review section, we see Parigya Sharma's critique of last year's film, The Sessions, an attempt to stir discussion around the oft ignored aspects of disability and sexuality, with the aim of affirming the universality and inclusivity of sexual rights. Using her camera lens to peer into the deep crevices of society, Oindrila Duttagupta critiques the obligatory demands that marriage sometimes makes on a woman's body and her desires in our Brushstrokes section. Mad Momma's Review of TARSHI's 'TheYellow Book' gives an interesting insight into the book's refreshing take on that elephant in the room – sexuality education! Finally, we have a thought provoking and inspiring interview with noted HIV and sexual rights activist Anjali Gopalan in our Interview section and Anisha Dutt's stirring poem in the Voices section rounding off this first issue of In Plainspeak.
In Plainspeak also has a Hindi section, that is still being developed, where we have an excerpt on sexual rights updated and retyped by Dipika Srivastava from the Common Ground: Principles for Working on Sexuality, 2001.
We are extremely grateful to all our contributors for sharing their thoughts, writing and valued art with us. We acknowledge that there could be opinions widely different to ours and we hope that In Plainspeak will provide the platform to engage with diverse viewpoints and further help develop our own understanding of sexuality and sexual rights.
Happy Reading!
The TARSHI Team