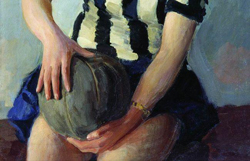 Sports and Sexuality: many who hear the two terms together wonder how they are connected and what sexuality has got to do with sports? But when we explore this month's issue we will not only see the direct co-relation between the two, but also see they have evolved over time, historically, socially and politically.
The level of performance for a particular gender in sports is measured on the basis of prescribed guidelines. Anything above or below it, is scrutinized and mostly admonished for being an 'abnormality' or an 'inadequacy'. In this issue we explore how gender roles and sexuality play out in the rules specifically prescribed for sports.
What happens when a person who recognizes herself as a woman doesn't fit into the 'prescribed' category for a 'woman'? The field of sports being a reflection of society at large, she would probably face violence and discrimination. As mentioned in the Issue in Focus, 'the realm of sports is a dynamic social space, where social identities are constantly constructed and experienced through the bodies of the performing athletes'. These bodies are limited to the 'male' and 'female' and their 'performance' is gauged by certain set standards. But what about sports people of other genders? What about people who consider themselves a certain gender but their 'performance' cannot be understood in the given parameters of that defined gender? Who is 'allowed' to play a certain sport? What is healthy competition? How do you determine a person's gender and deem them 'unfit' to participate?
Shweta Krishnan's article in the Issue in Focus looks at how sports have been historically dominated by men, and have developed into 'masculine' spaces, that marginalise women, and even men, who don't fit the bill for the 'ideal athlete.' In the I-column Supriya Subramani explores similar themes through her personal experiences, and asks if women are forced to 'act like men' is sports spaces.
In the Interview section, Dr. Payoshni Mitra shares with us her experience working as a researcher and activist in the area of Gender Issues in Sports. She explores grey areas in 'gender testing' and it's implications for athletes.
Jaya Tiwari has written about the Goal Programme of the Naz Foundation and how young girls learn about gender and sexuality through playing sports and Aditi Rajgopal has written about her first hand experience of playing Squash and Tennis at the school level as a teenager in the UK in the Voices Section.
In the Hindi Section, Jyoti Bajpai and Sunita Kumari from CREA have written about the 'It's my Body' programme and how young girls in Jharkhand, Bihar and Uttar Pradesh have learnt about issues around sexuality playing sports.
Debanuj Dasgupta has a reel review of the film, Bend it Like Beckham, about a young British Indian woman's journey of playing football while her gender and national identities are constantly challenged by her family's 'traditional' Indian family values.
Women have historically participated in sports, but men's sports have often rendered them invisible. Brushstrokes unearths art work – murals and paintings – that show women engaging in sporting activities over time.
The FAQs section has basic information on Sexual and Gender Identities. The innovations corner highlights some sports programmes as a vehicle for social change.
The Food Corner has some mouth-watering dishes from all over the world that one can munch on while they watch their favorite sport!
On a different note, to mark Teachers' Day in India on September 5th we feature 'The Orange Book', a workbook to help teachers conduct comprehensive sexuality education with confidence and ease at TARSHI's Corner.
As always, we'll have more content in the blog roll section on the 15th of the month so do come back to read articles sourced from other blogs and some new content.