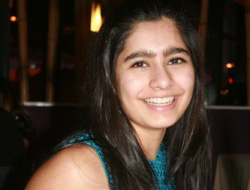 When I first read the title of the September issue – Sports and Sexuality – I was a little taken aback: what could I write about? My first thoughts were how are sports and sexuality related? And to further the confusion, how would I, a 16 year old find anything interesting to write about? To try and make things clear I decided to look towards my trusty counsellor: Google! However after using the search engine, I was still in despair. Therefore after some time I came to the conclusion that the only way I would be able to write this post would be to write something about how I feel about sports and the experiences I have faced – and some which I have not – in the UK.
Sports has always been a passion of mine. I love the competition it brings, inviting adrenaline and excitement. And let's not forget the relaxed feeling one gets after exercise, sprawled on a sofa with a cooled drink – ice clinking against the glass – and your muscles sighing happily. Furthermore,I believe that sports gives us a purpose in life: we learn to control our nerves; formulate tactical plans and learn from our mistakes. Sports help us to grow.
My parents are both very active and strongly believe that sports help you to develop both mentally and physically. Therefore it was no surprise that at the age of six I was told to decide on a sport I would like to pursue as a hobby. This was by no means an easy feat as I was restricted to choosing a sport which is do-able in the British weather – trust me, this factor reduced the number of options open to me severely! I eventually decided on tennis. Aside from the possibility of playing it indoors, I found it fun and somewhat natural due to my good hand-eye coordination skills.
I can now say that my favourite sport is tennis. However, before I begin on my ramble into sports, let me state that I am by no means a world ranked, mind-blowing, future Wimbledon champion. Rather I enjoy it as a means of socialising and relaxing and would like to share with you the joys of tennis and my experiences with it in the UK as a second generation Indian.
Despite some Bollywood films depicting racism within sports (the first that come to mind are Patiala House and Goal), I think that asfar as my experiences go,this is far from the truth. I used to play competitions and I have never encountered a player who has made a hurtful remark towards me due to my origins. In fact, whilst I have been playing in the club league many people have actually complimented me: 'Aditi? What a beautiful name – is it Indian?'  Accepting their kind words happily, I always beam and nod my head. Yes, I must confess, there have been infuriating times when people seem unable to grasp my name and, what should be a 2-second introduction turns into 3 minutes; filled with blank looks and me having to repeat my name an endless number of times. But, this doesn't really bother me as once the match has begun, few words are spoken and instead every ounce of concentration is focused on winning. I find that sports are universal and 'multi-lingual,' not limited to a certain country.
For the past two years I have had the good fortune to go to Wimbledon, spending the day drowning in strawberries and cream and watching countless matches. I always enjoy going there as the atmosphere is one of pleasantness and calm, allowing one to really get absorbed into the game. What I also love about Wimbledon is the attitude that the public have towards the players– yes, there is often a favourite – but no player is ever booed or made to feel unwelcome. One is not judged on race, sexual orientation or appearance, but rather on the quality of their game. Watching Leander Paes – a fellow Indian – playing doubles with Radek Stepanek inspired me; seeing Rodger Federer made me swoon; and watching junior Wimbledon champions left me filled with utter amazement. It was a fantastic experience and it made me strive to improve my game and vow to play more regularly after being reminded of the beauty of tennis.
In the UK I have not come across anyone who has felt like they are being discriminated against in a sport – I certainly have not. Sure, there have been times in school when heated debates have taken place since the girls' main sports are hockey and netball whereas the boys' are football and rugby. However, after months of complaining, a girl's cricket team has been introduced and we have a thriving boy's hockey team. Therefore my experiences with sports in the UK have thankfully been free from any sexism.
Tennis per se is not really a 'men's' or 'women's' sport and therefore I think that is one of the reasons why I feel like it doesn't invite sexist attitudes as frequently as do other sports. In fact, I have lessons with boys, meaning that I am subject to the same exercises and competition as them, proving that I am thought equal to them. (However, that is not meaning to say that there haven't been incidents where I have managed to 'be excused' from the remaining 30 seconds of some horrendous workout due to my being the only girl in my group and therefore special!) We play mixed doubles, which I think helps team building and allows you to develop a friendship: it is surprisingly easy to bond with someone after you have had the joy of sharing the victory of annihilating the opponent!
Last year I discovered the Club League and have loved participating in the matches. Tennis aside, I have enjoyed meeting new people, and despite many of them being older than me, I like chatting to them after the matches and gossiping about various difficult opponents. Playing in the matches is also exciting as I often play doubles with a new partner; therefore each match is a new experience and allows me to learn about how different people cope with the stress of losing and the confidence one gains when we are in the lead.
I know that this blog post is not an inspiring story of how I have managed to nurture my skills and become a Top 10 world tennis player despite being exposed to sexism and racism; simply put, this is because I have not had one negative experience playing sports with regard to my background. I have however, tried to fill this post with praise for sports in order to try and encourage the 'sofa sitting' inclined people to take up a sport. Fingers crossed, it will be successful in doing so!