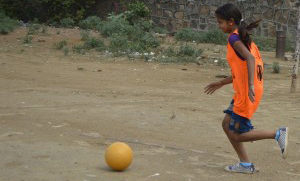 Bare feet, dry brown hair, shabby clothes, a girl not older than 12 years stared out from her terrace at a few other girls playing Netball on the ground below. This was a daily happening. The group playing together, the silent observer alone. Until one day, after about a month, the silent one approached me and asked if she could also play. I said yes and told her that this program, the Goal Program of Naz Foundation, is for any girl in the community who is over 12 years old. This is how Seema plucked up the courage to take a decision that changed her life, simply by joining a group of netball players on the grounds of Aali Vihar Barat Ghar.
Prior to joining the Goal Program, Seema was facing great difficulties trying to get admission to a school, having recently migrated with her family to India's capital city, New Delhi. Eventually she found her way to enrolment at a nearby municipal school.
Through this program she played Netball at the school zonal level for two years at Sarvodya Kanya Vidyalaya school. She also became the captain of the Aali Vihar Netball team. Seema's story is typical of girls who enroll themselves in the Goal program of Naz Foundation India, which was started in 2006. This program running in Delhi, Mumbai and Chennai in strategic partnership with Netball Australia uses sports, specifically netball, as an entry point to deliver life skills education and work with young girls from socio-economically underprivileged backgrounds on issues of self-image, social inclusion and personal and economic development.
According to the WHO, 36 million people have died of HIV since the epidemic began. In 2012, around 1.6 million people died due to AIDS related illnesses across the world. As per NACO (National AIDS Control Organisation) data in their annual report for 2010-11, about 23.9 lakh (2.39 million) people were living with HIV/AIDS in India in 2008-2009. When India saw its first case of HIV in 1986, few people thought that this would become such a major threat and an issue of deep concern in the coming years.
Lack of awareness and carelessness may be considered as among the major reasons behind the rising number of HIV and AIDS cases. Many people never get the HIV test done. Those who are found HIV positive are often too afraid and nervous to talk about it. As a result, their sexual partners become vulnerable to the transmission of the virus.
Naz Foundation successfully uses the Goal program as a communication and change strategy for vulnerable girls between the ages of 12 to 19 years. The opportunity to come together as a group, with peers, sharing the same concerns and emerging from the same socio-cultural milieu, becomes a critical catalytic element that enables the girls in the program to safely explore issues and questions that are otherwise lost in the realm of stigma and silence. For a majority of them, the Goal program provides the first space they have ever known where they can identify and articulate their own concerns about their lives, the gender roles playing out around them and in their homes, and tackle questions of a future, of independence and the challenges each must face ahead.
We used netball as it is a team sport. It needs minimum resources, is cheap and requires the team players to interact with each other thus providing peer support under guidance. The Goal Program has benefited around 10,000 young girls so far.
The program takes a rights based approach and has four main areas of focus aiming at holistic development. Participants are introduced to the concept of rights and learn that it is ok to say 'no' when they are uncomfortable with something being asked of them or imposed upon them. The program integrates a course on health and hygiene. Participants also learn and reflect upon various environment and social issues. The financial equity segment of the course is the last leg of this learning journey and teaches the girls about financial independence and budgeting.
The Goal program has women coaches, and this helps the girls feel comfortable, increases their confidence during the process of change and inspires them. Participants look up to their coaches as role models and many aspire to become coaches themselves one day.
The girls who are 18 years of age and above have an option of becoming coaches and trainers at the foundation. They deliver their services two hours every week and get a stipend in return. Currently, Goal has 37 such young women who are interning as Community Sports Coaches.
The biggest challenge faced while implementing the Goal program is to convince the families of the girls.  The majority of these families are from economically weak backgrounds and the socio-cultural environment within which they define their roles and aspirations suffers great gender inequity and stereotyping. A sport is considered a luxury and many parents believe that while it may be fine and 'natural' for boys to engage in sporting activities, if the girls play a sport, they will end up compromising on their studies and their household responsibilities. Thus the implementation of the program requires program teams to strategically involve families and communities in a process that aims to change attitudes as well as expectations.
The Goal program has had a visible impact on the girls enrolled in it. Their body language has improved and they have become more confident and healthy, both physically and mentally. Attitudes and mind-sets have been transformed. Initially, many girls in our sessions had dropped out of school. However, some of the participants of the Goal Program enrolled in school again. In most of the communities Naz reaches out to, girls get married soon after they leave school. However, many of our players had the courage to convince their families to let them study or get jobs before marriage.  The Goal program is a Standard Chartered Community Investment initiative, and has a strong focus on financial literacy. Prior to Goal, many girls hadn't been inside a bank, let alone to an ATM. As a result of participating in the program they understand the importance of being financially independent and having one's own bank account.
Most significantly, the once taboo subject of sexual health has become something that is now discussed openly and often during the team meetings and training sessions.
According to Laxmi a Community Sports Coach in the program, playing a team sport has changed her. She began by playing for the fun of it. Being part of a team improved her confidence and self esteem. Her protective family initially objected to her taking up a sport but when her team started competing in tournaments and winning them, they came around. As a coach, Lakshmi talks to players about a variety of issues related to their self-image, bodies and sexuality. In the beginning the girls feel shy talking about subjects such as menstruation and safe sex. Then they see the comfort and ease with which Laxmi speaks of these things and they loosen up very quickly. Lakshmi was chosen to go to Amsterdam for a leadership conference in 2014 and she embraced this opportunity, a milestone in her personal history. For a young girl who was protected and closeted from social and public interactions before the Goal program, this is symbolic of the long distance she and many others like her have already travelled on a brave journey of change.
[With writing inputs from Shikha Aleya]
Pic Source:  The Goal Program of Naz Foundation
इस लेख को हिंदी में पढ़ने के लिए यहाँ क्लिक करें।