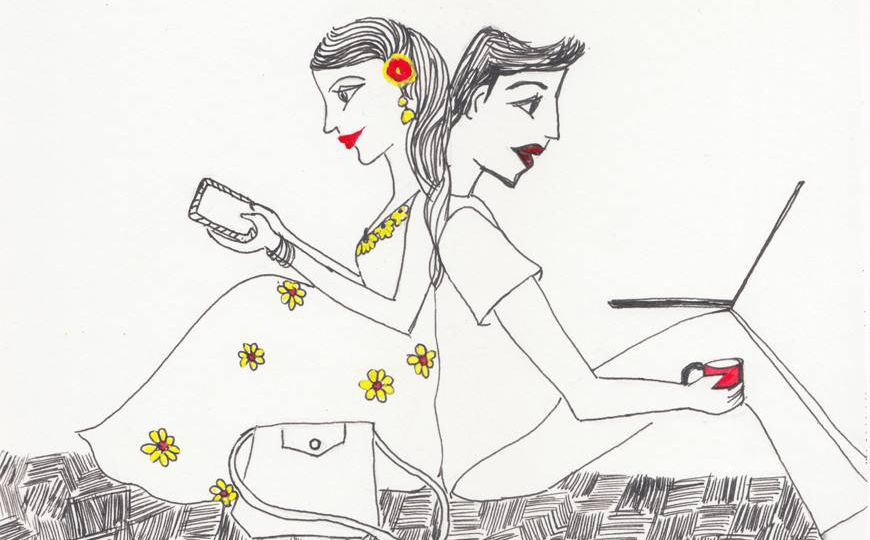 Generations come and go but the quest for love remains eternal.
In the early 2000s, most of us millennials were getting our first email accounts. By 2004, Orkut, a now defunct social networking site, had come up. It was exhilarating to connect with all of one's crushes, old and new, from behind the security of a computer screen. As an awkward twenty-something, I had no courage to articulate my feelings of attraction face-to-face.
I had used Orkut to hunt down a college crush. He had responded, and within a short time I found myself in the throes of an online liaison. We exchanged emails, and the entire romance played out chatting over Gmail. We were friendly, flirtatious, and I was completely in love.
There was just one problem – I was the only one feeling any of it! Something I only realised the moment it all blew up in my face. I had spent an inordinate amount of emotional energy on loving, flirtatious chats and was heartbroken when he shared his view of what was going on. Clearly, we were operating on different planes.
No, reader, I don't think he did anything wrong. What I did realise, though, was that chatting online meant I had no information about someone's tone of voice or body language and, therefore, intent. When we meet someone, a lot of information we collect about them to make decisions about what they're communicating to us is subconscious. Online meetings, therefore, don't tell us much. I had grossly misread our fateful online rendezvous, and this experience purged online chatting from me for good.
Until, many years later, I tried reluctantly to date online.
By my early thirties, I was extremely lonely. I had no social life to talk about and there was overwhelming pressure from parents and older relatives to get married. Arranged marriage was not an option for me, and so, exasperated and prodded on by a few loving friends, I half-heartedly decided to try my luck online. I just wanted to meet people and did not take this on thinking that I would 'meet the one' and get married. It is fair to say, I was a skeptic before I started.
My online dating lifetime lasted exactly a year on two paid (Match and eHarmony) and one unpaid (OkCupid) site, and here is what I learnt from the experience:
The setup
Once I decided to go online, I had to carefully create a profile. I spent a fair amount of time picking out my 'best' pictures but struggled to write the introductory paragraph. Then, I selected specific parameters to customise potential matches for myself, and the whole thing was set up. In theory, they are three easy steps; in practice, it was scary to put oneself 'out there', to be judged.
I got very little attention. Very few clicks or messages. I had done my best with the pictures so I tinkered with what I wrote about myself. Overall, nothing really changed. Every day, I would receive a list of potential matches. Every evening I would scout through them and send out an online wink or, in some cases, write a little message.
One of the things I noticed while gazing at profiles was how similar they all were. If I had no pictures to go by, the introductory content was pretty much the same. Everyone was into eating right, exercising right, traveling right, having fun right and being passionate about their work. Perhaps there is only so much we can write about ourselves and in only so many words on dating portals. Frankly, after reading a handful of profiles, it's a rather tiresome process to go through all of them.
It is therefore my belief that the principal differentiator between profiles are the pictures. And as an insightful New York Times article points out, "Women who flirt or show cleavage are quite successful," and "Men who look away and don't smile do better than those who do". I can vouch for the women bit. A little curious as to why my profile attracted such little attention, I logged in by creating a fake male profile. What I saw was fairly flirty pictures of well-groomed women and loads of cleavage.
I understood two things from this undercover exercise: women my age wear a lot of makeup, and, for sure, my pictures online were far too boring compared to the average set. I had definitely got this wrong.
Marriage and morality
There was no dearth of married men reaching out to me on online dating sites. Of these, there were two categories: men in open marriages, and men just "looking to take you out for dinner" and whose wives had no clue (or so I assume). And though it offended me in the beginning, with time I did realise I had to give them credit for being upfront about their marital status. From their perspective it was fair game – the cards were laid out, and whether I took them on or not was up to me.
The cards may have been laid out for me, but how about their spouses (not all the men were in open marriages)? This conflicted with my morality and it troubled me deeply. It left me with this idea, perhaps erroneous, that online dating portals are poaching grounds for married men looking for younger women to date. Of course, I don't have any statistics to support my claim, but my experience left me feeling sore about the whole thing. It also made it clear that perhaps for some, infidelity was a reality – so far I had only heard about it from others – and it was alive and thriving in my immediate vicinity.
Algorithm blues
While setting up a dating profile, one is asked to specify selection parameters for a partner. I had specified that I was open to dating someone who was up to three years older or younger than me, and that he should be childless, never married, a non-smoker with no particular religious preference, etc. The almighty algorithm was then supposed to spit out about ten profiles a day that would meet the selection criteria.
However, on multiple occasions the (paid-for) algorithm failed me. To the point it all made me very angry. I was contacted by men in their sixties, divorced men and men with kids, and sometimes the categories intersected. I felt disrespected! Would even a damn algorithm deny me my choices, or was their choice more important than mine? In hindsight, I should have just contacted the website and tried to figure out what was going on.
As of 2016, the online dating industry generates a whopping $2 billion in revenue each year. And, statistically, it works for people. Consider this: in 2010, 25% of heterosexual couples and 70% of homosexual couples met online through dating portals. It seems not everybody is having a tough time online. Surely, I was an outlier.
Cold feet
As I mentioned earlier, I belong to the category of people that really struggles to form even the most rudimentary connections needed to ask potential romantic interests out. It feels safer to silently admire someone from a distance than go have a conversation with them. Countless friends have spent countless minutes trying to counsel me that the process of asking someone out is no big deal. But for me it's a huge deal. Asking someone out, online or off, is bloody hard.
Logging in to all these websites showed me that there were hundreds of men and women out there looking for dates. It also made me realize that from those hundreds connecting and meeting up with a few or nurturing a relationship and possibly marrying one (if that is one's goal) is a Herculean task, for anyone. One needs loads of both patience and luck if online dating is to click.
Anyway, I learnt to put my fear aside and reach out to people. I went on a date. It was decidedly a victory for me. I became good at dealing with online rejection, and slowly, but surely, it paved the way for me to be able to ask potentially interesting men out face-to-face without the filter of a computer screen. At the end of the year, I deleted all online profiles knowing fully well that online dating was not for me and nurtured an active social life.
However, it is a fact of our times that the inanimate Internet is a major social intermediary in bringing people together. There is plenty of quantitative data available now to study how we meet, how we connect and form romantic relationships, how factors like choice, race and income influence decision making, and whether we really know what we want. In the end, it is up to us to take this ride and see where it will lead us. Whatever our experience, online dating can prove to be a tool to understand our own preferences better. Happy cruising!
इस लेख को हिंदी में पढ़ने के लिए यहाँ क्लिक करें।
Cover Image: Indu Kumar