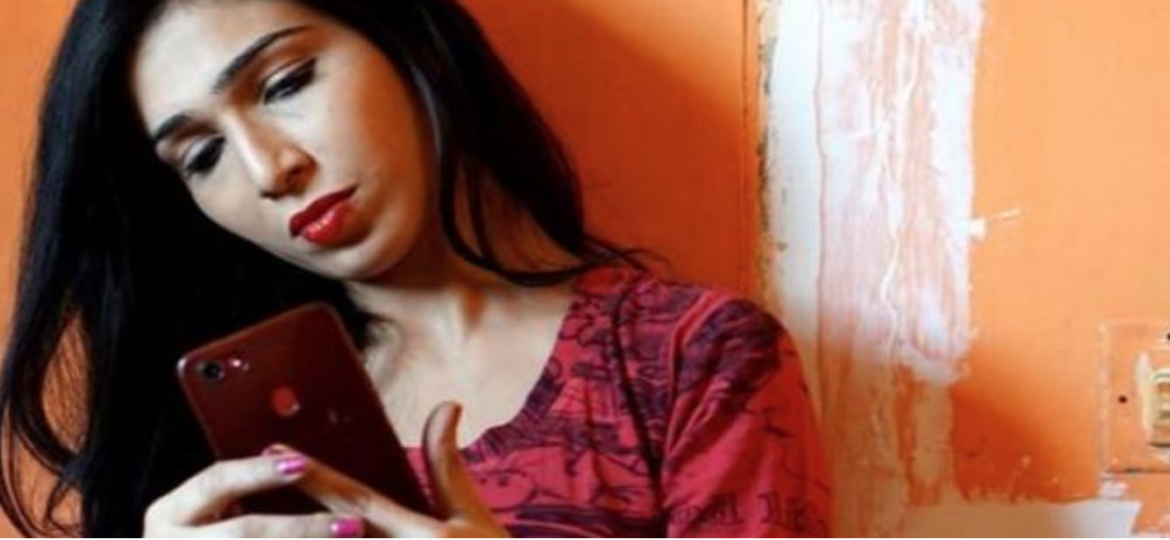 A safer place for young people to showcase their talents
One hour before leaving the house every day, I make TikToks," says Sarah Gill, a 23-year-old TikTok user in Pakistan. "Then I post them over the next few days." Gill is a medical student and transgender rights activist who works as a dancer, model, and sex worker. She enjoys TikTok – which she describes as "like another job" – and has 30,000 followers.
Chinese video-sharing app TikTok (previously Musical.ly) has become a craze among teenagers and young people around the world, with its lipsyncing videos spreading fast across social media and giving birth to millions of memes. Globally, 41 per cent of TikTok's so-called "musers" are between 16 and 24.
In South Asia, musers typically lip sync songs and dialogues from Bollywood and other film industries in the region. In India alone there are 20 million active users – perhaps unsurprising in the home of the world's largest film industry, which is forecasted to be worth around 229 billion Indian rupees (over three billion US dollars) by 2023. In South Asia, people's love of film verges on obsession. Popular songs and dialogues are known by heart, and actors are worshipped like gods. Many young people dream of a life of fame and fortune in the region's film industries, though in reality this is largely reserved for the elite few.
But TikTok is giving young people – particularly women – in South Asia a new avenue to showcase their talents. While for the majority of women using the app their fame is exclusive to TikTok, an increasing number are able to use it to get paid work. And for many, the platform represents a scarce opportunity for bodily autonomy, and a chance to carve out space as a performer in the face of film and fashion industries that shut them out. "It gives women an opportunity to be visible," says Gill, explaining that transgender women especially are excluded from the mainstream celebrity realm.
"Since my childhood, I watched TV stars, models… I wanted to be like them," says 27-year-old Pakistani muser Jiya Khan, also transgender. "Being on TV is a faraway thing, it's very difficult for transgender people to get work, but when I make TikToks I feel like a star."
Like Hollywood, Bollywood and other film industries in South Asia have restrictive beauty standards. In India, for example, class is a major factor: women who are dark-skinned (which can indicate a lower caste) and women who do not speak English are unlikely to be accepted into mainstream cinema. Yet on TikTok, these barriers don't exist.
Rehana is a makeup artist and hairdresser in the Keralan film industry in southern India – and an avid muser of classic Bollywood songs. "The people who are using TikTok are very ordinary people, maybe they are dark-skinned, who in the privacy of their rooms create these videos" she says in Malayalam. "You really see people who otherwise don't get opportunities in cinema or to have a chance in public life."
"There is no doubt that it is a big opportunity to express our talent and taste, and what we are capable of. It is a very important thing as a route to get into acting – maybe – for people like me."
The app has given "quite a few people a chance in cinema, to become stars on television, and be invited for shows," Rehana added, explaining that because musers know others have become famous this way "people are building up their portfolios on TikTok… expecting to break into the film industry using this platform."
When Mirnalini Ravi, 23, graduated as an engineer in Bangalore, she did not expect to end up on screen. She says that at first TikTok was a hobby, but her videos – often lip syncing romantic comedy dialogues and songs – soon got noticed by directors and she landed her first acting role, in a big budget Tamil film released last month. She has three more films in the pipeline, playing lead roles.
"It's a huge deal for someone to go from nothing, to just make some videos, and get an opportunity in a huge film with hugely experienced actors," she says. Ravi adds that ordinarily women with no connections in film have to contend with nepotism and casting couch to get a foot in the door – but she says TikTok "offers a huge platform (for) normal people" to access a safer route into the industry.
Gill, too, gets approached for acting work as a result of her TikTok content, but as a transgender woman faces additional issues. "I get a lot of offers but the problem is that they offer very degrading roles to the transgender community, they always portray us as some kind of joke," she says. Gill has no interest in accepting such offers, but says that, conversely, on TikTok she can "present myself the way I like, when I want, where I want, and with whom – it's all in my hands." Gill's TikTok profile ranges from emotionally-charged monologues, to political messages, to a Fifty Shades of Grey-themed performance.
For some women, including Gill, TikTok is also a space for sexual expression. She sometimes makes erotic videos on the app, and finds the autonomy liberating, explaining: "Only what I consent to will be there." She says she – like other models, dancers and sex workers – uses TikTok to attract and vet potential clients, too. As your following grows, she says, "demand increases", and you can charge a higher fee for your work.
She says she uses the app for "feminist messages; I say, 'Why should I hide my body, or not eat this? We are women and we have rights.". She believes the app is also helping to reduce transphobia. Whilst society stereotypes transgender women, she says the varied content on TikTok by performers of many identities challenges people to "change their views".
Muslim women donning modest fashion are also expressing themselves and their talents on TikTok. In Pakistan, Ayesha, 24, publishes videos under the the username @niqabiqueen786. In her videos she wears a niqab and acts with her eyes and hands only, as well as sometimes doing hijab tying and eye makeup tutorials. "I like the concept that we have to act… a whole story in just a minute," she told Dazed, adding that she is interested in acting but believes the mainstream film industry isn't accessible to her. "I know it is very difficult to wear a niqab and perform something. I know no-one can have the opportunity to wear a niqab and act in movies."
But the popular app is facing government backlashes in the region. Earlier this month the Madras High Court in Tamil Nadu passed an order prohibiting its download and use, following privacy concerns and earlier claims the app is causing 'cultural degradation' of teenagers. And last month, India's Ministry of Electronics and Information Technology asked Google and Apple to remove TikTok from their app stores – preventing any new downloads. Recently, Google and Apple complied with the request.
Meanwhile in Bangladesh, the app has become the latest target of the country's 'war against pornography', and one muser – emerging actor Sanayee Mahbob – was told by police to remove 'provocative images' from her TikTok and other social media pages.
"We don't want content which goes against our social norms," a police official told AFP. In response, Mahbob called the videos "part of my modelling career and part of my freedom".
While many of TikTok's critics are motivated by patriarchal policing of women's bodies, there are also legitimate concerns around privacy and safety "For people like me… they have honour killings, and sometimes I get scared if my family or a dangerous ex can trace me," Gill told Dazed.
And in February 2019, TikTok was fined $5.7 million in Bangladesh for illegally collecting personal information from children, and exposure to 'sexual predators' is cited in Tamil Nadu's recent decision to ban the app.
While it's true to an extent that musers are free to post a version of themselves they are comfortable with on TikTok, they may also face backlash from other users and censorship from the app itself. As with other platforms, women wanting to share 'suggestive' or sexual content often face repercussions. "Initially they weren't blocking any videos" says Gill, "but now they block a lot, and also people report and post negative comments." One one occasion, Gill performed a Bollywood dialogue on TikTok, in which she flirts: "When people want to see heaven, they come to me." In response, a man launched a police complaint against her for blasphemy. "The guy filed the complaint as I didn't want to meet him," she says, "but it's my body, and I decide who I sleep with".
One tragic case in Tamil Nadu saw a 23-year-old commit suicide following cyberbullying on TikTok and abuse from family members for wearing women's clothing in his videos. In the last video he posted he said: "I will do things which I prefer. Although I have uploaded many videos in a male role, why do the haters continue to hurt me when I am posing as a woman?"
But despite the potentially dangerous drawbacks, TikTok is "a very interesting space" of relative freedom for women otherwise restricted by the pressures of tradition and family, says Nighat Dad, founder of the Digital Rights Foundation in Pakistan. "They can showcase their talent, their sexuality… and also get work through it," she says.As more and more women gain smartphone and internet access, TikTok in South Asia has arisen as a defining space for many young aspirants who are otherwise excluded not only from the entertainment industry, but society at large. And whilst the app shares the many problems of other social media platforms – privacy, safety, abuse, censorship – the musers we spoke to were clear: TikTok is a unique space for self-expression and liberation.
"Instagram is used by smart and educated people," says Kajol Suborno, a 26-year old emerging actor in Bangladesh, "but when TikTok came, everybody downloaded it: educated, uneducated, poor, village girls – if they have a smartphone, they have TikTok."
"TikTok puts everything in my hands: I am the director, I am the make-up artist, I am the writer. I do what I want to do."
This story is part of Bolly Lolly Dhally, a collaborative European Journalism Centre project platforming stories of women and feminism in the film industries of Pakistan, India and Bangladesh.
Cover photo: Sarah Gill using TikTok (Alice McCool)
This article was republished by The Citizen. It was originally published here.