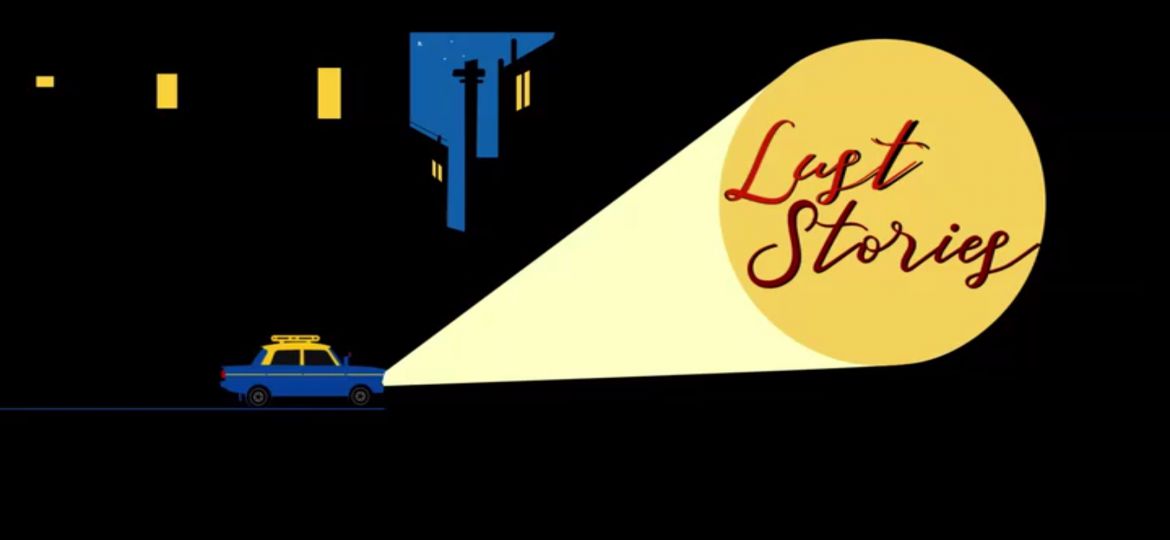 Zoya Akhtar, in her take on cinema as escapism and why audiences love picture-perfect love stories, says that people watch films for "escapism, fantasy, and aspiration …and the hope they will get something from it, which they don't have." About Lust Stories (2018), an anthology of four short films directed by Anurag Kashyap, Zoya Akhtar, Dibakar Banerjee, and Karan Johar currently streaming on Netflix India, she says that lust can be depicted "beautifully", as has been done by these films, but is mostly subjected to "crass" treatment. The anthology's pull rests in its sincere and frank portrayal of male and female desires cutting across the divides of age, sexuality, and socioeconomic position. In terms of romance, the idealistic, till-death-do-us-part fantasy peddled by our movies and mainstream literature has been replaced by a realistic portrayal of modern relationships. The extremely ordinary nature of the protagonists and their lives adds to the appeal of this four-part anthology. Lust is generally glamourised or melodramatised in pop culture, and this collection of films is a welcome breath of fresh air.
The first short film in the anthology, directed by Anurag Kashyap, is perhaps the most fertile one for an examination of sexuality from the perspective of coupledom. Kalindi (played brilliantly by Radhika Apte), a college professor, is in an 'open' marriage with a sexually-experienced man who wants her to explore herself and her sexuality so that she doesn't resent him later in life. While the setup looks idyllic and progressive on paper, we see Kalindi struggle with the idea of multiple relationships, of being attracted to different men at the same time, and with the man who is supposed to be her husband being unavailable as she tries to navigate an unprecedented emotional attachment to her student Tejas (Akash Thosar), who was just supposed to be a casual sexual partner. Kashyap has Kalindi's character directly address the camera as she works out her feelings aloud, and the emphatic, stumbling nature of her dialogue with the audience lends a layer of authenticity to the narrative. One of these conversations with the camera is an excellent thought-experiment on the idea of sexuality while being part of a couple – how can you expect one person to be everything: your friend, your lover, and your wildest fantasy, she wonders. She goes on to explain how she is attracted to both her husband and her student in different ways, and how neither can take the other's position. Yet, at the same time, Kalindi somewhere craves the monogamous ideal. She proudly says how another one of her partners doesn't want to 'share' her with anyone, and most of the film has her act in precisely the same jealous-emotional manner that she says men adopt after sex, because she suspects Tejas of dating one of his classmates. The struggle of her being attracted to different men, and of the men in her life being attracted to other people, is something Kashyap has explored in a way that seems completely real, lived, and free of sensationalism.
The next short film depicts the sexual relationship between a domestic worker Sudha (Bhumi Pednekar) and the man she works for (Neil Bhoopalam). The 20-minute film is a masterclass in subtle, understated cinema – Sudha has next to no dialogue, and the entire depiction of her initial anguish and subsequent resignation and acceptance of her lover having agreed to a 'proper' arranged marriage is mostly accomplished through expression, gesture, and a deliberate framing of shots. The film is a superb commentary on how a certain kind of coupledom, like this one that transcends socioeconomic boundaries, can only be limited to a sexual affair to be kept under wraps.
The third film in the anthology, Dibakar Banerjee's examination of a middle-aged couple in a marriage of convenience, is one which deals with the gritty realities of the 'ideal' culmination of conventional coupledom in society – the institution of marriage. Reena (Manisha Koirala), essaying the role of the quintessential wife and mother in high society, is in an extremely unhappy marriage with Salman (Sanjay Kapoor) and has been having an affair with his close friend Sudhir (Jaideep Ahlawat). What stood out for me in this film was Koirala and her portrayal of Reena as a woman who is fed up of not being seen as one, as someone with agency and desires. Her husband is an inattentive businessman who treats her as a trophy wife and who she is continually irritated by; her lover is emotionally passive at best and verbally abusive while pushing her back into a clearly failing marriage at worst. Both the couples that Reena is a part of are less than ideal to say the least – both Sudhir and Salman, talking about her when she isn't present, speak of her in terms like "the perfect package" and "barf ki gudiya" (a doll made of ice – pristine, untouchable). She is stuck in her roles of wife, mother, lover, unable to assert herself as an individual. The all-too-familiar treatment of their wives by infantile husbands in a conventional marriage is summed up in a line of Reena's – "You need a mother, not a wife. I cannot be that." The film is a brilliantly executed look into the nature of marriage and the extent people can go to to keep up appearances. It also looks at how men promptly take it upon themselves to fix a woman's life when she 'messes it up' by breaking the bonds of conventionality that limit her individual expression by treating sex and being desired as one of the ways of breaking free.
From Banerjee's realistically portrayed fine lines and uneven textures, both of skin and circumstance, the viewer is instantly transported to the flawlessly made-up, neatly packaged cinematic world of Karan Johar and his admittedly entertaining portrayal of the orgasm gap and a sexually inexperienced couple finding their way around each other. Newly-wed Megha (Kiara Advani) is subjected to conversations about how she should quickly get pregnant to be rid of her 'duties' in the marital bed and how having children is a woman's ultimate desire, whereas she just wants to have an orgasm. Her bumbling, inexperienced husband (Vicky Kaushal) is blissfully unaware of his inability to bring his wife to orgasm – a telling commentary on the orgasm gap and a failure of communication when it comes to sexual desires, especially in an arranged marriage. Where Banerjee's short film on marriage continually sidesteps any and all tropes that could be applied to the particular situation of his characters, Johar leans into the virgin-whore trope, with Megha being the innocent, petite, newly-married one, and her colleague Rekha (Neha Dhupia) being the sexually liberated (and extremely sexualised), buxom divorcée. Thankfully, Johar subverts the expected ending by not making Megha run back, after a month of separation, into the arms of her husband who failed to stand up for her during the vicious, misogynistic diatribe her mother-in-law launched into after Megha's first (rather public) encounter with a sex toy. The last scene has Megha channeling some of Rekha's chutzpah, and emphatically declaring how having children is not the ultimate desire of women, contradicting her mother-in-law's claim, and the last shot leaves viewers hopeful of Kaushal's character having understood his responsibilities as Megha's sexual partner.
Lust Stories is perhaps most telling in the depiction of its women, who are unafraid of and upfront about their sexual desires. Women, regardless of their age or socioeconomic circumstances, are shown to openly acknowledge the wants of their bodies. In the process of acknowledging and fulfilling these desires, they navigate the all-too-familiar emotions of jealousy, guilt, love – to name a few – in a social setup that denies them these desires. It is the struggle to find a validation of their lusts in various permutations of coupledom that binds the women of these four films together.
Cover Image: IMDb