Luminous with a fierce sensuousness, Arianne Clément's photography project 'The Art of Aging' celebrates beauty as a way of being. We cultivate beauty, she shows us, in tenderness, connection, and sensuality. As Clément subverts ageist norms around beauty with her camera-work, the women and men (ranging in age from 70 to 102 years) who reveal themselves in this project give us a glimpse into their inner world and the rich and vibrant ways in which they experience sensuality – as a light that dwells within, as rootedness to the natural world, or as the movement of bodies that love and kiss and laugh. Here are some selected photos from Clément's work.
Marie-Berthe, 102 years old
​For me, everything that is artistic is beautiful: frames, poems, paintings, flowers. In a person, it's the personality, the face, the smile and the eyes that matter. Personally, I find myself beautiful and, when I am not, I make sure that I am! I like to be well groomed and wear jewelry, dresses and accessories. I have always been stylish; I thus earned myself the nickname "the pompous". I only was with one men in my life; my beloved husband, and even if he died long ago I always reminded faithful to him.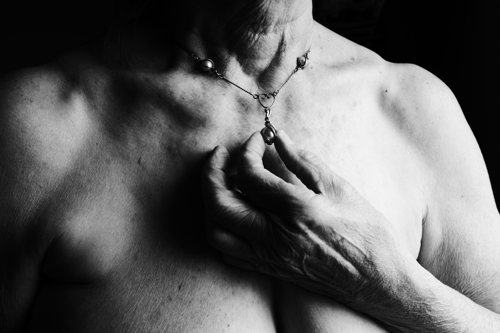 Ginette, 72 years old
 Some men have said that I was sensuous and that I still am, but it must have been some unconscious attitude on my part. To me, at least, I feel natural. The sexuality of the woman changes as she ages because we are not seeking and feeling the same things in the same manner. There is sensuality in tenderness, gentle touch, caresses and even in the looks. With my spouse, gestures and sweet talk are important, but erectile difficulties restrict the complete sexual act. However, touches may sometimes compensate.
I volunteered to participate in this photo project because I think it is important for mature women to take their place in society. After one turns 65, one can feel she has also retired from life itself, but that's absolutely not true!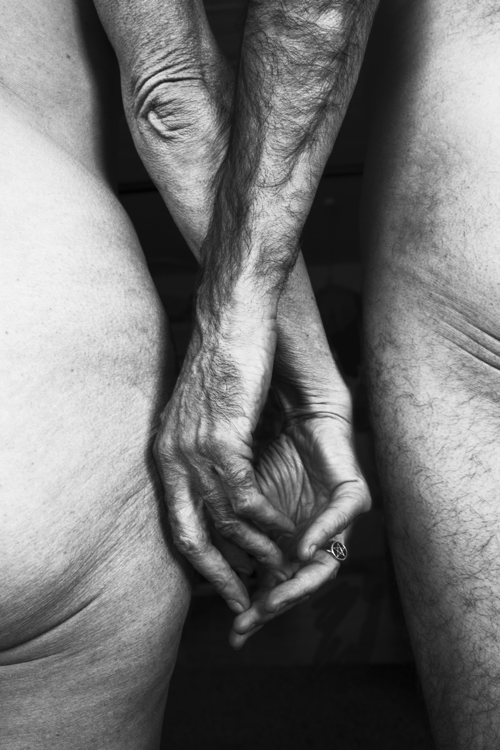 Merutzah, 70 years old
I would say since my breast cancer and a car accident at the same time that I marvel everyday at the miracle that I am alive and thriving. Everything is more vivid and more vibrant. I am very comfortable in my skin, so in that sense I feel attractive. In regards to my sexuality, what has changed for me is a slower and more languid expression of my sensuality than when I was younger. It feels deeper and because I have been with my partner David (63 years old) monogamously for 24 years, there is a deep trust and comfort with each other's bodies and desires. Making love for me is about my partner making me feel beautiful. I always feel loved… but I regularly need reminders that I am beautiful.
I think people need to update their idea of what a 70-year-old vibrant, fun and loving woman looks like. And that we still are sensual sexual beings. I think we need to embrace our "imperfections" resulting from our aging or our recovering from cancer and even proudly display them… They are our war medallions.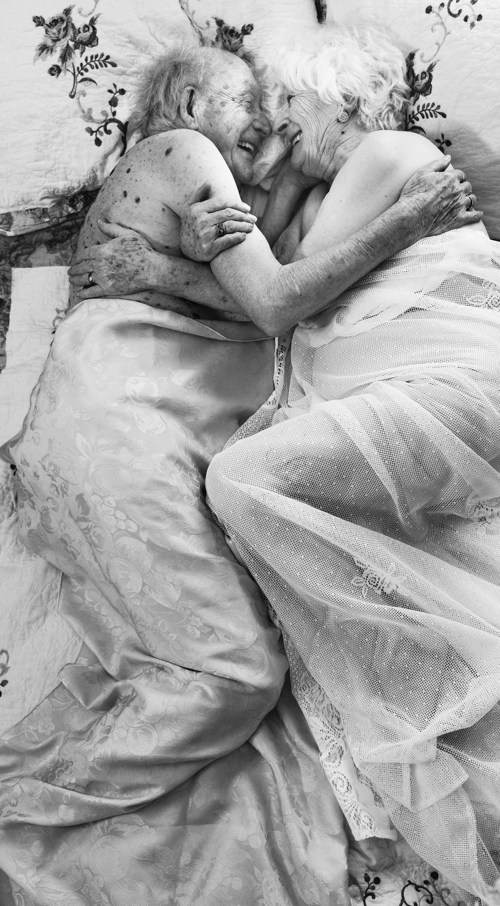 Christine, 88 years old
I am a very sensuous woman. I like caresses, I like to feel that I am somebody. I like to feel that my partner has tenderness for me.I always have been a cuddler, and it certainly has not faded as I got older. Each night I grab Paul (101 years old) in a spoon and I hold him strongly in my arms through the night. Even a fly could not come between us!
Taking part in this project gave me drive to keep going. I am proud to have dared! I feel that I contribute to pass on an important message. I want to encourage the elderly to take their place, to loosen up and not take themselves too seriously, to continue to have fun, to laugh, to kiss and to love.
All photos and text with permission from Arianne Clément.