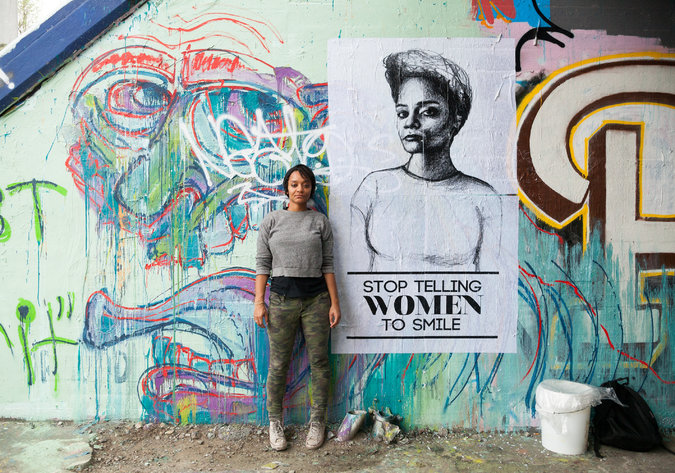 Tatyana Fazlalizadeh Takes Her Public Art Project to Georgia
By FELICIA R. LEE 
Tatyana Fazlalizadeh pasted her self-portrait Friday at the Krog Street Tunnel in Atlanta, known for street art. By Sunday night, the poster had been defaced. Credit Dustin Chambers for The New York Times
ATLANTA — With a lick of wheat paste, a roller and a stepladder,Tatyana Fazlalizadeh, a painter and illustrator from Brooklyn, introduced herself to the South, in an unusual way.
She plastered a poster with her own face floating above the words, "Stop Telling Women to Smile" on a vacant storefront here, across from a federal courthouse.
Then Ms. Fazlalizadeh and her helpers brushed on two dozen more posters she had created. Images of young faces stared back with wary, defiant and no-nonsense gazes above statements such as "My Outfit Is Not an Invitation," or "Women Do Not Owe You Their Time or Conversation."
The words came from Ms. Fazlalizadeh's interviews with women about "catcalling," a form of public harassment by men who feel free to comment on their bodies and demeanor. Women around the country have begun to speak out publicly, in blogs, public writing projects and on the websites of anti-harassment groups like Stop Street Harassment and Hollaback!, which document and research the problem. Many women have said they feel objectified and demoralized by sexual comments made on the street, and Ms. Fazlalizadeh has transformed their feelings and images — she photographs the women and then creates pencil drawings — into a major public art project.
To read the full article, please visit the New York Times.