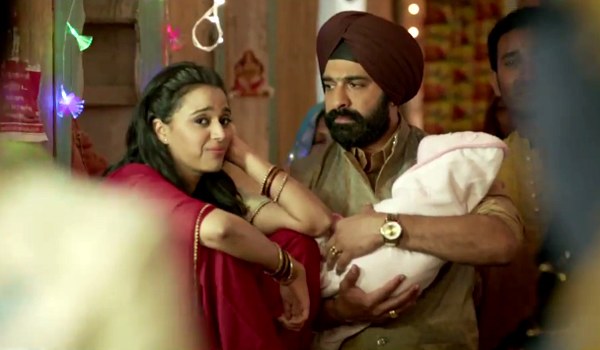 What does Tanu Weds Manu Returns (2015) have in common with Perumal Murugan's controversial book, One Part Woman (2013)? Stories on emasculation by infertility. I know I state that bluntly, so let's review them one by one.
Aanand Rai's Tanu Weds Manu Returns is about Tanu, Manu and their dysfunctional marriage. But there is also Tanu's friend Payal who marries Manu's friend, Jassi, in the first film, Tanu Weds Manu (2011). In the sequel, which takes place four years later, Payal becomes a mother. Only, the baby isn't biologically Jassi's. After four years of trying to have a child with no success, Payal learns that Jassi could be the one 'with the problem'. Immediately, she opts to undergo artificial insemination, but without letting him know. This is not because she is desperate for a baby or afraid that he won't understand the pressure on her to be a mother, but because she does not want him to feel emasculated by his 'inability' to make her pregnant. Jassi, imagining the baby girl to be his own, seems extremely proud to have begun a family. Until he learns the 'shameful' secret, of course.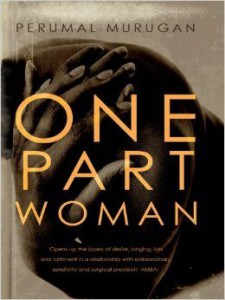 One Part Woman is more complex. Translated from Perumal Murugan's Tamil novel, Madhorubagan, by Aniruddhan Vasudevan, it tells the story of Ponna and Kali, a couple who are trying very desperately for a child. Murugan's protagonists have a strong marriage — there is love, friendship and sexual attraction — and yet are made to feel incomplete when sociocultural norms intrude into their lives and remind them of everything they stand to lose as members of a society that privileges fertility. As a childless woman, Ponna is not allowed to participate in agrarian and domestic ceremonies that celebrate fecundity, and Kali's virility becomes the butt of several jokes in their village. Kali and Ponna live before the time of artificial insemination, and therefore depend entirely on everything that religion, superstition and indigenous medicine have to offer. But they have no success. When they are about to give up, their mothers – convinced that it is Kali who has 'the problem' – tell them about an ancient ritual that happens during a chariot festival in the temple dedicated to the part-man, part-woman god, Ardhanarishwari. On the fourteenth day, any woman can have sex with any man in order to become pregnant, and bring a child into the family. Ponna and Kali learn that the ritual has evolved over time to help men eschew uncomfortable conversations about their virility. The child from this pregnancy is considered a child of god, not another man's, and is therefore socially acceptable. The two mothers ask Ponna to participate, and while Ponna is tempted to take the chance mostly to end Kali's shame (which takes precedence over her own), Kali is unable to imagine another man making love to his wife, and forbids her to go.
Murugan describes with sensitivity and care the couple's anguish as they weigh the desire for a child against an equally strong desire to reconcile with their fate and enjoy their marriage. But as the taunts at Kali begin to haunt him and pepper their previously happy marriage with moments of disquiet, Ponna expresses her eagerness to participate in the festival. But she is uncomfortable with the idea of being with another man herself. Towards the end of the book, she is cheated by their relatives into believing that Kali secretly wants this favour of her. But when Kali learns of her participation in the festival, he begins to see it as a betrayal of his trust. Murugan does not tell us if Ponna becomes pregnant, if she actually likes having sex with another man, or if Kali understands why she did it, or if Ponna is punished or made to apologise. He leaves that to our imagination.
Aanand Rai, by contrast, lets his couple, Payal and Jassi, have a happy ending after Payal plays the good wife and apologises for going behind her husband's back. Jassi forgives Payal, accepts the child as his, and the three are shown embracing each other. Neither Payal nor Jassi mention the issues around mardaangi (manliness) again.
A controversy grew around Murugan's book when the RSS and other Hindutva activists protested his premise: socially accepted traditional alternatives for dealing with male infertility. The protesters felt that a woman having sex with a stranger for conceiving a child was against Hindu beliefs about the sanctity of marriage, and therefore sacrilegious. People who came in defence of the book wanted to show that the book's claim is neither unprecedented nor profane. So, they quoted stories from the Mahabharata where women have sex with other men in order to provide an heir. Such controversies did not surround Tanu Weds Manu Returns because in using artificial insemination, Payal had the sperm delivered into her uterus without having sex outside of her marriage. In other words, she used modern science and preserved the sanctity of marriage. One can even argue that if Murugan had placed his novel in twenty-first century India, Ponna and Kali could have visited a hospital in urban Chennai or Madurai or Coimbatore and undergone artificial insemination, avoiding the controversial festivities in the honour of the androgynous Ardhanarishwari. The book would never have been flogged, and modern medicine would have saved patriarchy's face, with some help from neoliberalism and urbanisation.
Let's get into the meat of this argument. A patriarchal society operates around the heterosexual family: a man and a woman come together through marriage to have biological children. Men are privileged within this society for their ability to impregnate, and women are taught to derive pride in remaining faithful to their husbands and ensuring only 'his' child grows in their wombs. The sanctity of marriage therefore has a lot to do with sexual fidelities, not with emotional ties. Gender identities, experiences, and sexualities are strictly monitored by such hetero-patriarchal norms: neither men nor women can easily imagine a non-heterosexual relationship, neither can easily say no to parenthood, and women in particular cannot imagine multiple partners or relationships outside of marriage. An ideal couple is one that can fulfil patriarchal compulsions, while others are marginalised, shamed or punished depending on their degree of deflection from the norm.
Scientific advancements along with economic changes (what we often call 'development') introduce modern medicine into societies where people are suffocating in patriarchal smog, and their lives are mired in strict hetero-patriarchal regulations. In the absence of an alternative, feminist discourse, the practice of medicine and medical innovations play into the patriarchal discourse on marriage, family and reproduction very smoothly: treatment for infertility and medical surrogacy speak to the demand for biological children; sex determination aids in fulfilling the desire for a male child; abortion helps to hush undesired pregnancies that happen outside of a marriage; plastic surgery can help correct intersex bodies such that they become suitable for heterosexual marriages; cosmetic surgeries like liposuction or vaginal tightening allow men and women to become desirable to the patriarchal eye. In a society where everything from our sense of ethics to aesthetics is defined by patriarchal notions, it should be no surprise that people make room for modern medicine not to break free from patriarchal norms but to renegotiate their privilege within patriarchal society.
So a Ponna would use modern medicine – if she had access to it – to put herself and her husband out of pain. It may not be apparent to her that she is using a piece of modernity to fulfil traditional compulsions. It must also be mentioned that Murugan's book is not the only piece of modern literature that alludes to birthing children through 'other' men. Amitav Ghosh's book, Sea of Poppies, gives us the story of Deeti who is forced into marrying an impotent man. In order to hide his infertility, his brother drugs and has sex with an unwilling Deeti to impregnate her, and give the family an heir. Popular cinema has dealt with this as well: Vidhu Vinod Chopra's Eklavya: The Royal Guard (2007) tells the story of a princely family where the rani is asked to sleep with the royal guard to hide the raja's impotency. That she falls in love with the guard rattles the raja's notion of his manhood and his sense of self. In the former, Deeti has to live with the knowledge that her rapist is a part of her household, and in the latter, the rani is made to feel guilt and is finally murdered for her emotional transgressions. Kali and Ponna's marriage, while strong, is rocked by similar tides: Ponna fears sexual violence as she sets out to participate in the festivities; Kali fears that she will fall in love with the man who was able to give her a child. Artificial insemination then is truly a boon: it allows men and women, Ponnas and Kalis to eschew layers of complicated questions around their love, marriage, gender experiences and sexualities, and find an easy answer in modern medicine. A medical catheter penetrates her instead of a penis: she cannot fall in love with it, or call it violence after having consented to the medical procedure. And he does not have to be threatened by the presence of another man in his wife's life.
Medical advancements on their own are neither patriarchal nor feminist. They are tools that can potentially fit into either discourse. Artificial insemination and surrogacy allow same-sex couples to have children, the access to contraception and abortion gives women the opportunity to independently choose if, when, and how they want to become mothers, plastic surgery allows trans and intersex people to choose the body they feel more comfortable in. Cosmetic surgery can be extremely helpful for people who are victims of acid attacks, brutal and maiming sexual violence, and other sexual and gender-based violence. Culture – a feminist culture – shapes such choices, and often empowers people making these choices by allowing them to separate their identities from patriarchal praxis and discourse.
But what do we do with cultural notions that cannot be corrected with surgeries or pills; where we can neither subvert patriarchy nor negotiate with it using tools we gain through medical advancements? The elephant in the room in both stories is one such example: feeling emasculated because of infertility. While Kali drowns his fears and deals with the taunts by getting drunk, Jassi just pretends that there could be no problem at all. The same principles that dictate that fathering a child is essential to their gender identities prevents them from dealing openly with their emotional turmoil. But this silence affects the women they are married to. Neither Payal nor Ponna want a child because they like children and look forward to motherhood; both of them respond to sociocultural pressures. Their choices are partly a response to an instinct to stick up for their husbands and cover the 'shame'. However, they are forced to do it quietly. While Payal goes behind Jassi's back, Ponna is unable to ask Kali if her relatives are right in making her believe that he wants her to be a part of the festivities in the Ardhanarishwari temple. Both women take a risk, hoping that their otherwise good relationship with their husbands and the birth of the much-awaited child will absolve them of the guilt that they feel because of the stealth. Perhaps that is why you forgive the corny script and feel a little relieved when Jassi tells Payal that he loves her in spite of it all.
But One Part Woman begs for more than mere relief or sadness. Murugan's last chapter, where Ponna wanders into the festivities unsure of what she wants, unsure of how she feels about another man touching her, unsure of how to protect herself from men who might want to take advantage of her, and unsure of what will happen to her after she has sex with a stranger is a fine piece of literature. As a reader, you walk with her, holding your breath and hope that nothing will hurt this woman who is risking everything to ensure that her husband's 'shame' remains a secret. As a reader you also know something she does not know: her husband is furious when he discovers that she has gone to 'fix' their problem, and he is already judging her for choosing to spend a night with another man.
It is really disheartening that her decision to sleep with a stranger stirred up a huge controversy around parampariyam or sanskriti (tradition); that the conversations on 'Indianness' drowned out the real patriarchal tension that Murugan provides in his last chapter. Where does Ponna go when she returns proud to have undertaken a risk to do her husband a favour only to discover that his 'manhood' has been hurt anyhow? And that she — the woman who loves him, the woman he worships — hurt that 'manhood'? How does she deal with that ugly face of patriarchy? Forget Kali. I don't think India, where 'development' is defined merely as access to modern medical technology, can give her a comforting answer. After all, that India is comfortable only with the kind of development that will not kick the hornet's nest.