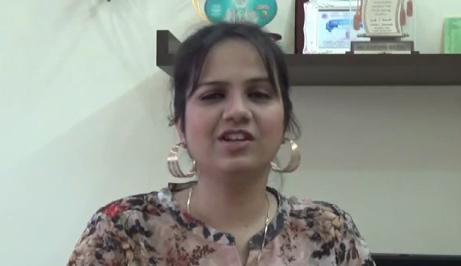 Nidhi Goyal is a gender and disability rights activist from Mumbai, India. 
Anisha Dutt: Your journey as a disability and gender rights activist – how has it been? What brought you to it?
Nidhi Goyal: My journey as journeys go has been an immensely interesting one. I will take you a step back to when I was a mass media professional working as a freelance journalist with women's magazines and online portals. I somehow wasn't satisfied, I wanted my work and skills to help others, and maybe I was looking at creating some kind of direct impact on people's lives.
When I had acquired my visual impairment during my teenage year, I was enraged at the inaccessibility and unsupportive educational, infrastructural, professional and social environment in Mumbai. Gifted with an indomitable spirit and with terrific family support, I moved ahead, extremely conscious of the fact that this support was missing for many other people like me, and with a vow to create this support for them. I think as a journalist the dissatisfaction within me was a reminder of this vow.
So, after a few years of journalism, I decided to work on the intersections of gender and disability and joined Mumbai-based Point of View on their project for girls and women with disabilities. With them I co-authored the website www.sexualityanddisability.org and I haven't looked back since.
Being a disability and gender rights activist has helped me channelise my huge discomfort against disability and gender based injustices prevalent in society through my activism. The more I have reached out to persons with disabilities (PWDs) and engaged in their lives and challenges, the more my intellectual knowledge has transformed into experiential knowledge, which keeps me going with the thought that there is a long, long way ahead.
But to share the lighter side of life– when I wanted to work for PWDs, I remember a senior from the field said don't enter this field because people will think you can do nothing as a disabled woman and so you are with NGOs working for the disabled; someone else said that you are not married and so you want to find a partner through your work on sexual rights; another said you are quite fast and loose because you frankly can talk of nothing but sex. Of course I have had reactions to these – rolling my eyes, simply smiling or bursting out into loud laughter – that is all that these comments deserve. But there is something that still troubles me, that sexuality and issues of sexual and reproductive health and rights for persons with disabilities and especially girls and women with disabilities is seen as something which is superfluous at best and a complete non-issue at worst within the disability sector too. My work and I are striving to change this – slowly and bit by bit.
AD: Tell us more about the Sexuality and Disability website.
NG: I have researched and co-authored the pioneering online initiative, www.sexualityanddisability.org, a resource for girls and women with disabilities (WWD). This website, which talks about sexual rights of WWD, is the first -ever initiative of its kind launched in 2012.
On this project, I interviewed women across disabilities, age groups, socio-economic strata from throughout India and allowed their personal narratives to intersperse the practical information. The peculiar challenge while creating this resource was to cater to the common issues that girls and women with disabilities faced in their everyday lives and yet to have nuanced information for different disabilities, considering that different disabilities and conditions are not a homogenous group. Another caution that we exercised was to be as realistic as possible: neither to be over-encouraging nor to be too cynical in our approach and advice.
Through the website, we basically challenged the de-sexualisation and incapability attached to the gendered and disabled bodies of these women. The website provides knowledge on body image and understanding the changing body, sex-education, sexuality and orientation, relationships and child care, abuse and violence – the whole spectrum.
This online resource has reached over 250,000 readers as of today, and anecdotal evidence of a WWD who is under family control and yet has established her economic independence, another WWD who has shed her fears to reclaim the streets of her city, and yet another WWD who stood up and said no to the emotional trauma meted out to her by her family, speak of its success. Today, the website is a hub for women with disabilities, their partners and families, their caregivers, organisations working on the issue, doctors, and hopefully policymakers at the city, state and national level.
AD: Have your ideas about body politics and disability changed over the years?
NG: Coming from a family that never treated their daughter and son differently, that never had any personal opinions about someone based on their looks or disability, I think I was and I still am very positive and progressive in my thoughts. But of course, at fifteen my eye disorder introduced me to a whole new world, one that I had only closely seen from the outside because of having an older sibling who was visually impaired.
At that phase in life I am sure I, as a teenager, was struggling to come to terms with my blindness, was low on confidence and quite vulnerable to the perspective of the non-disabled world and the mass media. I have written about this and more.
I think I did then internalise the popular culture fuelled idea that accepting disability in a personal space– within a friendship, a romantic relationship, within a family– is the most challenging thing for people and so if someone did that, it made that person really the epitome of love and sacrifice. Of course this changed for me when I started work on www.sexualityanddisability.org. I was fairly progressive and empowered but it was only then that I realised that there could be a shift even within me. Honestly, I had internalised a very tiny, tiny bit of the myriad stigmas that surround persons with disabilities, but getting rid of even that was extremely liberating!
That is why I believe and focus on working for and with persons with disabilities, where the first step is to help them get rid of the internalised stigma and barriers. Thus contributing through self-empowerment, to change the world around them and make it a better, more inclusive and accepting place to live in.
AD: You were quoted saying, "People throw around words like 'normal', instead of 'non-disabled', without thinking twice about it." Could you elaborate on this please?
NG: We very strongly hold on to that which we perceive to be 'normal'. Like a woman is suppose to love pink, a man is suppose to love sports etc., this normal is defined by society and I honestly don't think that most of us fit in this bracket. Oh that girl is too fat, she is too short, the other is too tall and on and on it goes. That is why I would like to challenge this idea of normalcy and in the process challenge the people who define it.
As far as having the term non-disabled is concerned, that is to let people know that how you categorise someone is just a matter of perspective. If the 'normal' think that some people should be categorised in their mind as disabled, similarly can the disabled categorise them. I remember this training from years ago, where the trainer was describing the sighted– those who are not blind or visually impaired– as 'sight dependent'. So it is really how you perceive a person, and I think what we forget in this categorisation and bracketing is that PWDs are people first and disabled or not later.
AD: Disability, sexuality and pleasure. Are they connected? Do most people think so? 
NG: I would like to first highlight the commonly perceived intersection between the three. For most people, disability and sexuality don't have a connection – of course except when one hears cases of violence. Disabled people do not need to know about their sexuality, needs, desires, orientation, etc., because they basically are non-sexual. If they manage to survive, eat food and if at all earn, then their lives are already way better than what they should expect. Now in such a scenario, pleasure is an alien term for all. Survival is the basic challenge with disability, pleasure is even beyond luxury!
BUT, I think that disability pleasure and sexuality are intricately interlinked. The reason that PWDs are considered non-sexual and assumed not to have any ideas of pleasure is because somewhere it is ingrained that persons with disabilities are less than human and thus human needs are not for them.
AD: Yes, the media and particularly films often reinforce such stereotypes as well. Do you think this representation has changed over time or is it still problematic?
NG: I think the media representation on disability has shifted the tiniest bit. In the 60s, 70s and the 80s, persons with disabilities were always the liability – the boodhi andhi ma and the langdi behen (the old blind mother and the sister with a leg impairment). Of course even then there were Bollywood movies like Sparsh and Koshish which were deep, honest and very telling, but the larger representation of disability was very regressive.
Then there was the Sanjay Leela Bansali phase with Black, and films like Mann, Guzarish, etc., which would kill the joy from any disabled person's life and were very largely responsible for feeding into and perpetuating the social stereotypes about disability. This was the time when I was a teenager and these were the movies that affected me the most– of course narratives like Mann which tried to reinforce that if you are disabled you must understand that you are not good enough for any partner, and hence retreat is the best option. These films also were full of the ideas of disability being a liability, and that not living would be better than living a disabled life.
But recently with films like Barfi, Shamitabh, Paa, and Margarita With A Straw, the lens on disability is slowly shifting but I can't really say that huge progress has happened on issues of disability and sexuality. Yes i say this despite Margarita with a Straw, which has managed to open a dialogue on disability and sexuality. For me the true shift will be when a Dilwale Dulhaniya is made with a disabled Shah Rukh, who simply has a life, dreams, friends, failures, quirks, qualities and imperfections. It can only happen when film makers involve more and more persons with disabilities in their ideating and film making process, because honestly they can try, but they should remember 'nothing about us without us'.
AD: Recently the film Margarita With A Straw (MWAS) was criticised by actress Sonal Vengurlekar who said that for people with disabilities, sexuality is the last thing on their mind. What are your thoughts about this?
NG: For Bollywood fans I don't see how sex can be an uncomfortable or foreign concept. What do you think is the depiction or implication when the actors and actresses sing 'tere mere milanki ye raina' or hum 'bhige hoth tere' or dance to the tunes of 'subah hone na de, shyam khonena de'. Sure, we are very comfortable when ninety percent of the Bollywood movies are about love, sex and romance – then why this sudden discomfort with MWAS? Can be nothing but an uneasiness with disability.
Sonal seems to have a problem with honest open dialogues and for her embarrassment I can only say that we should be ashamed as a society when we get up and say that PWDs need to worry about access, about their talent being recognised and about fighting discrimination. What we are implying is that we as a society have so many barriers for PWDs that we don't give them a chance to think of their sexual needs. We, with our exclusionary attitude, will force PWDs to push their basic human needs, desires and dreams into a box. They are being forced to choose between survival and joy – a choice that the majority never has to make.
But all the barriers that society hurls at them are they still enough to stop PWDs from feeling what everyone feels? In my research for the website and later, in my study at the rural grassroots, the common theme is that women with disabilities – crippled, blind, deaf, mute – feel discriminated against when it comes to romantic relationship and marriages. It demeans them, makes them feel unwanted, incapable and has a great impact on their psyche and confidence as a person.
The film portrays a life of any teenager and the reality is that during teenage, most youngsters – disabled or not – think about crushes, relationships and sex. Well, one can argue that they think of much more. They think about their ambitions, careers, their hobbies, passions etc., and so did Laila in the film. She is shown to be involved with her music band; she has flown to the States to pursue her under-graduate studies in Creative Writing on a full scholarship which is no mean feat! All that is acceptable, all that is okay, the only problem is that she is too damaged (for people like Sonal) to think about her sexuality or sexual needs. I mean, come on, when Laila reaches the university in the USA and she finds out that a cute and hot guy has been appointed as her note-taker she accepts it even though she does not need his help, and believe me any other girl, including a non-disabled one, would have done the same.
Sonal has completely missed the point hasn't she, if she felt that the protagonist in the film "turned gay" because of non-acceptance. The film clearly talks about bisexuality, and perhaps that concept was too much for many to handle.
I think the discomfort that Sonal faced and elaborates on in her letter is a somewhat common narrative, because when we want to see a film on disability, we don't want our nice little world of myths shattered. We don't want disabled people doing 'normal' things like having crushes, getting married, having babies, or simply being naughty or bad. We want to see their struggles, to witness their god-like achievements, or their heart wrenching struggles and failures.We basically want to see PWDs on screen to fit what we think they are, as opposed to what they truly are!
हिंदी लेख में इस लेख को पढ़ने के लिए यहां क्लिक करें।