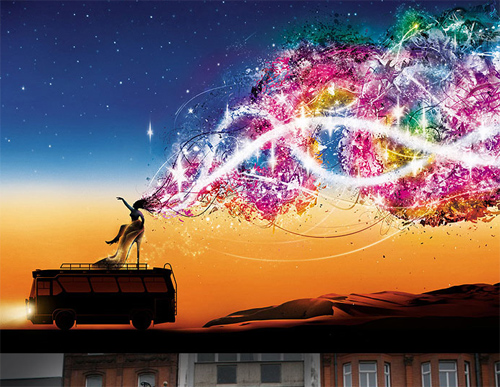 Travel and sexuality throws up different thoughts and feelings for us all. For me, it threw up the term travelling sexuality. I like it. Travelling sexuality. It sounds exotic or intellectual, adventurous, dangerous, depending on who you are and how you live life. A travelling sexuality could describe the way we evolve as sexual beings, shifting and changing identities.
Travel appears to be an expression of freedom, the freedom to be.
Sexuality seeks this freedom, the freedom to be.
Lovers travelling together is a thing. It's the next level of together. Different from being married and travelling together. Not lovers, just friends (but could be lovers,) travelling together, it's the next level of opportunity. Travelling solo, after a breakup. Travelling solo to rediscover yourself. Travelling solo as a man, as a woman, as someone at any point of the gender and sexuality spectrum.
Travel and sexuality influence each other all the time in subtle ways and hammer blows. The other day, driving on National Highway 8 through Rajasthan, I saw a long line of women travelling on foot between villages. They were covered head to foot. They had extra covering on their faces, not a veil, but like a face wrap under their veils, and it made them appear faceless. I will dream of them, these faceless ones, on foot through arid country, unaware of me and my face flying by in a seven-seater, my palms sweaty on the steering wheel, my eyes on the rear view staring at them, specks from another world disappearing into the dust.
Hammer blow.
Forty years ago, as a kid with short hair, travelling in a bus with my mom from one part of Delhi to another, we sit in seats reserved for women and other passengers object, telling my mom her 'son' should not sit in the reserved seats. My mom gets into a fight with them (because I'm her daughter) while I gawp. She holds my hand in a firm grip and we continue to sit in our seats till we reach. I learn from her. Firm grip, do not be bullied.
Forty years later, Facebook friends circulate pictures of loutish looking young men sitting in seats reserved for women travelling on the Delhi metro, as a woman, perhaps pregnant (or does she have a child in her arms?) stands because there is no place to sit. The picture is being circulated on social media in an effort to shame the men. Forty years, and some of the issues around gender and travel remain in the limelight. In the same ways, in the same cities.
Hammer blow.
Delhi and travel in public transport brings up other memories of recent news of violence against women, in a case of brutal rape and murder that shocked the world, changed the country's laws and inspired a BBC film that was then banned in the country. Hammer away.
There is a deep connect between travel and sexuality that is internalized at gut level. From birth perhaps. Across cultures. The two are almost metaphors for each other, twins, borrowing words from the lexicon of the other, entwining identity. Cruising. The biker and sexual identity. The ghastly pink honeymoon suite with mirror instead of ceiling in a hill resort. Car rallies and women's car rallies, marketed as two different species of rallying. Some people may think that the average suburban housewife, mother of kids, may be able to drive around a bit and that's why you have women's car rallies.
Then you read about Amy Lerner and Sabrina Howells and begin a re-think. Okay, rallying is a sport – but it's a sport that takes you places using a vehicle for travel. Rashmi, Soumya and Nidhi took this many miles further recently, on a driving expedition from Delhi to London, over 21,000 kilometres, 17 countries and nearly 100 days. "We avoided driving late at night, instead, spent evenings exploring the cities. In fact, we didn't find a single woman driving on the highway till we reached Europe" (Soumya). Immediately obvious are the connections between travel and sexuality here.
With Arvind, Nishant, Suneeta and Neenu, I insert disability into the itinerary and find myself overwhelmed by questions. They covered 19,000 kilometres within India in about 80 days. Two men and two women, they are all wheelchair users. They conducted an accessibility audit of tourism in India, rating restaurants, rooms, toilet facilities, car parking and other factors. Their experiences are in the book Beyond Barriers – The Incredible India Tour. In a news piece, Sunita said, "We want to see what facilities exist for disabled women travellers. We will make a compendium of the transport facilities and publish it so that other travellers like us know what to expect at each destination."
Let's look at travel and sexuality for everyone. So there's travel and there's travel. There's hiking, hitch-hiking, wheels, wings and sail. And there's Press Enter. Whatever the travel, there's always gender and sexuality. And the theme and symbol of travel always seems to add great zing and drama to sexual encounters and expressions of sexuality.
In the film The Adventures of Priscilla, Queen of the Desert, sexuality takes off in a bus with two drag queens and a transsexual. A film with song, dance, drama and exploration of human sexuality. Have you seen Transamerica? Another film involving travel and complex issues of sexuality. Travel is great business, and business expands its territories across sexuality in every way possible. There's LGBT travel now. You can get unbeatable prices, amazing weddings. India has its first LGBT radio taxi service in Mumbai.
Cars are classic travel and make out zones. In the movie Grease, (John) Travolta slides his hand to a boob grab attempt on Olivia Newton at a drive in, resulting in comic date disaster. In The World According to Garp, John Irving converts what one expects to be fun into his version of black, as oral sex leads to accidental castration.
Speaking of cars, there's real life drama that's much more exciting. There's a couple in London who were once having sex in the boot of their car, when Joe, walking his dog, heard strange sounds and thought he was required to rescue a kidnapped soul. This is what happened next:
Joe opened the car boot.
Joe leapt back in shock.
The dog decided this was fun.
The dog leapt into the boot.
Boot-a-trois. Gave everyone a fright.
Wendy "went to second base with a stranger on a plane". She's not alone. There's an actual term, too: The Mile High Club. You don't get free miles but you get the drama and the glory because you did it in a plane. Mile high stories are terribly exciting, the stuff of fantasy for some, experience of reality for others. You've got tips too, if this is your kind of adventure travel.
Sexuality isn't only about sex and sexual encounters. Journalist Michele Sponagle speaks of life "as a plus size traveller". It has its moments, good and bad. One of the most memorable is the one she describes at the end of her piece where the chief of a Masai village wants her to be his wife number two, so they can have "fat, healthy babies".
The Internet is a great way to travel. Don't have to worry about clean loos, booking hotels, trains and flying machines, safety of luggage and person. It allows virtual trips into forbidden territory, red light district replaced by pornographic pleasure, coffee dates replaced by chat rooms where you can pole dance, belly dance, play strip poker, without ever having shaken your patootie. Is this really travel? That's a matter of perspective on what you consider 'real'. Let's see what else happens when it gets really real, in a place like Bareilly, in India. 'Man Hooks Up With Girl on FB, Only to Find She's His Wife'. So you see, if you don't wind up with a dog leaping upon couples mid-coitus, you go to Family Counselling Centre. That's what happens!
Cover Image: Courtesy The Adventures of Priscilla Queen of the Desert