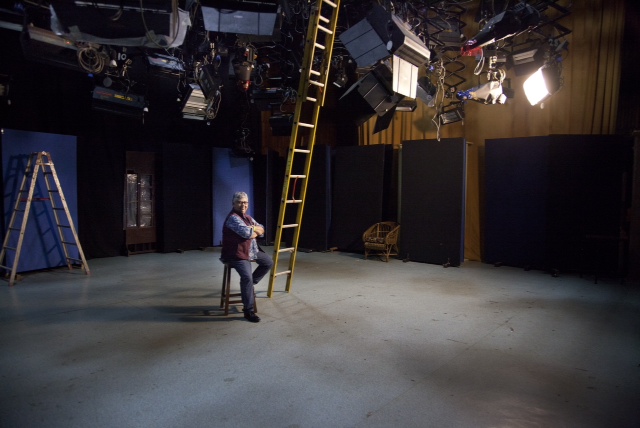 Image: Kavita Dikshit
Shohini Ghosh is Sajjad Zaheer professor at the AJK Mass Communications Research Centre, Jamia Millia Islamia. Shohini scripted and directed the acclaimed documentary Tales of the Night Fairies (2002). She writes extensively on sexuality, speech and censorship for the academic world as well as for popular media. Shohini brings a queer feminist perspective to her work as a scholar, practitioner and teacher.

Here we have Shohini's take on Fiction and Sexuality in an e-mail interview by Radhika Chandiramani.
Radhika Chandiramani (RC): Films feed us fictions about sexuality. They offer us an entry into the possibilities of other worlds and ways of being. Shohini, you watch films from all over the world. Is there a film that you have watched that has altered the way you used to see or think about something?
Shohini Ghosh (SG): As you know, I have had a longstanding love-affair with films and watch at least one film every day. So watching films is my way of being in the world and getting to know the world. But my first "entry into the possibilities of other worlds and other ways of being" were books and comics. When I was growing up in Calcutta in the seventies and eighties, I had no access to queer designated books or films and of course, there was no LGBT movement. But there were texts that allowed me to read `queerly' even though I didn't know that's what I was doing.
Intriguingly, I was drawn to queer writers much before I had any idea that they could be queer. I was deeply affected by Of Human Bondage (1915) by W. Somerset Maugham and the writings of Oscar Wilde especially The Ballad of Reading Gaol (1898) and The Picture of Dorian Gray (1890). I remember asking my English Literature teacher why Oscar Wilde was not a part of our syllabus. The other book that I read over and over again was Emily Bronte's Wuthering Heights (1847). Looking back, I think of it as a book of queer desire. It is about the passion and intensity of unrequited love just as it is also about being a misfit and an outcaste. Misfits and outcastes are not deemed fit to decide who they want to love. Incidentally, I had just the opposite reaction to Charlotte Bronte's Jane Eyre, also published in 1847, which seemed to be an assertion of heteronormativity (even though I had no vocabulary then to express my discomfort) complete with a mad woman in the attic!
I read voraciously in both English and Bengali and was drawn to people who remained single and led rich lives – like Satyajit Ray's detective, Pheluda, Herge's Tintin. I loved Phantom and Tarzan – till they got married and became like everyone else. The book that I had a deeply queer relationship to was the movie picture book of Robin Hood starring Errol Flynn. The red tights were (in retrospect) very camp and the idea of living in a fraternity of `brothers' was most attractive.
For many of us, one man was an entire universe and it was Satyajit Ray. The iconic image of Ray working away in his room surrounded by nothing but books, papers, pens and paint-brushes, inspired us to inhabit worlds shaped not by material possessions but creativity and imagination.
RC: And what about fiction in writing – do you find that reading and imagining your own scenarios is sometimes more satisfying than watching a film? Is there a film that you have seen that you would like to re-make in your own style? Or a book that you have read or are reading that you would love to make into a film?
SG: I tend to watch more films than I read fiction. But when I do read fiction, there is a film that plays out in my head – as I am sure it does in everyone's head. When I watch cinematic adaptations, again like everyone else, I am disappointed, excited or left indifferent. These are deeply subjective, personal choices about which there can be no rules. I was deeply disappointed by the cinematic adaptation of The Unbearable Lightness of Being (Philippe Kaufman, 1988) while being exhilarated – quite unexpectedly – by Luis Bunuel's 1953 unorthodox and partial interpretation of Wuthering Heights. The book that I have most enjoyed reading recently is The Ministry of Utmost Happiness (2017) by Arundhati Roy which is as literary as it is cinematic. I hope that like her earlier novel The God of Small Things (1997) it remains a film that will be played only in people's heads!
RC: You have often said, as have others, that the image does not 'make' people do things. Then why is it important to choose how we represent issues of gender and sexuality in the visual medium?
SG: Yes, media representations do not transform people into what they are not and do not make them do things that they would normally not do. But media representations, within a larger discursive universe, influence and inflect people's understanding of the world. Each one of us comes with what has been called our own `portfolios of interpretations' and therefore we make meaning according to our past histories (where we come from), our aspirations (where we want to go) and our predisposition – which influences what or how much we are being willing to be open to. In short, media works in complex ways. The text and spectator are in a state of constant negotiation. Our job is to get into this process of negotiation and make our interventions. But now, in the age of the digital technology and social media, we are compelled to re-think our communication strategies. This requires us to think in new and creative ways.
RC: In your view, what are the depictions (in documentary and other kinds of films) that have been able to show the complexities of a character's sexuality really well? Any particular characters that come to mind?
SG: Both fiction and non-fiction are capable of great complexity if the making is in the hands of someone capable and complex. I have always held that good films – fiction, non-fiction or hybrid– emerge not from a familiarity with the subject, though that's essential – but an understanding of the language of cinema. A lot of bad films result from not realizing that the `telling' is as important as the story. In cinematic storytelling, the word cinematic has to come first. As far as gender and sexuality is concerned I am a great admirer of the work of Canadian filmmaker and artist John Greyson because he is so full of surprises. Richard Fung's Sea in the Blood is also another favourite.
There are innumerable cinematic characters that come to mind. But if I had to name one film right this minute, I would choose Bill Condon's speculative biopic Gods and Monsters (1999) about James Whale, the famous film director. Whale made the landmark horror film Frankenstein (1931) and its sequel The Bride of Frankenstein (1935). Both films were huge critical successes and Frankenstein kept Universal Studios afloat during the Depression era. Between 1930 and 1936 he made 12 films all of which are major successes. Whale's films revealed a great compassion for the `outcaste', like the Frankenstein monster, who was a social misfit. Whale himself was openly gay in a homophobic industry which may have contributed to his alienation and premature decline in the industry. We cannot be sure. He died mysteriously and there was a debate about whether it was murder or suicide. Condon's film speculates on what might have transpired. The result is a fascinating look into the mind of a queer, creative man who is haunted by the horrors of war and the darkness of his own desires. Condon went onto make other good films but they were relatively safe projects; taking lesser risks with the story and their telling. God and Monsters has the power, beauty and fearlessness of an independent film.
RC: Do you personally favour a particular genre of fiction (in writing or films) for the way in which it allows for the telling of real or imagined stories about sexuality?
SG: Because the lives of people – especially inner lives – are unknowable, I am fascinated by the cinematic or literary speculative biography.
RC: How do you see Bombay cinema's depictions of sexuality? It seems to be changing, becoming more open in some ways; do you see that as a positive change or is it taking away from the viewer's imagination and allowing only one way for a story to unfold?
SG: To me, the subtext of a film is always more interesting than the text. While I welcome the emergence of explicitly queer characters, that fact alone does not excite me. Bombay cinema has had a long history of depicting transgressive relationships but these speak to those who are familiar with the tropes and conventions of that cinema. Bombay cinema is becoming more forthright about asserting gender and sexual rights and this indeed is a very welcome development. But this fact alone, I feel and therefore, repeat, does not guarantee a good film. There is no doubt that a number of exciting films are being made by a new generation of filmmakers like Masaan (Crematorium, Neeraj Ghayawan, 2015) and Death in the Ganj (Konkona Sen Sharma, 2017). These do not feature queer characters (at least explicitly) but are products of the debates that emerged around the queer moment.
RC: What about regional cinema? (Meaning that is it also changing in the way it depicts sexuality?)
SG: Barring exceptions, I tend to watch only Bengali and Malayalam films so I cannot talk about all regional cinemas. To me the most important figure in the world of queer regional cinema remains Rituparno Ghosh (1961-2013). The noted Bengali filmmaker Kaushik Ganguly cast Rituparno in a film called Arekti Premer Golpo (Just Another Love Story, 2011) where he played the role of a flamboyantly queer filmmaker and in another track in the story set in the mid-20th century, as a queer female impersonator. Arekti Premer Golpo became a very important film for Ritu. It was going to be his acting debut and was going to deal with a subject that was closest to his heart. He got involved with the script, the styling and the sculpting of his own body. Through a combination of diet, exercise and abdominoplasty, he transformed his body in a way that he felt suited the two feminine men that he had to portray. This was followed by Memories in March (2011) and Chitrangada (2012).He acted in all three films and also directed the last one. Through his films, his own star persona and his literary interventions as a public intellectual, Rituparno made queer issues central to public debates in Bengal.
RC: You like Madhuri Dixit. Do you feel that her films have allowed her to realise her potential or do you feel that she has lots more that has still been untapped?
SG: Correction: I love Madhuri Dixit. But the idea that her potential has not been fully exploited is what I feel about a lot of actresses in the Bombay film industry. Women stop getting interesting offers just as they are beginning to get a hold of their craft while the men continue to act as heroes till they literally drop dead. Most of our heroines – many of whom are very talented – never get the roles they really deserve. This is what needs to change. As far as Madhuri is concerned, future generations will hopefully revive the prematurely terminated discussion on Anjaam (Consequence, Rahul Rawail, 1994) where she plays a killer who unleashes brutal violence on those who have wronged her. It's a film that has never received the attention it deserves because people are so unused to seeing women as perpetrators of terrible violence.
RC: If you could spend 36 hours with a fictional character, who would it be? What would you do, talk about, ask them or suggest that they do next?
SG: What about 36 hours every year with a different fictional character? In which case, this year, I would like to spend time with Batman and have a conversation about forming a counter-vigilante opposition to right wing forces.