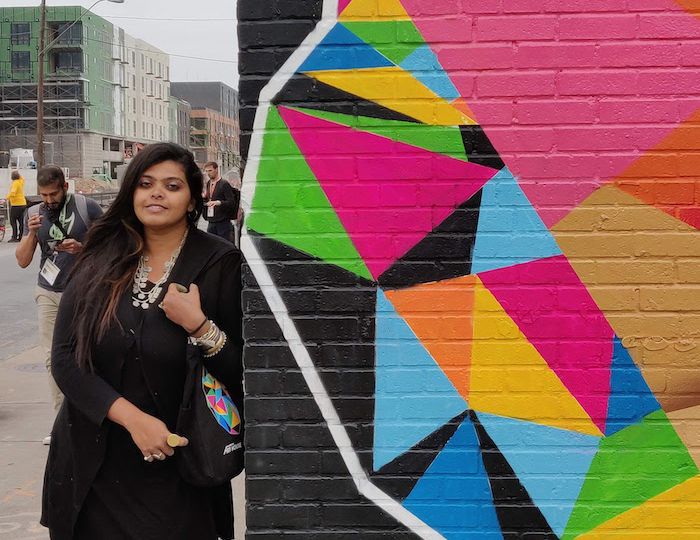 Poornima Sukumar is a muralist, community artist and an amateur anthropologist. She uses her knowledge of public art processes to foster community engagement, enable youth voices, engage youth in peacemaking and create awareness around social issues. Poornima is the founder and director of the Aravani Art Project, a collective of diverse women artists who identify as transgender, gender-fluid, and/or cis-gender women. The work of the collective seeks to create safe spaces for alternate voices through art, with a particular focus on trans visibility and social integration.
Shikha Aleya (SA): A warm thank you for this interview Poornima. Innovation and sexuality, the theme of this interview, particularly relevant at this time when human society across the globe is coming to terms with a pandemic and the foundational changes that we need to make. Please tell us about the Aravani Art Project and how this collective is transforming their already-innovative work to reach out to an even more diverse community through social media?
Poornima Sukumar (PS): Aravani Art Project aims to embrace the transgender community by creating consciousness, wellbeing through art, awareness, and social participation. While the visibility of transgender people is increasing in popular culture and in daily life, they still face acute discrimination, stigma and systemic inequality. With a mission of attempting to reduce this in society, we, at Aravani Art Project, work to bring about change in the way society views the community. We advocate the idea of reclaiming spaces in society by creating large wall-mural projects to raise awareness and to create a voice for the community. We are now finding more innovative ways to engage the community to come out in public spaces, also using the Internet and social media, to feel confident, safe and a sense of belonging.
Our friends from the transgender community are doing everything possible to make this fight count! The best we can do is stick together, even though we are apart. Although we intend to keep spirits high and everyone encouraged, the sudden situation caused by the COVID-19 pandemic has left us all confused, body, mind and soul. The fight for human rights is a challenge now. A sense of family and belongingness can be sustained by using basic technology to keep a check on each other's mental health and everyday wellbeing.
Now, more than ever, we continue creating art, if not on walls, then on canvas. With the help of social media, we have achieved a new milestone in reaching out to people from various parts of the world. We are excited that our art is reaching so many hearts in so many places.
SA: When you meet people from across sectors to discuss collaborations and engagement on gender and sexuality, what are some responses, attitudes, and approaches you encounter? What is the biggest challenge you identify here?
 PS: Firstly, I make sure that all meetings and collaborations go through me and then reach whomever they concern within the collective. A lot of times I feel it is very challenging when people assume that I am a cis-woman representing the transgender community. How can I ever think of representing such a diverse, richly heterogeneous and powerful set of individuals? I am representing the collective and the work we do. I don't usually like to be published as or call myself the founder because honestly the collective began with the notion of it becoming more of a trans-led movement.
However, right now the core- team consists of both cis and trans women and the project/ collective functions more like a family and belongs to each person.
Since the whole project began with a very fluid structure and with no concrete agenda, the learning and unlearning was a shared experience. Of course, there have been several challenges and failures which have made us stronger. Sharing responsibilities and creating a space for mutual trust and friendship is something we practice relentlessly.
Usually it is easier said than done, it has been a series of challenges and we all know and understand that nothing comes without those testing times and sometimes years of patience. Some of the crucial challenges and most recurring one for me… is not being able to meet or engage with more transgender people. Another challenge is also about earning the trust from people from the transgender community. Several years of discrimination and constant stigma being one of the reasons.
We assume scenarios and judge the people from the transgender community and it's easy for a lot of people to choose them as a subject, write a thesis, do research, without even engaging with an individual who belongs to the community. This cannot be ready-made, it takes effort and time to actually make a friend, get to know them, find out and be open to finding out what you don't know, and make a connection for life.
SA: That is a lot to think about, thank you. It leads me to ask you, Poornima, what are your insights and suggestions on making social spaces, physical as well as virtual, safe, inclusive and sexuality affirming?
PS: I don't think that this is rocket science… this is supposed to be the most basic aspect, to be able to feel safe.  It is important that we make everyone feel welcome, wanted, and heard. It is important to take that extra step and make sure that we don't have conversations based on certain assumptions and ask insensitive questions. Our artistic work and explorations are often executed in the spaces where the people from the community reside and at their localities. An important process, to make a space safe is to hold an open discussion with people from the community to decide what will make them feel themselves and be comfortable.
We all know how it feels to be judged, to feel unsafe, to feel unwanted, to feel silenced. Based on this knowing, we can practice some empathy and avoid sympathy.
SA: On a completely different note, here's a question on your connection with animals and the natural world. Your Instagram account features many posts of artwork and the documentation of that artwork, integrating goats, cats, dogs and green, in the most soul-satisfying way. How do we foster empathy, compassion, creativity and innovation in a way that helps us integrate the diversity of life experiences around us?
PS: Thank you for that! We must understand this about empathy, that sometimes bitter life experiences can make you unlearn it. Also that everyone expresses empathy in their own way. Although growing up in a joint family taught me many values, I remember becoming a bitter person when my family split. Slowly the bitterness turned into a curiosity of how people deal with extremely difficult situations in their lives. I have always been very keen to know more about people who are considered marginalised and/or are usually neglected. I have been curious to know their stories of love, loss, strength, hope and am in awe of their resilience. In terms of integrating animals who live amongst us, I find that so beautiful. To love and understand another creature, as we do ourselves, adds a peculiar gentleness and warmth to our lives and experiences that are sometimes harsh. The least I can do as a visual thinker and practitioner is to stimulate a little empathy.
SA: A warm thanks again for your sharing. Please do tell us a little about yourself, and the key insights that have led you to this point of being who you are.
PS: By now, I already feel as if I am preaching, but this is what I know: hard work really pays off and respecting the dignity of labour teaches you to be grounded. The willingness to be able to gain experience in all fields of work and using our privilege to actually create space for growth and sharing is important. Learning from experiences is important too.
Go all out to help someone but don't expect anything in return. Talk only when it is necessary, make your actions speak louder than words. Act on your dreams, be persistent. Trust the process.