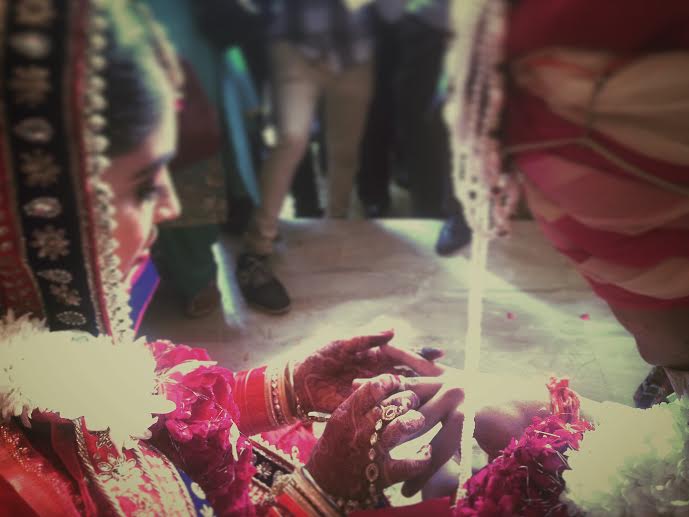 I envy confident women. It could be the way a woman speaks her mind, the way she dresses, or just her self-assured body language in a room full of people that blows me away.
In my view, there is a confidence that comes naturally, and one that strengthens with one's upbringing. I seem to lack on both fronts. There is also the confidence that comes with age. This kind of confidence feels imminent – almost within my reach – and makes me look forward to growing older. Then there is a confidence that comes with achievement, or with the illusion of it. This kind of confidence is fleeting, like a mirage, since achievements themselves are transient. I can't depend too much on this kind.
There is one other kind of confidence that has always fascinated me – the confidence of the married woman. At first, it seemed like this kind of confidence magically emerged from the saat phere or the seven circumambulations around the holy fire that form an integral part of the Hindu wedding ceremony (a slightly mature version of my childhood belief that babies magically emerged out of the saat phere!). A more reasonable explanation would be that this confidence arose from having overcome the trauma of marriage. Either way, my aspirations for attaining this higher state of confidence are going to be tested, as I have just said yes to marriage!
The first alarm bells went off when I saw how little my family cared about whom I am marrying or why I am marrying. Mine is going to be a 'late marriage' after all – just the fact that it is happening at all had spread a wave of relief all around me. Congratulatory messages and phone calls from cousins and aunts and uncles arrived instantly. I could have just forgotten everything and enjoyed this moment of glory. The act of saying 'yes' to marriage resulted in a standing ovation and a sudden acceptance from my family like never before. Maybe this would have been my first step into the promised land of marital confidence, backed by approval of family, friends, friends of family, families of friends, and even random strangers. Unfortunately, there was something seriously problematic here. The essential message I received was that the value of my life's work (which included seven years of higher education, four years of professional work, and one year of running my own business) was nothing compared to the value of my conforming to this single societal rule.
I have been in a loving relationship for over four years now. Growing up, I came to learn that relationships of this nature, between a boy and a girl, were taboo in my family. They were a cause of shame and embarrassment. They were to be hidden from the public eye. Hiding eventually leads to deceit, and lies – which is not very good for one's confidence.
When I grew older, I had a couple of very close friends who were gay. Despite our differences, I could relate to their struggles, and feel the pain in having to hide your love for someone. To love felt natural, honest and good. Since my internal right-wrong meter did not seem to match my family's right-wrong meter, I developed a private life for myself. Privacy meant freedom. To protect my private life I had to sometimes exclude even close family to be able to avoid any risk of losing this valuable freedom – the freedom to choose whom I wanted to be with, without having to decide if I was choosing to spend my lifetime with them or not.
This categorical line between my private and public life was challenged the moment I told my family about my decision to get married. The label of 'marriage' changed the direction of my family's moral compass in our favour. The onslaught of congratulatory messages accompanied invitations to their homes for me along with my partner. This instant legitimacy of my four-year long relationship, another potential peaking moment in the confidence graph, was utterly disconcerting.
Then one morning, advertisements across the newspaper announced, 'END OF SEASON SALE!'. Before I could even begin to fathom what this meant, the family responded in a unified voice, full of enthusiasm, "Who cares if the marriage is going to work or not – let the façade of the wedding planning commence!" After all, they know only too well that weddings are not cheap, especially for the girl's family. And then there is the uniquely Indian bachat (savings) gene, which constantly reminds us that money saved is money earned! There was shopping to do, venues to block, guest lists to prepare, invitations to design, and the drama of a blissful, naïve princess in her fairytale Bollywood wedding was yet to be created. I can see how this could be an absolute dream-come-true for some, with all the attention and family sponsored hair-and-makeup sessions making them feel important and worthy, but it just doesn't work for me.
This confidence in question, which seems to come as a bonus with marriage, still evades me. What I'm feeling instead is a growing sense of panic and excitement, just like I feel every time I expect a big change in my life. At the moment, my decision to marry is being appropriated, packaged and delivered by society without them realising what it actually means to me. I am not getting married for acceptance, or legitimacy, or even for the free goodies and makeovers. I am getting married because I believe in taking risks and in adventurous journeys. I am getting married because I have faith in picking myself up when I fall. I am getting married because I have hope in the greatness that our union will create. And yes, I am aware that this is the next stage for me, but not the final one. It is amongst innumerable other stages and landmarks yet to come, in both my professional as well as my personal life.
Being able to hold my own during this very personal act in a very public setting – looks like this will truly be the first challenge on the elusive path to becoming a confident married woman.