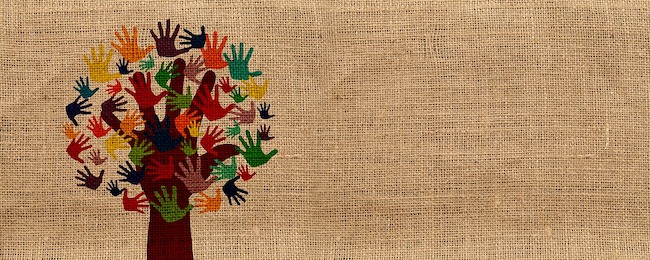 Almost 400 years ago, John Donne wrote, "No man is an island entire of itself; every man is a piece of the continent, a part of the main…" And so it is; we cannot live, let alone thrive, in isolation. Even if isolation be demanded of us, as it may be for some of us, in these times of COVID-19, it is only physical isolation for a finite period, and we are still able to stay connected with others in different ways. Connection is essential for our survival – physical, mental, emotional and spiritual. We connect with people, form networks of care and support, and in a sense weave webs of safety and comfort that we can turn to when stressed or simply want to infuse a dose of joy into our day. For those of us whose stress comes from feeling, or being made to feel different from or less than others in any way, the need to have a web of support becomes even more impelling. That is why Anahita Sarabhai co-founded QueerAbad as a support group for queer people in Ahmedabad. QueerAbad is not just a social space to find like-minded people to bond with, but also a space for critical reflection and questioning. In an interview with Shikha Aleya, Anahita talks about her vision for conscious engagement and effective community-building with a queer intersectional feminist approach by keeping in mind the many dimensions of identity and context.
Anannya Chatterjee, who is a sexuality educator, gives us a glimpse into the many curiosities of her young students – from whether feelings carry moral weight to if porn depicts sex accurately – and the support she lends by building a safe and affirming space for them to seek answers to questions they may otherwise be too afraid to ask. These questions, especially when they pertain to our emotional wellbeing, and in who we are and our sexuality, are ideally positively and comfortably discussed with and among family. However, in reality, family may or may not be those with whom we can be ourselves, and be seen and heard authentically. Expanding the definition of 'family' to encompass blood as well as chosen relationships, Elsa Marie D'Silva highlights being part of a family as a right. Using the Pope's recent avowal of homosexual relationships as a springboard, she nudges us to equip family with empathy and openness so as to adequately care for its members, particularly children.
Our support systems hold us as we sometimes leap, sometimes stumble through the many ups and downs of life. We lean and are leaned on, and we listen and are heard. With characteristic candour, Asmi draws a distinction between support and codependency. Emphasising boundaries, she probes the give-and-take of support: Are we weak or not good enough when we seek help? And, while being supportive of another, how do we practice self-care? Delving into the emotional vulnerability we share in friendships, Kaustav Bakshi crafts a compelling story of two unlikely friends who help each other navigate love, loss, and everything in-between. Talking of unlikely friendships, Swarupa N Kshirsagar reviews the film Do Paise Ki Dhoop, Chaar Aane Ki Baarish – an ambitious tale welding together the personal and the political as Juhi, a sex worker, and Debu, a jaded poet who has recently broken up with his boyfriend, traverse the joys and misgivings of sharing a home, caregiving responsibilities, and work.
For our Hindi readers, we have new translations in the Navintam Lekh section.
In Brushstrokes, we bring you a heartwarming comic about acceptance of one's gender identity and performance (literally!) through an unwrinkled sari. In a similar vein, for Video, we have It's OK Pammi! – a short film about a mother trying to come to terms with her daughter's sexual orientation and partner who, much to her dismay, is not a suitable man or a man at all!
In our Innovations Corner, we share experiences of individuals who are a part of the Arise – Trans(forming) Lives Project, and in our Tech Corner, a toolkit for the LGBTQIA+ community to be Safe and Strong while connecting with others on Facebook and Instagram.
In the mid-month issue, Soumya Jayanti shows us how in the face of increasing violence, when there seem to be no safety nets holding us up, we still can weave together strands of love and care and build community, our 'otherness' uniting us across our seeming differences. New kinds of resistance and struggle birth new forms of solidarity be they grass-roots mutual aid networks, online support groups or a queer collective in a university campus; what they each are in essence, as Soumya concludes, is an affirming support system. Along similar lines, Swarna Jain ties together Ethics of Care, an empathy-based approach to building collectives, with the many real-life nuances of community-building and its practice in our everyday lives. With Ethics of Care, she says, we can imagine alternative paradigms of caring for one another as well as our own selves.
In Hindi, Ashmeet K. Bilkhu highlights the restrictions that patriarchy places on our sexuality and emphasises inclusive policy-making as being integral in forging sexuality-affirming spaces.
In our Blog Roll section, we share an article on queer friendships as transformative spaces where our identity, desires, and struggles can be safely expressed.We also have an article by the founder of Humans of Safe Places about why she set up a platform for people to share their life experiences free from stigma and judgment. Exploring such safe spaces further, the third article places imagination as central to organising around shared vision and feminist values. The fourth article is in Hindi about Savitribai Phule (1831-97) who, together with her husband Jyotiba Phule, stood against injustice of all kinds, and through word and deed showed solidarity with all peoples.
In our FAQ Corner we bring you Sweekar: The Rainbow Parents, a support group for parents of Indian LGBTQ children, because with a little bit of love, the world feels a happier, safer place to be in!
Stay connected, stay strong!
Cover Image: Pixabay