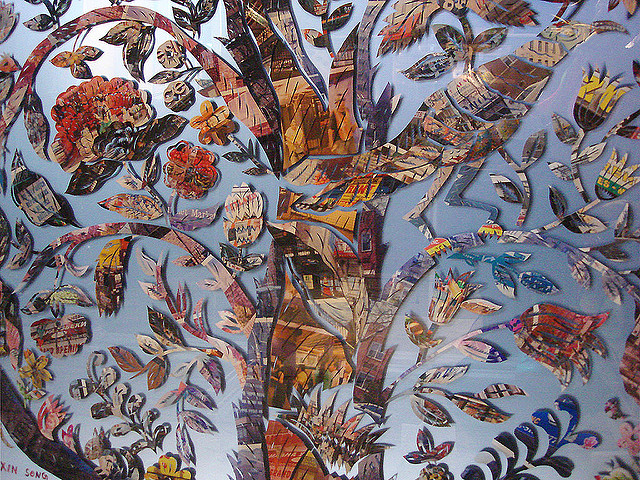 To belong or not to belong? Some people define themselves through commonalities. There are some who define themselves through difference and then seek to find others who share that difference. They find commonality in a shared difference. Commonality is what makes for a community. To keep that commonality becomes an unwritten rule. What lets you in? What keeps you out? Every community tries to keep its members together. There are expectations, rules, impositions and, for the dissidents, punishments. Ironically, even communities of people who do not conform to mainstream norms of sexuality or gender have their own norms.
Our contributors to this month's issue of In Plainspeak on Communities and Sexuality explore various strands that make up this mesh. Is it a fabric that protects or a net that traps? The ties of community that can bind us together and offer us comfort, are they also ties that can imprison? Chayanika Shah unravels this with her usual simply stated brilliance and tells us about her own Learning a Politics of Unbelonging. Pawan Dhall, interviewed by Shikha Aleya, reveals the wisdom of what he has learned and unlearned on his own journey of building communities.
In the I Column we have Ramya Anand baring her soul and questioning her conscience about the two seemingly contradictory communities she belongs to. Where do I belong? What Heaven is there for me? A question that can break a heart and split communities as we see in Surbhi Dewan's review of Khamosh Pani.
In a lighter but no less insightful vein, Manak Matiyani uncovers the delight and delicious ribaldry in women's songs of celebration of marriage as a community event and leaves us with an unexpected gift of a song collection. A note of apology here for non-Hindi readers: too much was getting lost in translation, so forgive us if there are parts you do not understand! We feature the Hindi translation of the article as well for our Hindi readers to enjoy.
The Video page has Laxmi Narayan Tripathi being her fearless self and champion of the hijra community. The Media Corner focuses on the reactions to Dhee, Bangladesh's first comic book lesbian character, a young woman in her twenties. Dhee is a creation of Boys of Bangladesh as part of their efforts to open up conversations on sexual diversity in Bangladeshi communities. If you want to know what the perfect traditional Indian woman is, go to Brushstrokes! And just as there are do's and don'ts for being the perfect woman, it appears there are food rules suggested by communities all over the world for the perfect mother-to-be. Read about them in the Food Corner.
In the Mid-month Issue…

Aersh Danish writes about his personal experience at the intersections of being gay and Muslim, while Sonia Dhawan has a take on another aspect of identity politics – how Indian Americans define their community in the U.S.
The Hindi section has a newly added translation of a thoughtful previously published piece by Jessica Horn on activism and self-care and we also have part two of Shikha's interview of Pawan Dhall featured in this issue.
The Blog Roll contains an interesting mix of curated pieces from around the Web: a piece on contemporary Hindi theatre's experimentation with themes and inspiration, and one on who to listen to about issues of abortion (the answer is a surprise!).
In Plainspeak returns next month with two fresh issues around the theme of Accessibility and Sexuality. If you want to contribute an article or artwork, write to blogeditor@tarshi.net.
Until then, happy reading!
The TARSHI Team
---
Cover Image: (CC BY 2.0)