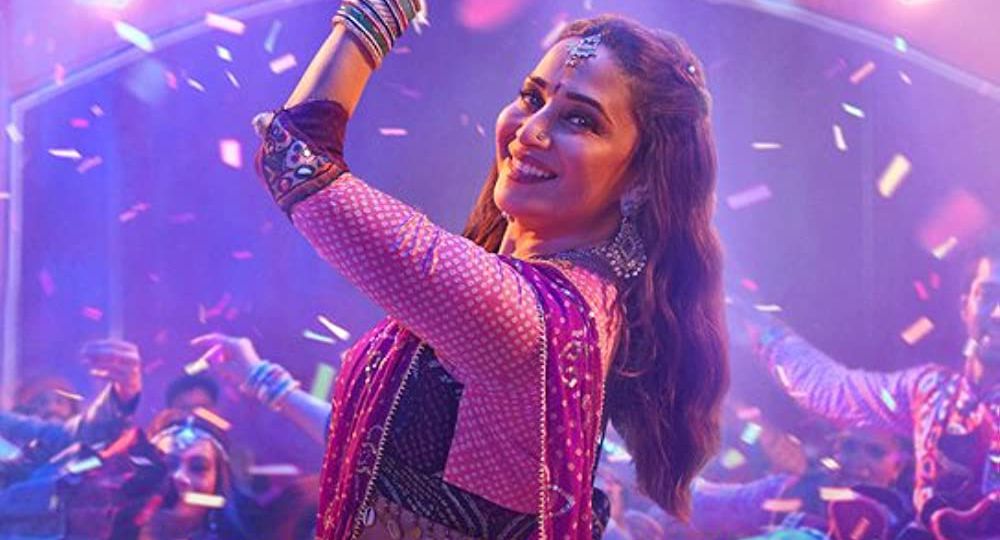 Although recent Hindi films have begun portraying stories of lesbians and gays in India's smaller cities (Badhai Do and Shubh Mangal Zyada Saavdhan are two recent examples), none of them have examined the lives of closeted older queer people. The recently released Amazon prime film, Maja Ma explores the world of Pallavi Patel (played by Madhuri Dixit), a middle-aged closeted lesbian who lives with her husband and two grown-up children in a largely conservative milieu in the city of Vadodara.
Through the character of Pallavi, the movie delicately explores the desires as well as genuine fears and concerns of an older queer individual living in a close-knit family. Insofar as movies showcase evolving societal mores, the movie points towards the unique ways in which modern India is likely to negotiate the tensions between the deep-rooted cultural preference for heterosexual marriage on one hand, and the homosexual identities of married individuals on the other. The movie is also an interesting snapshot of the attempts by a deeply family-centric society with still strong collectivistic tendencies to reckon with more openly emerging homosexual identities, within the collectivistic framework.
At a crucial point in the film, Pallavi says "Apart from being a daughter, wife and mother, I do have an identity". What is interesting and original in this film is that while she comes out of the closet to finally express her identity, she does not abandon the other roles which have lent both meaning and purpose to her life. This reconciliation between Pallavi's public (seemingly) heterosexual and closeted lesbian identities points to a distinctly Indian way of avoiding polarities through a new social arrangement where both identities are allowed the space to flourish.
While other recent films have portrayed lesbians and gays who take decisive steps towards fully embracing their sexual identities, this movie opens up a possibility of a third way where they might be more comfortable adopting a middle path allowing both a heteronormative marriage and queer relationship to co-exist. In that sense, the movie is neither a 'cop out' nor is it playing 'safe' as some critics seem to be suggesting. Instead, it is breaking new ground by showing how heteronormative, traditional families can embrace older queer individuals within their fold. It is no wonder then that this movie is gaining wide acceptance among people of all ages. (In a recent interview with Film Companion, Madhuri Dixit spoke about hearing from a woman who had enjoyed the movie with her mother and grandmother).
The other noteworthy feature of the film is the portrayal of Pallavi's husband Manohar (played by Gajraj Rao) who while being understandably distressed to learn about his wife's truth, comes around to not only accepting her sexual identity (in an emotional scene in the film, he asks her not to leave him and says "You do whatever you like; I will always stand by you"), but also promising to be her friend. The support from the husband speaks to the unique blend of conservatism and liberalism in India where Manohar, an otherwise traditional Indian man with clear ideas of male (bread-earner) and female (home-maker) gender roles, refrains from urging his wife to repress her lesbian identity. This is especially interesting as it requires him to ignore and overcome the intense societal judgment that follows Pallavi's inadvertent video revelation of her being lesbian that goes viral in the city. Through his character, the movie also attempts to normalise a version of masculinity that is defined by sensitivity, empathy and open-mindedness.
However, a vexing question also arises as to whether the aforementioned sensitivity displayed by the men in Pallavi's family is an acknowledgement and even reward for the successful execution of her role as a dutiful wife and a doting mother in the heteronormative family. Did those roles, rendered sincerely over decades, help her accumulate social capital that she could cash in to re-access her lesbian identity? Did Pallavi consign her lesbian identity to exile and give up her prime years in the service of the heteronormative family in order to build up the unimpeachable credibility to re-access her lesbian identity in middle-age?
What would the reaction of her husband and indeed, the audience have been if Pallavi were a newly-wed bride who told her husband in their first month of marriage that she was attracted to women? Would her husband's reaction have been as supportive? Would audiences have accepted such a movie where Pallavi leaves her husband (or perhaps, young children in the first few years of marriage) to be with her lover?
In his recent speech at a British High Commission event to mark the fourth anniversary of the landmark judgment that struck down Article 377, Justice Chandrachud said "Atypical or unconventional families must be able to enjoy all the legal and societal benefits that their more traditional counterparts do, be it through marriage or otherwise. When I say unconventional families, I do not mean to refer only to queer couples but also to others who choose to live their lives in a manner that deviates from the accepted norm. Our very understanding of the family unit must change to include the myriad ways in which individuals forge familial bonds." While such a shift needs massive, conscious effort by different institutions, mainstream movies such as Maja Ma can play a significant role in initiating attitudinal change in families and communities.
Will an urbanising India witness a proliferation of unique social arrangements along the lines of Maja Ma that will complicate Western categories (throuples, polyamory, etc.) and ultimately have implications for public policy (tax policy, health insurance, marriage certification categories) etc.? Will the emergence of unconventional families in India also call for unconventional and inclusive policies that move beyond the straitjacket of age-old categories and begin to truly reckon with the fluidity of identities? Ultimately, Maja Ma is a snapshot of an emerging sexual identity revolution in India and attitudes, individuals, communities, institutions and policies will need to evolve to align with changing realities.
इस लेख को हिंदी में पढ़ने की लिए यहाँ क्लिक करें।
Cover Image: Amazon Prime Video