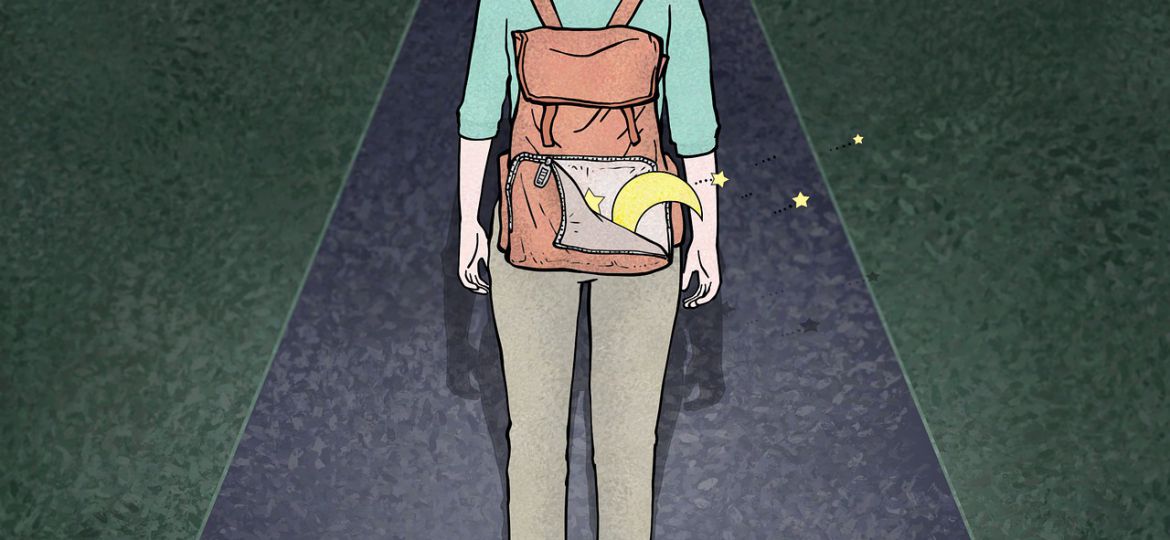 These days, night falls earlier. My friend and I walk in Siri Fort Park, its vast wilderness navigable by a complex network of pathways segueing into narrower pathways, in places dark but for moonlight and in places leading to a fenced gate to nowhere. The kind only White teenagers in horror films fling open and go through. "40 acres," he muses. "Our bodies are droplets here!" He imagines being robbed and murdered. I imagine being raped and maimed.
I first moved out of home to North Campus, its wire-webbed and pot-holed lanes teeming with students during the day and especially at night. Most evenings, my friend and I would walk fifteen minutes for a cup of chai, and bun-omelette if we were forty-rupees richer or feeling decadent. If a submission were due soon after, enthusiastic to do just about anything but research and write, we'd walk till the wee hours of the morning, returning home as temple bells clanged and our neighbours' lights flicked on. If my mother called me after 8 pm, I told her I was at home, and all was well. In 2017, a two-day seminar to be held at Ramjas College was marred by ideological clashes. As the clashes escalated, more and more students protested. We were advised to keep our door locked at all times and go out only if necessary. Violence spilled: men were chased and beaten up on roads in broad daylight and women were shamed, verbally and physically. When my mother called and asked my flatmate and I to live at my parents' till living on campus was safe again and yet again I told her we were at and intended to stay home, and all was well. We stayed on, cautious while out shopping for groceries, receiving calls from distressed friends who needed a 'safe house' to spend the night, and looking out for one another as chaos unfurled around us.
Growing up, specifically after we reach puberty, talk around sexuality is preoccupied with 'safety' – and in this vision, our safety is contingent on following the rules of appropriate conduct in a hetero-patriarchal set-up. Our parents would ferry us to our friends' house with a caveat: We trust you, we don't trust the world. When out in the menacing, open-jawed world they described, taking risks entailed violence and being questioned. Not of why the possibility of violence is supposed to act as a deterrent to stepping out of the circumscribed space allotted and accessible to us as women, or why the violence occurred if it did, but of why we had taken a risk in the first place. At school, if girls were "caught" in a relationship, their parents were called up by the teachers: Remember, whatever happens, the consequences are always the woman's to face.
In college, a curious sentence cropped up in everyday conversations with men: I know boys better than you do. Not as blatantly protectionist as our parents' lesson but equally unsettling. It's hard to tell if it's more ironic that men I'm spending time with ask me to be wary of other men, for my own good, or infuriating that they believe women exercise no agency in these interactions. Worse still, a friend, certain that I could acquire an Arms licence for protection, suggested I buy a "small, vintage gun" and lug it around in my backpack for stylish safety. We had, earlier, discussed my aversion to carrying pepper spray. While a pepper spray would undeniably come in handy if I were ambushed, it is also a constant reminder of the ever-looming threat of violence we may face when side-stepping a meticulously made list of dos and don'ts.
In the last few days, uproar over the rising incidence of caste-based sexual violence has reopened a larger discussion: safety of women in public spaces. Much like women's empowerment, women's safety has become a buzzword. Suggestions pour in: self-defence classes to fight back when attacked, tracking apps and CCTV cameras for greater surveillance, bolstering legal mechanisms for protection and redress of sexual violence, and a set of tips that include dressing modestly, and stepping out at night, if one must, in packs of three or more. We are led to question what 'safety' really is: Will it be guaranteed by going gently, if at all, into that good night? Is it at all possible to freely and safely explore who we are and the world in which we live? While highlighting safety from, media narratives often dismiss safety to: express oneself, be it through the way we identify and communicate, or through the body. Not only the spaces we access and the time of day we do so but also the way we perform our self-hood. Safety from, as Shilpa Phadke, Sameera Khan, and Shilpa Ranade underline in 'Why Loiter: Women and Risk on Mumbai Streets' is restrictive and conditional. When we are repeatedly told Ek akeli ladki ek khuli hui tijori ki tarah hoti hai (A lone woman is like an open safe), how might we safely seek pleasure?
My flatmate jumps out of her skin when we teasingly say Asleep at night, you hear a rat-a-tat-tat on your balcony door and unwaveringly double-checks that the door is locked before going to bed. Good-byes are instinctively followed by Text me when you reach and cab rides are monitored. Last year, I worked from 3 pm till 11 pm and every time the cab back home had only women passengers, a security professional accompanied us. On a late-night Metro, just another woman's presence is comforting, a tacit 'I got you'. As we confront these threats collectively, we build a community of our own. We seek as well as offer support. And together, bit by bit, we reclaim our right to take risks.
In a fear-based discourse of risk, the body is portrayed as a site where violence may occur. However, the body is where we experience pleasure too: dressing to authentically express our gender identity, openly expressing and acting on our fantasies and desires, or even a midnight walk for ice-cream. Side by side, we manoeuver sexual and/or romantic relationships. Allowing ourselves to be vulnerable with someone, although running the risk of getting hurt – be it because of disagreement, rejection, or a cherished relationship ending – also deepens the intimacy we share with them and our sense of belongingness.
Many times, we hesitate to open up and share with someone our thoughts and emotions. Perhaps because we aren't quite comfortable doing so, or because we fear ridicule and indifference. Or, of course, we would like to cushion ourselves against heartbreak. Risking intimacy can be an act of resistance: of claiming and proclaiming our individuality and forming connections with others who accept us for who we are. As we make our way forward, we steer through love and loss and freedom and limitations, and slowly, understand as well as establish boundaries. Taking risks, we learn and unlearn what makes us feel comfortable and safe, when we want to reach out for help, and what aligns with who we really are and who we want to become. 
Cover Image: Pixabay
इस लेख को हिंदी में पढ़ने के लिए यहाँ क्लिक करें।