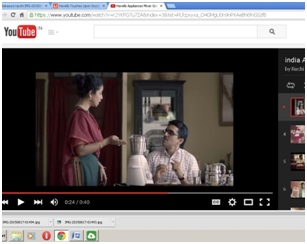 Bakasura Chicken Tikka Roll.
100% Wholesome.
Made for Real Men.

In the home delivery menu card of a local restaurant, this is the name and description of a particular meat-some delight. Bakasura was an asura of mythological fame. He ate like a demon, he was a demon, he ate people too. So people made a pact with him and once a week sent him a cartload of food with a person chosen to be part of the main course. Baka ate it all, food, cart and person. (Then one day he was killed by the Pandava prince, Bheem.)
In the Encyclopedia of Sex and Gender: Men and Women in the World's Cultures edited by Carol R. Ember and Melvin Ember, there is a chapter called 'Husband-Wife Interaction and Aloofness' by Gwen J. Broud. The author makes an observation about husbands and wives based on cross-cultural evidence and focusing on whether or not they eat together. This one simple factor reflects how much they do or do not do together as a couple. If they eat together, the chances are they do more together, particularly being closely connected during life events. If they don't eat together, they are more likely to be apart at most times and during most life events.
This reminds me of a road trip to Kasoli some years ago. I'd stopped at a vegetarian dhaba and was drinking tea, waiting for dal-roti, when two large cars disgorged two large families, comprising noisy men, women, children, babies and toys just in front of the dhaba. The men took up a table, and the women, children, babies and toys took a different couple of tables. The men opened up bottles of whisky that they were carrying and proceeded to knock themselves out. The women ordered food for everyone. The men demanded 'non-veg' but there was none, so they compromised and a dozen eggs were boiled for their table. The two tables neither looked at each other nor exchanged a word through the session. It was all quite normal.
I heard a story a long time ago of a same-sex couple mirroring heterosexual norms in their personal life and relationship. At a dinner for friends, the heteronormative 'she' person(s) laid the table and brought out the food and the 'he' person(s) ate, then left their plates to be cleared up while they enjoyed a post-dinner smoke. It was all quite normal.
Story three. At a bar in New Delhi many years ago, a group of friends were drinking beer. An acquaintance walked in through the door and joined them. The group asked about his pregnant wife. He replied with a somewhat disgusted shrug that she was in hospital and may deliver at any time. Asked what on earth he was doing here drinking beer, his reply was simply that the baby was her problem, what did it have to do with him? He ordered barbecue wings to go with the beer. This may sound extreme, but I sense it's still commonplace behaviour and attitude.
Our personal and political, commercial, socio-cultural and psychological relationship with food reflects how we see ourselves, our roles, how we see others and their roles. Our attitudes to our bodies and our rights, our pleasures and our decisions. I'm not a real man so I can't order the Bakasura CTR. Real women have a range of alternatives. They cook, they wait to serve it hot, they feed, they nurture, eat last, feed boys first, feed girls what's left.
It's not just India and our mythology and traditions. In April this year, Cheryl Rios of Dallas, CEO of her own company Go Ape Marketing, hit the news with her Facebook update 'God wanted women to serve food for men, not run for office'. She has a problem with Hillary running for President. This is how she chose to express her issue. She has also been quoted as saying, "Yes I run my own business and I love it and I am great at it BUT that's not the same as being the president, that should be left to a man, a good, strong, honorable man" [sic].
Women and nutrition is a big theme in development across countries. That could also be about sexuality and nutrition. But we don't call it sexuality and nutrition because very few people will support or fund that particular description of a gender issue. I Googled permutations of sexuality and nutrition and got lots of responses about food and sex drive. Bananas. Ginseng. Chocolate. Avocado. Ginger. Jell-O. Those are the first things that come to mind with this theme, food and sexuality. Plum photography to look like bum photography. Appetite? Is that a connection? Appetite reminded me of my menu card.
How is food related to gender issues? Take a look at these ads. Personally, the first one is an all-time favourite irritant.
Kellogg's All Bran Wheatflakes – the perfect remedy for an irritated wife.
Everest – Life mein daalo thora garam masala – or your husband will eat outside (rather than return home to you / yourcookery).
In contrast, the Havell's TVC, clarifying the difference between chutney and patni is brilliant. It establishes the company as evolving with the times, in tune with changes in the socio-cultural environment and ready to promote this through their TVCs! They connect food and gender role in a way that's fun and thought-provoking.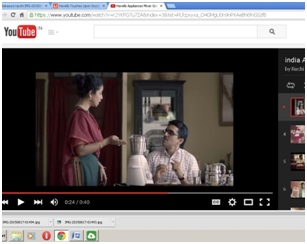 Does food make you fat? Eat less. Aim for skinny. Skinny good, skinny sexy. If you're a girl. Food is about more than eating. It is also about fasting.
In a blog about fasting called "Why only women fast for men?" the writer says, "Does it not baffle you as to why different regions of our country prescribe different fasts and rituals for the welfare of our sons or husbands, but there is not even a single fast for the well being of the wife or the daughter!!!"[sic] One of the responses to this piece is this –"i too want my husband to fast for me…but he says he cant stay hungry for the whole day….and if i will nt fast for him… my mother and my mother in law wl feel bad and moreover i think my husband wl feel bad that i could nt do this for him 🙁
want to stop fasting…dont knw what to do" [sic]
Fasting. This is about food in an odd sort of way, because it's about not eating or not eating certain foods, primarily dictated by cultural, religious or traditional reasons. It really is also about gender and sexuality. Sometimes women abstain from eating as a negotiation tool with the almighty, with the health and long life of husbands being the goal. Sometimes just finding a husband is the goal. Don't eat and one way or the other through either spiritual or through physical perfection of some sort the perfect women will be rewarded.
Woman = Abstain from food and sex = Sacrifice = Goddess.
Man = Bakasura CTR = Feeds his appetites = Real man.
So food and sexuality. It's pretty much like anything else and sexuality. How we see ourselves, practise our roles, decide what's accepted and what isn't.
Cluck cluck.