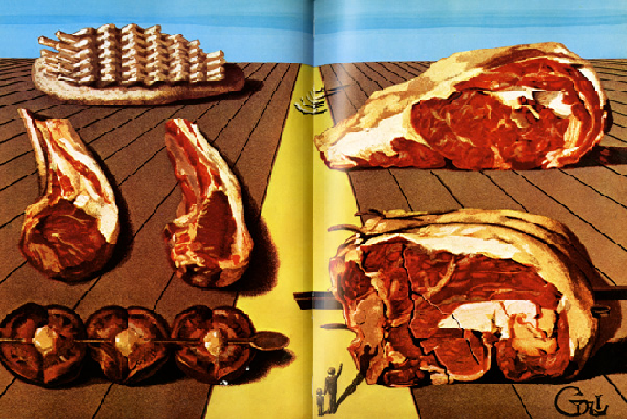 "Beauty should be edible, or not at all."
― Salvador Dalí
A Google search with the keywords "food sexuality India" spills telling, though unsurprising, results: the pleasures of food are inextricably linked to the pleasures of sex. The common links could be sensory pleasure derived from looking, tasting, smelling, and touching, or from the fulfilment a shared meal or a shared intimacy can lend. The Korean muk-bang phenomenon, loosely called food porn, plunges into just those pleasures for its viewership as it slurps and burps its way into our Video Page this issue.
The mystique of sexuality is akin to the mystique of food; our cultures are preoccupied with understanding what they each do to us in the spectrum of creation, subsistence, and sentience. A determined reader sniffs out advice from Alice about using foods to influence sexual pleasure in the FAQ Corner while we present contraceptive/abortion-inducing foods as this month's Brushstrokes. Noopur Raval's I-Column deals with #PCOS4Ever, busting myths and coming to terms with polycystic ovary syndrome through a harrowing journey of dietary regulations and body image issues.
Like Noopur, people with menacing menstruation are also likely to have favourite phone apps to keep track of their periods. They're also likely to appreciate our Tech Corner this month with its list of five body-positive app­­s. Not just fruits and veggies, people come in all shapes and sizes too!
The incidence of body image issues is highly gendered. The gender politics in Indian culture around food is interestingly dished out in Shikha Aleya's article as part of this month's Voices. The film East Side Sushi (2015) unravels the gender divide in the culinary industry quite neatly, and Kristin Francoeur stirs up its also poignant take on class politics in her Review article. Food and the female aren't the only two Fs picked at in Shweta Krishnan's Issue In Focus; it's also fertility, farming, family and feeding, the femme fatale and other fetishes that she fingers.
All in all, a delectable issue you shouldn't have to wait to dig into. But before we leave you to it, we'd like to bring your attention to our new Facebook and Twitter sharing feature: just select the portion of an article you want to share, and you can post it, link included, by simply clicking on the buttons that pop next to it. Try it out!
We also have a new archive for all our past Corners.
The mid-month Blogroll issue contains a blog post on the technicalities of photographing food to induce sex appeal.
As a plus, we share Radhika Chandiramani's nourishing food-for-thought interview with us where she delves into the connections between food, sexuality and culture. As long as we're talking treats, Dipika Srivastava brings us another one with her translation of the Issue In Focus into Hindi.
Sample it all, but remember to save some space for the next month's issue: Feminism and Sexuality promises to leave you begging for more.
And until then, happy reading!
The TARSHI team
Image taken from Brain Pickings' feature on Salvador Dali's erotic cookbook, Les Diners de Gala.