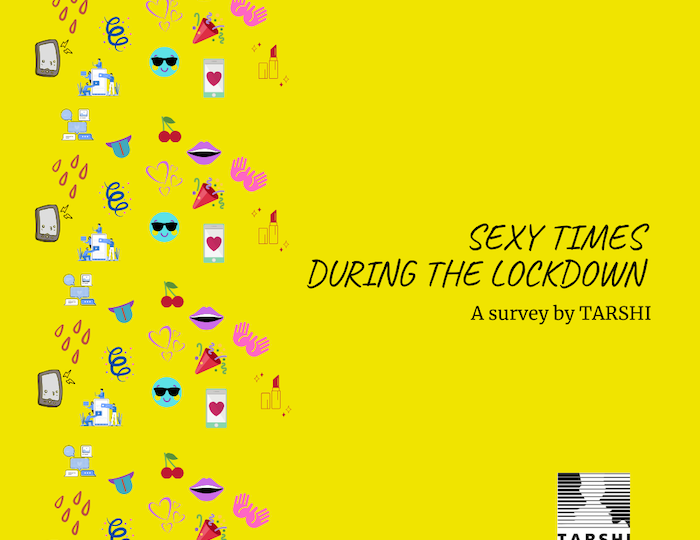 TARSHI has been running a survey (we're still accepting responses) to understand how people feel about their sexual lives during the pandemic and how (and if) they have been getting sexual pleasure. Here are key results from our first batch of responses (250 people). Respondents identified as women (66%), men (28%), queer/non-binary/gender fluid (2%). A majority of the respondents are from India.
74% of our respondents said they are not living with a partner/s during the lockdown. We cannot comment on whether 'self-pleasure' has risen, but we do know that nearly 60% of our respondents said they were self-reliant on their 'imagination and hands'. The number was not different by gender, with 58% of women choosing this as one of the ways they got pleasure during the lockdown, 65% of men, and nearly all who said they have other gender identities.
Other key ways people said they got pleasure include sexting, erotic literature, watching porn and using sex toys.
What did people miss the most during the lockdown, when it comes to sexual pleasure? Privacy and partner/s were top of the list.
When it comes to differences by gender, we can only share broad trends since most of our respondents identified as women. Popular sources of pleasure among respondents who identified as women were masturbation (i.e. relying on imagination and hands), erotic literature, sexting and sex toys. Among men, it was masturbation, followed by porn. The proportion of men and people who identified as queer or non-binary who selected porn was substantially higher than women. Erotic literature was also more popular among women than among men and those of other genders.
Other interesting things that came up were that several respondents mentioned that they are trying new things that they may have been hesitant or not comfortable about before the lockdown. This includes exploring their own body, finding new erogenous zones, video sex, doing stripteases over a video call, trying cam sites, clicking and sharing nudes privately or on a safe social media channel. People are trying to read (and write) erotic literature.