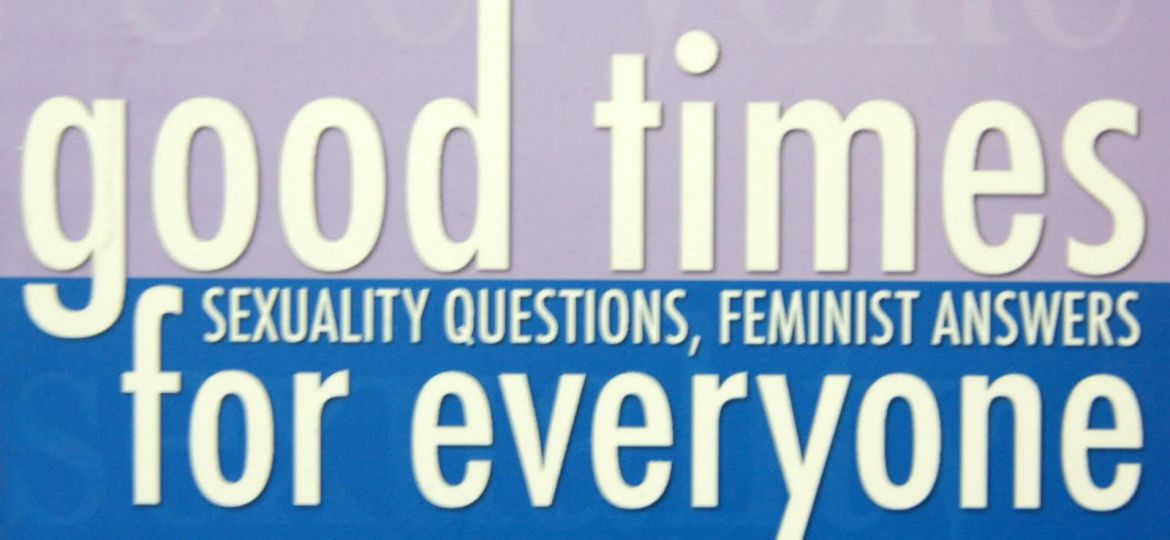 [Editor's note: When discussing consent and coercion, it is impossible to deny the shame and secrecy that surround issues of sexual assault and sexuality, generally.  In looking for ways to educate and to change cultural standards when it comes to consent and responsibility in sexual encounters, it seems clear that a new attitude about sexuality is a necessity.  By removing the stigma from sex and sexuality and welcoming all questions, Good Times for Everyone: Sexuality Questions, Feminist Answers creates a space for a new kind of discussion, one in which the conversation about consent and the importance of communicating with a partner is not shameful, but essential – and even fun.]
At one time or another we've all been one of those kids in class who hung back on asking a question for the fear of sounding… well, stupid. And embarrassment had us looking sideways, hoping to get the answer elsewhere, in whispers from a best friend or anywhere but from the one person who could probably answer it best. We grew older, but the questions remained, and none more so than in the department of sexuality. Add to that a society ready to stare you down, if you even mentioned that three lettered word, and guess where the doubts went? To the deep end of the closet.
A collection of what was previously a fortnightly column in the popular daily The Asian Age, this book published in 2008 by clinical psychologist Radhika Chandiramani, takes on those unanswered, whispered questions, pulling them out of the closet unabashedly and laying them out in the open, plainly and simply, for all to learn and know. And as Radhika tells us in the introduction, these are real questions sent in by real people at a time when "…email was not as freely available as it is now… Most often they were handwritten. Sometimes the ink was smudged… a hastily written question… some had illustrations when the writers did not know how else to explain their predicament."
In a manner that is both informative and engaging, the author sets out by first clearing the air about what exactly sexuality is, rescuing it from the narrow confines of medical academia, telling us, "The experience of and manifestation of sexuality goes beyond biology and physiology. A feminist approach to sexuality takes into account how we experience our sexuality in the real world where power operates through social expectations… It acknowledges and validates women's experiences of and rights to enjoy their sexuality as much as those of men."
With a degree in Clinical Psychology and a solid experience of 15 years in this field to back her, what is interesting is the way Chandiramani's answers to questions steer clear from collapsing into medical sermons on right practices and definitions. As something that we experience daily through our body, sexuality is de-mystified methodically in a most un-jargon like fashion in this book that is divided into 6 sections. Beginning with the basics of the male and female anatomy, it goes on to all things LGBT, the art of pleasuring yourself and your partner, on keeping it safe, emotional intelligence, to finally close with an authoritative index of books, online resources and helplines etc that readers can refer to for more information. While tackling questions from 17 to 83 year olds, the author busts many a myths in the process and not a few about the big M – Masturbation. Moreover, while she keeps the information practical and accurate as far as possible, she skillfully intersperses sane advice with some humour, after all this is a subject that is above all supposed to be fun! So for the men she says masturbation doesn't make your penis small, thin, bent or cause you to lose your 'sex power', or make you a sinner. And that women who masturbate need not feel 'over-sexed', for really, how much is too much! Fun comes with due responsibility and the section on sexual health elaborates on condom usage, how to handle HIV and AIDS, STDs and many related topics. And because sexuality bears upon our emotional intelligence too, there are genuine queries from readers about how sex and relationships stand vis-à-vis each other, some from young couples, some from those on the brink of adulthood, entering into marriage, and all completely of the sort one can identify with.
While the early advice columns of the 17th century dealt with trivial queries, going on to cultivate a female audience with answers on proper etiquette and running of the household, once feminism made its appearance, the queries graduated to a whole new level, questioning the normative, and demanding reasonable answers. And it is here, especially in the Indian context, that Chandiramani's work deserves mention. Sure we have the Internet at our fingertips now, but when she was writing these answers as a columnist in a newspaper, it is clear that she broke new ground in terms of what sexuality is, not just for men but also women. And these are questions that can never be dated as each individual goes through similar doubts as they grow up. Today, while an Internet search might give you the top ten answers to your doubt, it remains severely lacking in intimacy, and with every smartphone owner being an author, the credibility too remains suspect. That the answers in this book come from an authoritative source who knows what she is talking about, is non-judgmental, more inviting than inhibiting, is good enough reason to have a copy handy at home. For someone or the other at home is bound to need some questions answered, and wouldn't you rather have access to the right answers than misguided notions? Fun, educative and immensely helpful, even for the twice hardened there is bound to be something new here, it's about the body after all, unique to each of us. But be warned, as Radhika says, this is not a 'dirty sex book'!