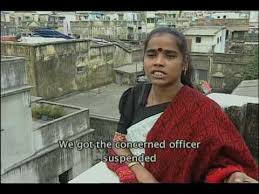 Five sex workers – four women and one man – along with the filmmaker/narrator embark on a journey of storytelling. Shohini Ghosh's Tales of the Night Fairies explores the power of collective organising and resistance while reflecting upon contemporary debates around sex work. The labyrinthine city of Kolkata (Calcutta) forms the backdrop for personal and musical journeys.
In 2001, the Durbar Mahila Samanwaya Committee (DMSC) decided to celebrate its existence and the new millennium by organising a carnival for sex workers – the Millennium Milan Mela – in Salt Lake Stadium of bustling Kolkata. This was a regular old mela, with music, games, and performances. But it faced fierce opposition, and not from the usual suspects; in fact, it was several powerful and mainstream women's groups that tried to shut it down. "My personal opinion is that prostitution is a kind of violence on women. You will admit this, I'm sure?" an officious-looking woman asks Sudipta Biswas, a member of DMSC, during a public event, about an hour into Tales of the Night Fairies. Sudipta Biswas's response is biting – prostitution is work, just like any other work, and sex workers clearly fulfil a need in society, so why should they be persecuted and shamed for their profession?
Durbar Mahila Samanwaya Committee (translation: Unstoppable Women's Collective Committee) came together as a collective of male, female, and transgender sex workers in 1995, at the heels of an AIDS intervention done in Sonagachi (reputed to be the largest red-light district in India) in 1992. The intervention had a peer-based approach, recruiting sex workers into the process of raising awareness about safer sex. Although it was a pretty successful program, the Sonagachi sex workers felt that in only providing safe sex education and health services, it missed out on some crucial socio-political realities like stigma, extortion, and police harassment that made it tough for sex workers to assert their rights and stay healthy. This is what prompted the founding of the DMSC – an organisation that has been fiercely rights-based from the very beginning and often ahead of its time (or perhaps mainstream feminism is behind the times). Today, DMSC is massive (representing 65,000+ sex workers) and massively influential.
The members of DMSC who feature in Tales–Shikha Das, Mala Singh, Deepti Pal, Nitai Giri, Sadhana Mukherjee, and Uma Mondol – make no bones about the fact that sex workers are often forced, trafficked, or compelled (sometimes as young children) to join "the line", as they call it. This reality of sex work in the Global South has often provided feminists a valuable entry point for arguing that sex work is violence against women and should be abolished in all forms. The uncompromising demand for abolition by these (mostly non-sex-worker) feminists is limiting and violent in itself, because how can you fight for the abolition of a type of labour and still demand rights for the labourers doing that labour? How can you call that type of labour exploitative and demeaning, without shaming the labourers? Therefore, this philosophy is often called sex-worker-exclusive radical feminism (SWERF).
Tales delicately yet powerfully draws out the conflict between sex workers and feminism in India, at a time when a lot of feminists thought of prostitution through a SWERF lens[1].It also highlights the stance of the DMSC sex workers: even if people are compelled, abused, trafficked, or forced into sex work, even if they hate the work and want to leave, even if they want it abolished, they still have inalienable rights as labourers – including the right to dignity of labour, and the choice to stay in "the line" simply because it supports their families. They make the point that people also start doing sex work out of choice, but how a sex worker got into sex work really makes no difference to their agenda and politics.
In response to the demand for rights and recognition as labourers, government-affiliated women's groups offered "rehabilitation". Mala Singh scoffs –"They were never concerned about us before!" Suddenly serious, she drives home the disquieting point that the desire to replace rights with rehabilitation or rescue (or, in the recent context, conditional "legalisation") is only because society wants to maintain moral and political control over sex workers. The purpose of rescue is not to "help" sex workers – it is to maintain the narrative that sex work is a shameful profession.
DMSC members also insist that the viewer see that they find pleasure and joy in their work and their lives as well. Nitai, for example, a male sex worker[2] who is involved in the sex worker performance collective, Komol Gandhar. He enjoys participating in the collective because he can express his femininity publicly, which he never had the freedom to do in his neighbourhood when he was young, for fear of being spotted. The members of Komol Gandhar sing songs, dance, and put on plays, one of which is Raat Porider Katha (the titular Tales of the Night Fairies).
Shikha once had to go to Jamaica to present her work with the AIDS intervention group. She grins as she remembers the free booze during the plane ride: "I looooooove alcohol!" Fulfilling the requirement for any film set in Kolkata (especially if it's about sex workers), the director Shohini Ghosh and Mala take a boat ride across the river Hooghly singing Chingaari Koi Bhadke(translation: If A Spark Catches Fire) – very tunefully, too – only for the pathos of the scene to be wrecked by bad shots, a clueless boatman, unfortunate weather, and unplanned dialogues off-camera. "The enemies of love are everywhere!" Mala exclaims dramatically.
Tales is frank and realistic, but also sweet and funny. Unlike many other documentaries (particularly those set in the Global South), the camera doesn't just show sex workers as victims, or as loose, irresponsible people. They're just people – sex workers, artists, activists, mothers, researchers, funny, smart, and sensual. As the Youtube description emphatically says, "This is NOT Born into Brothels" – another film on Sonagachi that has been criticised by the DMSC for its one-dimensional portrayals of sex work as sleazy and sex workers as irresponsible about their children.
Tales is also definitively a product of the late nineties and noughties. It starts off with a song I hadn't heard in ages: Woh Chali (translation: There She Goes). (You know? You pretended you hated it but you occasionally caught yourself humming the syrupy and terribly catchy lyrics?) Aside from nostalgia, though, the late nineties shaped this film in one very important way –Tales captures the bitter conflict and the beginnings of a dialogue between sex workers and the mainstream women's movement. At this time, with the collectivisation of sex workers and the rise of queer activism in the wake of the HIV 'epidemic', discussions about sexuality started carving out a space for the right to pleasure and bodily autonomy in then-mainstream feminism's construction of sexuality as a battleground, and Indian women's sexuality as forever vulnerable to abuse, violence, and exploitation[3],[4],[5]. A telling moment is when Ghosh says that she only set out to make a film about women sex workers, but Nitai somehow found his way into the frame. He called himself "neither here nor there" while talking about how it was difficult for him to be a cross-dressing male sex worker; at least the women had some measure of recognition and legitimacy that allowed them to work in the red-light area. Had this film been made in the 70s or the 80s, it's doubtful if Nitai's story would have been treated the way it is here. I'd highly recommend watching the film for an insight into this history.
—
[1] "The Feminist and The Sex Worker: Lessons from the Indian Experience." HIMAL Magazine, Srilatha Batliwala.
[2]Nitai identified as a male sex worker at the time of filming.
[3]"Virtuous Women, Radical Ethics, and New Regimes of Value." Queer Activism in India, Naisargi Dave.
[4]Seeing Like a Feminist, Nivedita Menon.
[5]"The VAMP/SANGRAM Sex Worker's Movement in India's Southwest". VAMP/SANGRAM Team.
Photograph Credit: Tales of the Night Fairies