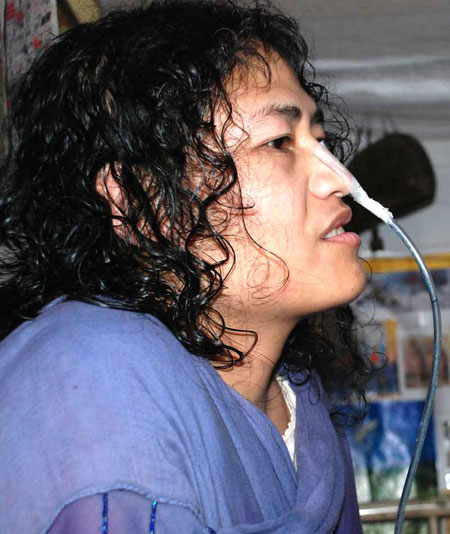 Irom Sharmila, a civil rights activist from Manipur began a hunger strike in November, 2000 which is still going on. She started her fast to protest the killing of innocent civilians in Malom, Imphal by the Indian army. Her demand is the repeal of the Indian Armed Forces (Special Powers) Act that grants the armed forces sweeping powers when they operate in what the Act terms as `disturbed areas'. Her struggle is often in solitude lying on her bed at home or in hospital as is often the case when she is arrested and force fed through a nasal drip. Intermittent media coverage usually after she is given an award is when we occasionally get to play `spectator' to this valiant woman's struggle. Her stillness and singular resolve is in my mind one of the most powerful expressions of what it means to fight for justice.
Counterpose this with a choreographed rising to demand for justice. Don't get me wrong – I have nothing against choreography. Nor against dancing. Nor against the use of creative forms to demand for justice. For too long our efforts to address and highlight violence against women has used the images of battered women and narratives of pain and suffering to capture and harness outrage amongst the larger public. The very image of women (and men) breaking out in dance as part of a flash mob in public spaces for those brief minutes changes the visual we carry in our minds.  The sheer volume of the visuals of those who participate in these risings dominate at least for that day YouTube's most viewed clips and ratings.  In a world where scale is everything and impact measured in how many you reached One Billion fits that mould. What I do wonder is if it can fundamentally alter the narrative.
The power of the spontaneous uprising – particularly of women – lies in its power to shock. A visual that makes you catch your breath and let it out in a whoosh. The image of 40 Manipuri women stripping naked with a banner saying `Indian Army Rape Us' in front of the Assam Rifles Headquarters comes to mind. The grainy black and white photo from 1974 of poor peasant women from Kumaon district hugging trees to protect them from being felled. Large piles of Pink Chaddi (underwear) sent to Pramod Muthalik of Sri Ram Sena to protest their violent actions in the name of moral policing in 2009. These are the visuals I think that can change narratives.
I am not sure that a franchise-model for protest really works. The guidelines to ensure uniformity and branding takes away the power of those visuals and in my view dilutes the anger. We find ourselves humming a tune instead of really screaming out loud till we are hoarse. Because that is what we really feel and that is what the world needs to feel if we really want to address the unspeakable violence that is committed against women and girls. One Billion's effort to organise and mobilise is so structured that even before I click on a visual I know what to expect. Large franchise models can indeed successfully capture the limelight but the very publicity and outreach machinery that we think we are harnessing to capture public attention and imagination soon becomes the message and not the messenger. The making of it more important than what it can lead to.
If One Billion indeed rose on 14 February I am likely part of the minority – the `minuscule fraction' –  in having this view. Unlike the highest Court of the land I hope my activist community will be more open-minded to my views.
Late in the evening on 14 February I found myself in a mall with my seven and half year old daughter. Everywhere we looked we saw couples out for the evening celebrating Valentine's Day. I could tell my daughter was quite taken with this visual of young couples around us. Her innocent gaze took it all in. One day I hope that same gaze matures to look at the world around her and be able to search and find visuals that have the power to shock and not just to charm.  Women stripped naked shouting in protest. Woman on hunger strike. Drip stuck to her nose. Lying with her eyes closed. I hope those images move her as much as they move me. I hope she feels the same outrage that I feel. I hope we can both be part of that rising to continue to fight to end violence against women.
Photo Credit: Wikimedia 
---
Editor's note: `Justice is Not Spectator Sports'[1] – Reflections on One Billion Rising for Justice
[1]    Quote from Michael J. Sandel ` Justice: What's the Right Thing to Do?'