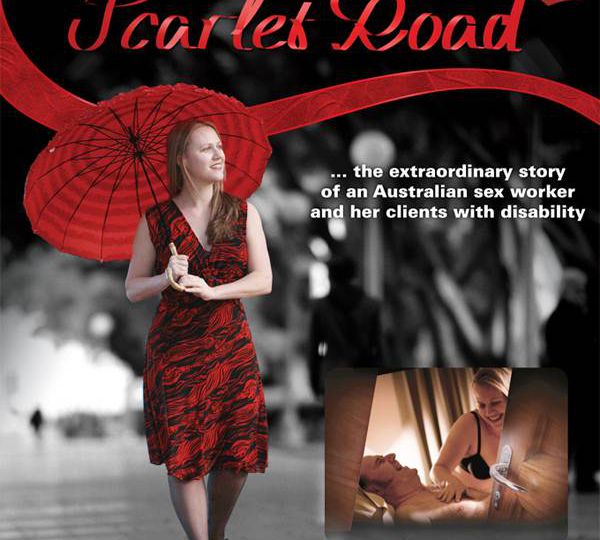 Scarlet Road: Of Sex Work and Disability
Sex workers and people with disabilities. Two communities who are marginalized, disapproved of, and unsupported by a large section of society, come together in this film with an enchanting name – Scarlet Road. My first viewing of the film was quite a unique experience. I had watched it at a friend's place, who had organized a screening of the film for all her friends. What made it special was that she and her friends were all visually challenged. Yet that was no barrier for this group of spirited people who were keen to watch the film. The sighted persons in the group took turns explaining the visuals, while they listened, experiencing the film, clarifying doubts as we steadily progressed. That was one of the most remarkable and insightful experiences for me – of film viewing, and that with a fun and unique bunch of film enthusiasts.
'I will be as sex worker, I will be an out and proud sex worker, and I will be Doctor Rachel Wotton, sex worker.'- Rachel Wotton
Directed by Catherine Scott, the film follows the work of Rachel Wotton, a sex worker based in Australia, who specializes in clients with disabilities. Rachel lives and works in Australia. She is a stunning personality – fearless, strong, confident, beautiful, sensitive and an advocate of the freedom of sexual expression. She is unlike any sex worker you have met. With a Diploma in Sexual Health and an ambition to do her PhD, Rachel will blow you away.
In the film, we meet two of her clients with special needs – John Blades, a 51 year old who has been living with Multiple Sclerosis (MS) for 29 years. On a wheelchair, John has no movement below the neck. We then meet Mark Manitta, a 49 year old, who was diagnosed with Cerebral Palsy when he was ten. Through the course of the film, we see the relationships that develop between Rachel and them, and the impact she has in their lives.
For John, his sessions with Rachel have helped him regain body movement, not to mention his self-confidence and self esteem. Mark always dreamt of falling asleep with a woman, and waking up beside her the next morning. Rachel doesn't just give him that, but lends him a ear and spends time getting to know him. For her clients, Rachel is more than a sex worker, she is someone who they can talk to, share their feelings with and express themselves sexually. Like Mark says in the film 'People do not understand the difference sex makes. Part of having cerebral palsy, is spasticity and muscle spasms. I need sex to make my muscles relax…and I like sex.'
Sex work is decriminalized in New South Wales, Australia. For Rachel, sex work isn't just a source of living, but a cause that she has taken up. It's both a personal and professional struggle as she tries to cope with various laws on sex work, travelling, learning, and lending a voice to her thoughts. She represents the sex worker community with a certain élan, attending conferences and making her presence felt, moving audiences with her advocacy. She actively campaigns on international forums for the rights of sex workers to end the discrimination against them.
Rachel has helped set up Touching Base, a charitable organization based in Sydney that strives to connect sex workers and persons with disabilities. She also served as international spokesperson for Scarlet Alliance, the Australian Sex Workers Association.With all these strengths driving her, she comes as a breath of fresh air in the film – a level headed young woman who loves her job, and would do anything to be good at it. What makes her different is her ability to connect with people like John and Mark, and give them what everyone deserves – a human touch.
For me, the film did wonders. It not only made me more sensitive to the needs of people with disabilities, but helped me understand how both the communities are in the movement together, fighting for their rights, against social stigma and for the freedom of sexual expression. With their joint efforts, their voices are clear, prominent and outright. The private act of sex, generally confined behind closed doors, is now in the open – to be taken notice of and be granted a fair chance to all sections of the community. As Rachel mentions in an interview, Scarlet Road was created to show the diverse nature of the sex industry, and the diverse nature of those who participate in it.
I feel lucky to have watched the film with a special set of friends, who made me realize that there is no stopping you to experience what you want and embrace life wholeheartedly. I'd like to end with Rachel's words in the film, that encapsulates the spirit of the film and states simply what her job means to her.
'I like that my job always entails pleasure, making someone feel better about themselves, that they are the center of someone's attention, and they deserve to smile.'- Rachel Wotton