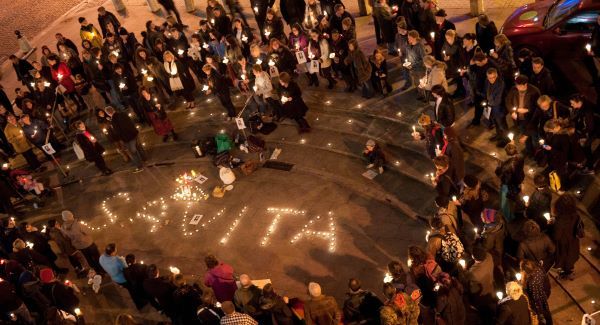 India has a very liberal abortion law on paper. Compared with global standards, the Indian law that governs abortions,
the Medical Termination of Pregnancy Act,
allows for abortion for a broad range of indications, making it a very progressive law that has been around for more than four decades. But how many of us really know this?
Today only one in ten women is aware that abortion is legal in India [1]. If we look at the urban scenario, studies show that it might be a more worrisome figure less than one in fifteen women are aware that abortion is legal in the country [2]. It goes without saying that knowledge about more specific nuanced aspects like reasons for seeking an abortion, gestation limits for abortion, etc. is even lower. When women don't know they can legally obtain an abortion, where to seek services or who is qualified to provide them, they risk their well being with unsafe procedures or unqualified providers. Every two hours one woman dies in India as a result [3]. Hundreds more suffer life-long injuries which very often go undocumented and untreated [4].
Women and girls in urban areas are often even more challenged with access to information. If you are studying in an urban school or college, it's assumed you have the means to know. But how would a young girl in school or college figure out who to ask or where to go for information and services? With the widespread efforts to reach out to rural women with both information and services under the National Rural Health Mission of the Government of India, there has been a documented change in health-seeking behaviour in rural areas but women and girls in urban areas are often clueless about where and how to get information on reproductive health issues, including abortion.
There are significant challenges facing even those women who do possess some knowledge about the legality of abortion in India, these challenges are often the product of the widespread stigma against abortion. When was the last time you heard someone talk about getting an abortion? You may have heard or even participated in discussions about boyfriends, one-night stands, contraception, emergency contraception, or even pregnancy and child birth, but abortion usually eludes informal discussions. It's kept hush-hush, something to be hidden and never spoken about; adding layers of stigma to the already existing lack of awareness and restricted sources of information about it. So a woman who finds herself facing an unwanted pregnancy is additionally burdened with fear and shame arising from the stigma regarding her condition. The resulting need for secrecy can have serious consequences, forcing the woman to seek an abortion at the hands of an unsafe provider, or to resort to self-medication with medical abortion drugs without the necessary information and support, or even postponing the decision to end the pregnancy until it is too late.
Abortion is a component of overall reproductive health and rights but very often it is left out of the rights and access to health discussions. It only comes up for discussion in the media when there is significant debate around it, like the tragic case of Savita Halappanavar in Ireland. A young, bright and educated woman with medical qualifications (dentist) succumbed, despite repeated requests for intervention to manage complications that arose during her pregnancy. The severe restrictions on abortion in Ireland were one of the significant causes that contributed to her death. Indians from all professional realms were very prompt in expressing concern about Savita's untimely and preventable death, showing solidarity with a fellow Indian abroad. But where was the solidarity with women here in India? While Ireland reviewed their law in response to Savita's death and introduced the necessary changes to make sure women's lives are protected, women continue to face challenges in access to safe abortion services in India.
Available research on abortion in India estimates that 56% of the 6.4 million abortions that take place annually are unsafe [5]. If we translate this in simple numbers, this implies that each day 9,819 women undergo unsafe abortions in India – some of these women die and many face life-threatening complications. At the 1994 International Conference on Population and Development (ICPD) in Cairo, governments pledged to promote reproductive rights and to address unsafe abortion as a 'major public health concern'. Several other international instruments such as the Universal Declaration of Human Rights, the Chapter on Elimination of All Forms of Discrimination against Women (CEDAW) require States to ensure that women's rights are upheld. Women's sexual and reproductive rights such as the right to life and survival, right to the highest attainable standard of health and the right to decide the number and spacing of one's children confer upon the government certain reproductive health obligations including providing access to comprehensive abortion care.
According to the sample registration system of India, unsafe abortion contributes to 8% of maternal mortality in the country [6]. While this may sound like a small percentage, the truth is that this is a totally preventable cause of maternal deaths that can be averted with simple efforts. Most other complications in pregnancy cannot always be predicted and therefore may require management at one point or another. However, induced abortion is a planned outcome of pregnancy and should ideally be a safe option for women. The World Health Organization states that when performed by skilled providers using correct medical techniques and drugs, and under hygienic conditions, induced abortion is a very safe medical procedure [7].
… Rhea and Sidharth (names changed to maintain privacy) are a young couple in the final semester of their Master's program, and had been dating for over two years. They were using contraception. One day Rhea discovered to her dismay that she had missed her period and suspected a pregnancy … Sidharth was there by her side to support her. While they were clear they wanted to get married …eventually, they were not prepared for this pregnancy. Rhea consulted a gynecologist in an established hospital who explained the options of surgical as well as medical (using pills) abortion and helped her make an informed choice. Rhea got an abortion with all the support from Sidharth and her doctor.
While Rhea's story is very reassuring and empowering, not all women are so lucky. There is an unfortunate lack of knowledge among young women regarding abortion putting them at a severe disadvantage. The correct information, self-confidence and ability to make the right decision at the right time can go a long way towards empowering young women. There are several programmes at the national and state level in India that are actively working towards spreading awareness about the availability and legality of abortion services and empowering women to avail of these services. For instance, the National Health Mission, has, in its Reproductive, Maternal, Child and Adolescent Health (RMNCH+A) strategy, explicitly stated that it is important to, 'safeguard the rights of women to access safe and comprehensive abortion care services' [8]. Meanwhile, those individuals who do have the resources to arm themselves with information should ensure that the information is correct.
Here is what you need to know:
Abortion is legal in India for a broad range of conditions under the provisions of the Medical Termination of Pregnancy Act, 1971.
You can get an abortion up to three months into the pregnancy, with the opinion of one doctor and up to five months of pregnancy with the opinion of two doctors.
Abortion services are part of the maternal health services for all public health facilities/ Government hospitals and are also available at Government certified hospitals/ clinics.
Abortion services must only be availed from a trained provider at a Government or Government approved health facility.
Seek your doctor's opinion to decide an appropriate technology, whether surgical or medical (using prescription only combination of drugs) for the procedure.
Consent of only the woman seeking abortion is required for abortion. Guardian consent is required only when the woman is under the age of 18 years.
The law also makes provisions for maintaining confidentiality for women seeking abortion services.
Decide early, go to a safe provider and stay safe!
And for more information:
List of organizations working on abortion issues:
Links to reports and useful documents:
---