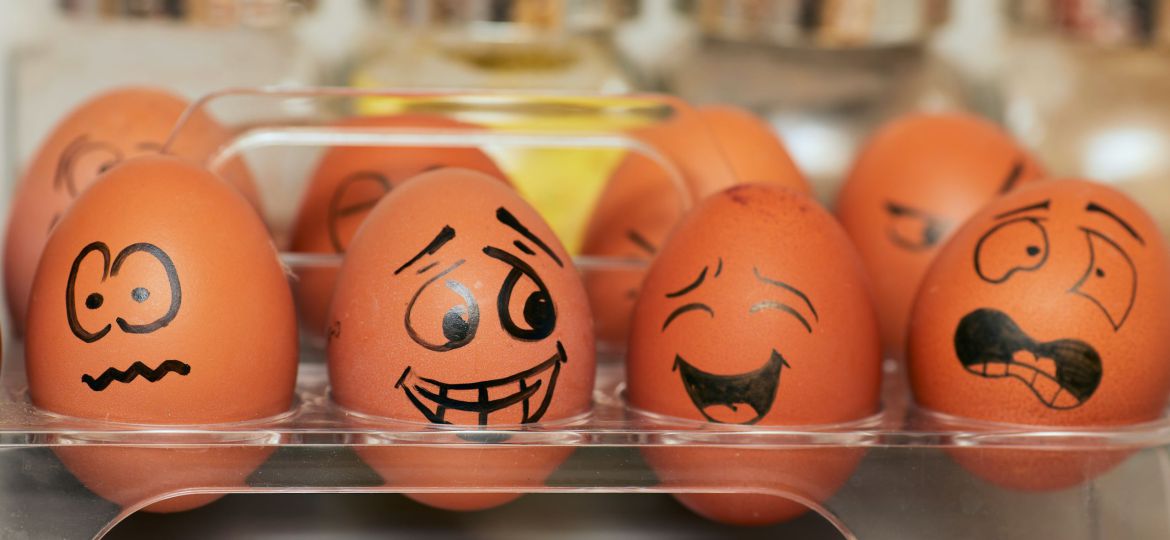 First day at school #humour
About 50 years ago a very-little-kid went to a new school, first day, new place, new friends, sat next to a pretty and equally very-little-kid with a face like an angel. Angel was kind and friendly and told the new kid to close their eyes and open their mouth, for a tasty treat. New kid did. Got a mouthful of crayon shavings. This is funny, and it isn't, and the kid who played the joke didn't laugh but looked pleased. Is probably one of those deadpan satirists sitting around in some part of the world shrivelling all things human around them.
Today I look back and say, wtf, and why?
Pity I didn't take a swing at the angel-faced joker when I was 5 and could, and now I'm an adult and I can't!
Another half-century should put me at what is often referred to as older adult, so my swinging days of punch, playground or person are supposed to be done.
A stereotype that a sewing and embroidery circle of women would laugh away, with a 'Fuckety fuckety fuck fuck fuck'
Before this Issue In Focus article on Humour and Sexuality rolls out further, we are going to position ourselves with some care, no pun intended.
Humour takes many forms, plays many roles and impacts people differently.
If it isn't funny, that doesn't mean that it isn't humour.
What it does mean is that the humour has failed for someone somewhere, or it's just a plain fail.
If it causes someone grief, pain, trauma, it is not funny. Stop it.
If it attacks the dignity, identity and sense of self of another, stop it.
This is true for all persons, humans, non-human creatures and the planet.
It's okay to be a woke snowflake, if that means you are aware of and alert to issues of injustice, if you are sensitive about things that cause you or another, to feel bullied, vulnerable or threatened.
Back to embroidery.
When you think embroidery, you think sweet little grandmothers stitching and embroidering pretty stuff on matty cloth, flowers and ladybirds and butterflies? Well let's expand the mind! There is a group called PEG (Profanity Embroidery Group) Whitstable, and you'll find them on Facebook and Instagram with what some people will consider unique comic art that makes a strong statement, primarily challenging stereotypes. Sharing screenshots of a couple of their Insta posts here: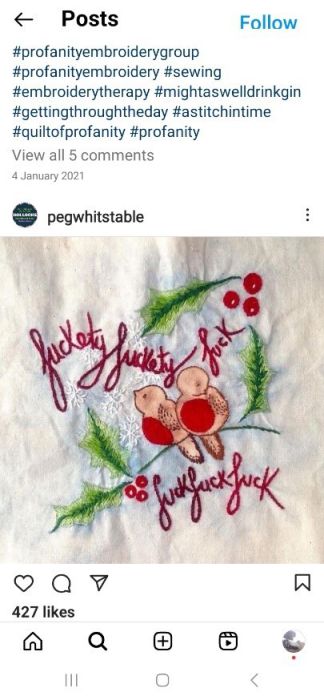 (Screenshots from the Instagram account @pegwhitstable)
So. Embroidery. And appliqué with duster and lace.
They're saying fuck.
Is it humour?
For some.
Does the fuckety have anything to do with sexuality?
Yes.
And does the kid who fell for the angel-faced kid (and therefore for the crayon prank) have anything to do with sexuality?
Yes.
Sexuality is about who we are, how we choose to live and experience our lives and relationships with ourselves, each other, and the world, at very core levels, and across age groups.
Humour and sexuality stay connected in multiple ways that include:
the subject of humour that often borrows vocabulary as well as content from sex and sexuality
the gender and sexual identity of the person behind the humour
the people responding to it, who often respond from their life location, which includes what they feel about gender and sexuality, and their own identity.
Is it funny? Is it okay? Yes? No? Why?
Humour, either openly, or thinly camouflaged, is a combination of the intellectual, spiritual, emotional, physical nature of being. So quite often, anger, anxiety, aggression, wisdom, love, frustration, wickedness, cruelty, sarcasm and other feelings are a big part. Humour is the result of many things that include:
Timing
Context
Subject matter
The presentation itself (doesn't always have to be words, art, or slap-stick, could sometimes be a situation)
The presenter, if there is one, but there is not always a presenter
And the person, human or non-human, that finds a thing humorous. Yes, non-human too. Animal lovers – who've experienced a cat's sneak attack that gives you a fright or a dog that barks at you so you give it treats to shut it up because you're on a phone call with the boss – they know this lot has a very sharp funny bone.
Humour is also really complex. Sometimes you laugh at a thing you wish you hadn't laughed at, sometimes you're silent about something you think is funny but you don't want to appear to have enjoyed the humour.
And sometimes when everyone's laughing but you're not, because you don't get it, you croak up a laugh and leave hoping they didn't notice. Unless you muscle up and ask 'What's funny?'
Would a young person, say not from Whitstable UK, wearing a t-shirt that says 'Bearded for her pleasure' and made in India, wear a scarf that dadi or nani embroidered that said 'Screw the patriarchy. Wash your own fucking pants'?
Would dadi embroider this?
Would nani?
Or the embroidery teacher who may be anything between 18 and 80?
And if the young person, who may also possess a t-shirt that says 'I'm not a gynecologist but I know a cunt when I see one' – be proud, as proud, of the dadi-nani embroidered scarf as they are of their t-shirt?
These are hypothetical questions and there are no right answers. In answering them, one cannot assume that all those who respond will have the same responses. There are stereotypes and there are those who adhere to them and those who nudge and shove and poke holes through them, including very likely, some nanis and dadis who do not live in Whitstable but may laugh from a space of the lives they've lived in India, and the things they feel, at a piece of embroidery that says 'Home Sweet Fucking Home'.
There are those who may wear the t-shirt that says 'Bearded for her pleasure' on transitioning, or biologically assigned female at birth, bodies. Read this again.
When you put everything together and toss it up in the air, any combination of *laugh and not-funny, *possible and less possible, *it's okay here, but not okay there, *funny for them / us, *insensitive towards them / us, *culturally appropriate / inappropriate – will happen.
When comedian Jeeya Sethi posts a video that includes this: "When I was younger, I wanted to play tennis. Alright, but my parents were like, nahi, Badminton. So I played badminton. Because that was the only time I could publicly play with a cock. And then after banging the cock for a good 2 hours, I could change it for a brand new cock," it gets some strong reactions. And laughter is very much amongst those reactions. So when she takes on members of her audience saying they look too young to be married, young like sperm, and they love it, it is okay to say she's pushing buttons and doing a good job with that!
The gender bias business shows up in humour a lot, consciously and subconsciously. In this article, the writer says, "Male comedians performing in their track pants seems casual and viby and women doing that seem indecent. There is this unsaid policing that goes on how to behave." Comedian Aditi Mittal as reported in the same article, says she was "still introduced onstage as the 'best tits in the business' even though I showed up in a fucking pantsuit".
What is #toxichumour ?
The writer of this article on toxic humour says, "It is not uncommon for people in India to discuss, dissect, and judge how a woman looks. Everything from the color of your skin to your height and your weight can and will be subjected to scrutiny and assailed without mercy."
There is a tradition of using humour to cover or to express cruelty, bullying and oppression, as has been much discussed in the context of rape culture and rape jokes, ragging, violence and abuse. This has been called out so often, it should no longer exist, but despite laws and media coverage, this kind of humour does exist. It is however easier to identify, while it may still not be easy to take an open stand against it. Except as a group, so communities and society as a whole stand together, and in that there is power and a counter-narrative.
A quick look at ragging for example reveals media reports as recent as in the past year, right up to the time of writing this article. This is despite India's UGC anti-ragging regulations having been articulated and come into force well over a decade ago. According to this article, "A total of 511 complaints of ragging or hazing were reported from across the country's colleges in 2021, compared to 219 in 2020, according to the University Grants Commission's anti-ragging cell. Experts said inaction and underreporting by college authorities cause ragging incidents to flourish despite laws against it."
So when a cop, Shalini Chauhan, goes undercover to bust a ragging ring in the MGM Medical College, Indore, we need to applaud, it's cause for celebration. There is a sense of humour in this description by the officer in charge of the police station "Shalini, who looks younger than her age, was put to work at the college canteen, where discussions take place". One could imagine that this was funny for the police personnel at the station, and a little less funny for the medical students who were suspended from college.
Yet there are still those who consider ragging a form of humorous fun. In this article from 2017, the writer speaks of a study that "found that as many as 84.3% of students did not complain to the college authorities. Another startling revelation is that close to a third of the students (28%) found ragging to be fun and an exercise in bonding with seniors."
Rape should have no place in an article on humour, so it's really not funny that it does. Rape culture in film with dialogues like these, one among many if you had the stomach to do a quick search, "Balaatkar Se Yaad Aaya Meri Biwi Kaha Hai?" (Translates to – "Speaking of rape, where is my wife?") Or the body spray advertisement where four men seemingly discuss the product, but the double meaning takeaway is focused on a woman.
Then there's worstjokesever.com
Here are a couple of samples. And the responses to them, some of which can be seen in the screenshots below, and some we've copy-pasted from the website.
What did the boy with no hands get for his birthday?
I don't know. He hasn't opened it yet.
What do blind kids and orphans have in common?
Neither of them can see their parents.
Anonymous [Person commenting]
Thats not funny In the slightest, just offensive!!! Whoever wrote that joke needs to grow up and act their age, and clearly they don't know the line between dark humour and just pure rudeness. normally I have a brilliant sense of humour but to someone like myself who has a visual impairment and who has been through the care system it's not funny in the slightest it's a very hard life. Just some advice Think before you post in future.
Anonymous [Person commenting]
cry about it @anon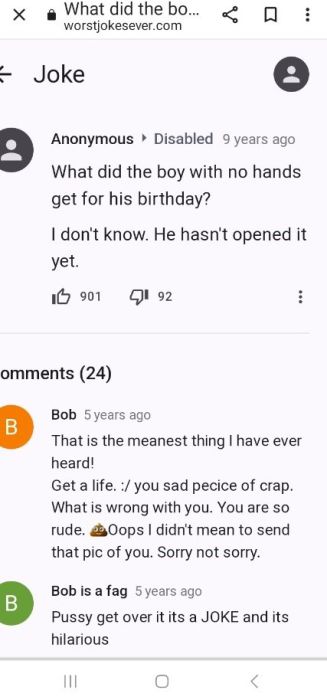 Penny Pepper, a writer and a disability rights activist says: "Disability can be funny – just get disabled people to make the jokes." She goes on to say, "We are coming forward with our own voice – so being a cheap comedy device for others will only become less and less acceptable."
Humour, rights and who's the joker?
Penny is not from India, but Sweta Mantrii is, and Sweta has a story that goes something like this:
"But how do you manage to take a shower by yourself?" asked the curious man, out of 'concern' for Sweta, who was born with spina bifida. "I can't shower by myself, uncle, but a guy I know in the neighbourhood comes in the morning and we shower together," she quipped in return.
She's not alone. Nidhi Goyal, disabled feminist activist from India, founder of Rising Flame, and a comedian, has during stage performances flung this out at the audience, leaving them to deal with it:
"Hi, I'm Nidhi Goyal, and I'm blind. But so is love. So get over it!"
Sweta says, "Comedy is a medium for me to start a discussion around disability and help people see past their biases. "
On Instagram, revivaldisabilityindia and klutzy.slut have jointly posted on non-visible disabilities in the workplace and here's their presentation, in their own words: "Through the tool of disabled storytelling, we present to you lived experiences of different disabled individuals belonging to intersections of queerness, gender, caste and ability. #UnhideTheDisability"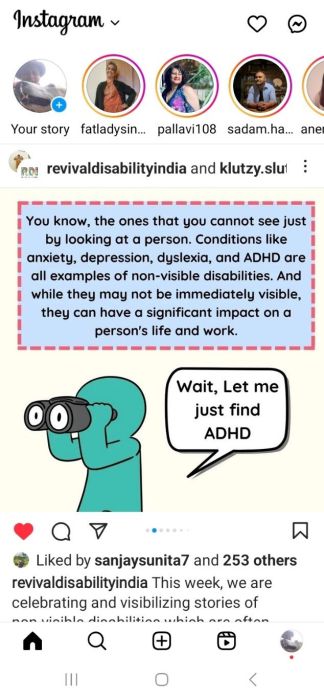 Humour is a medium for a lot of people to take on and disrupt harmful impositions of power and injustice, to visibilise what matters to those who have been side-lined and dismissed, at home, in society, in areas integral to freedom, dignity, opportunity and self-development, such as education, occupation, political voice and legal protection.
This description of comedian Manaal Patil's show gives another great example of humour in the expert hands of a person with lived experience of marginalisation, who is using it to connect with audiences on large systemic and social issues.
"My dad told me that we have a superpower," 25-year-old Manaal Patil says, setting the tone for his show at a packed hall in Mumbai.
The punchline comes soon after.
"Aur wo hai hamari caste. Kyunki hum Scheduled Caste community se hai to agar tu pizza mangwaega usse pehle tereko admission mil jaega (And that is, we are scheduled caste. He said, if you order a pizza, you will get admission in an education institution quicker than you will get the pizza)."
Humour in a queer world is expanding the space in India, space where people can connect through laughter and understanding to shift the approach and strengthen resistance in the face of discrimination. This article introduces six queer artists who, between them, cover a range of experiences that include the diversity of sexual identities, coming out, being a trans person, isolation, narratives and bridging many a gap.
Here's thequeernari for example: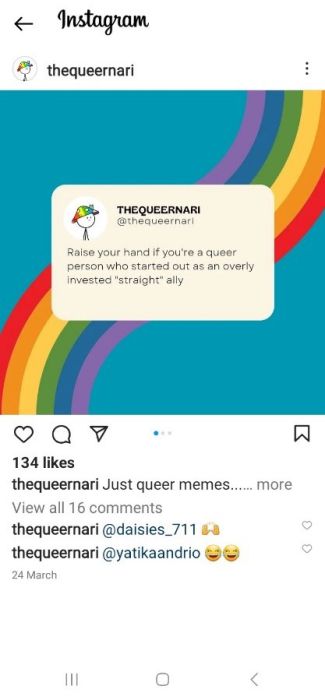 And here's shorthairedbrownqueer a natty dresser!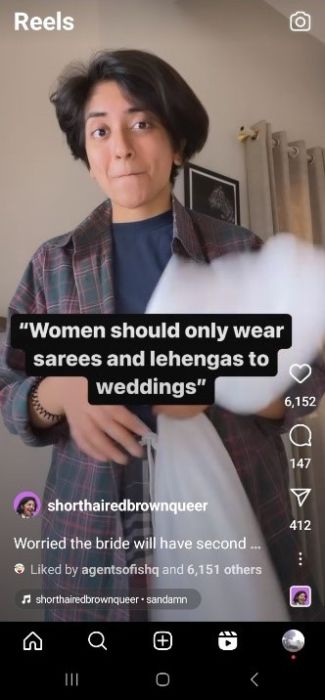 woke #snowflake when is it okay to laugh?
There is a word much used today, mostly dismissively, and the word is Woke. Described variously as:
"The term 'woke' has been around for some time – but we're increasingly seeing the right (and some boomers) weaponising the word in fierce political debates. They often use 'woke' to insult some of the social and cultural issues they believe are exaggerated."
The phrase "woke" and to "stay woke" is not new — it began appearing in the 1940s and was first used by African Americans to "literally mean becoming woken up or sensitised to issues of justice", says linguist and lexicographer Tony Thorne.
Do woke folk laugh?
Can we laugh at woke folk?
Woke gives rise to anti-woke humour, some of which is funny and some maybe less so, or not at all.
At the rate we are travelling, shampoo is going to be cancelled soon so that bald people do not get offended.
Why did the laundromat have all of their social media accounts cancelled?
Because they kept telling people to separate the white from the colours.
Is woke also snowflake?
Snowflake generally refers to people who "believe they are particularly unique and special (like every snowflake is different), as well as the idea of being particularly fragile – and therefore in need of protections like safer spaces." The writer goes on to shift the meaning of snowflake in this article and also says, "It's not that LGBTQ+ people – or trans and non-binary people – are snowflakes. The point is that we are all snowflakes."
Then we found snowflake humour!
What happened when the snowflake was told to come to work 30 minutes early.
They literally had a melt down.
The writer in this article online says: "Note to all humans: sometimes your joke hurts someone. If they tell you they're hurt, it's because they are. Work on your jokes, but first, work on yourself. And do not, not, not ask the hurt person to get a thicker skin or learn to get jokes better, especially if the hurt person is from a marginalized group or a group who has less political and social power than you, the joke-teller, have."
They say it very well. We add our note to all humans before winding up here. With a true story first.
A stray dog lay curled up under a tree, saying nothing to nobody. The writer of this article walked past to buy some milk. The dog looked up and showed a most unusual overbite with teeth coming up the side of the muzzle. This writer stopped and laughed. The dog turned its face away and hid it under its tail. Till today, when this dog comes to mind, this writer apologises. It was a mistake, it has never been repeated.
So – addendum to note to all humans: you're not the only ones with a sense of humour or the ability to feel bullied or traumatized because someone else with more power takes a dig at you, or plays what they think is a prank but hurts you, or laughs at you. If a mean streak emerges in your humour, pat it down and dissolve it in a little compassion.
And finally, just for joy, here's a reel from shorthairedbrownqueer for a last laugh!