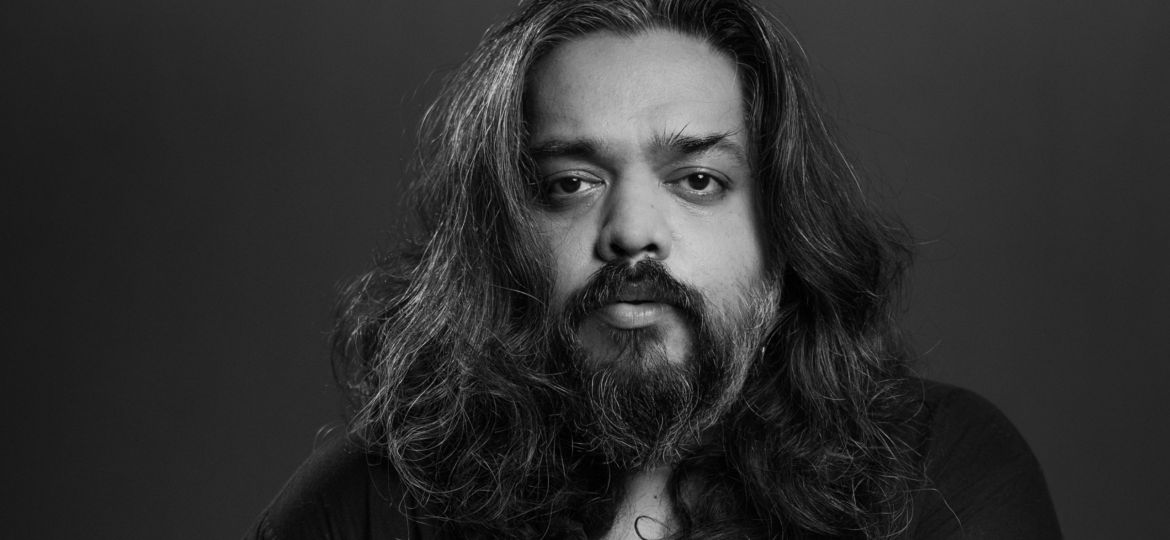 Kallol Datta describes himself as a "Clothes maker with an emphasis on creative research of clothing practices native to the South West Asia and North Africa region, the Indian subcontinent and the Korean Peninsula." Kallol lives and works in Kolkata, India. He spent his childhood in Dubai, Abu Dhabi and Manama. He graduated in Womenswear from Central St. Martins, London in 2006. He had solos in 2017 and 2022 at Experimenter, Kolkata, was awarded the Arts Network Asia Grant in 2019 and was a finalist of the Jameel Prize in 2021. Kallol has exhibited widely including at the Aomori Contemporary Art Centre, Aomori; Centro Cultural de La Moneda, Santiago; Victoria and Albert Museum, London; Nomad Monaco and Beirut Design Fair, and is the curator for the inaugural edition of the Kolkata Queer Arts Month, 2023.
Shikha Aleya (SA): Kallol, hi, and a warm thank you for this interview. While this theme of In Plainspeak places the word 'Fashion' in the spotlight with 'Sexuality', I am delighted to read the words you use to describe yourself, "clothes maker". Yet, in an article from recent years you are also quoted as saying, "Don't call me a clothes maker." We would love to understand what this term means to you Kallol, and your own relationship and engagement with clothes over the years.
Kallol Datta (KD): I have always seen myself as a clothes-maker. Sometimes a pattern cutter. Even when I was active within the fashion industry and participated in the mainstream, I saw myself operating as a free agent. From 2008-2018 I exhibited works primarily at fashion weeks. But I didn't follow seasonal showcases, trend reports, normative retail programming, fashion PR or engage with the Hindi film industry.
The magazine cover which you reference misquoted me which I found hilarious! I make clothes after intense periods of research and arrange my works into volumes. The volumes act as punctuations in my practice. Breathing spaces if you will. And whether the textile form is mounted on a wall or is inhabited by me, my practice is based upon the fact that clothing since its inception has been used as a tool by the dominant majority, to oppress, subjugate and intimidate minorities.
SA: In this brilliant must-read article available online, you write, "We have calls for representation in boardrooms, cinema, art, politics and education. Why not in fashion? Not tokenistic or dangerous gestures – having a random show dedicated to the repeal of Section 377 while homophobia is rampant in the industry is meaningless …" Please share your experiences with possibilities and practices in the fashion industry that present opportunities for implementing inclusion.
KD: During my time in the fashion industry, there were glaring infringements occurring on a regular basis primarily due to the power structures. I am sure this is the case with all industries and most work environments.
I remember writing the Verve article immediately after seeing runway shows at fashion week and was horrified that there wasn't any points of view presented by the exhibiting fashion designers. Everyone played it safe. And in creative industries 'safe' isn't doing anyone any favours. Creatives were/are still seeking the patronage of corporates – which is why there is always a scramble to bring corporate sponsors on board, or as we see now, designers seeking out corporate investments because a couple of conglomerates have been acquiring labels and brands at a relentless unsustainable pace.
Are there queer people in positions of power in the fashion industry? Yes. Do most of them come from generational wealth? Yes. Is there an imbalance in the make-up of the fashion power list vis-à-vis gender, demographics, religion, and caste? Glaringly so.
I don't see it changing any time soon. People need to be willing to vacate their positions to bring about equitable shifts. But their need to gatekeep outweighs it all.
SA: How would you extend inclusion and inclusive approaches and practices in the fashion industry across multiple intersections, that include race, gender, sexual orientation, disability, age, and other dimensions of identity?
KD: I am not sure I am the right person to answer this question because I am not part of the industry any more. It is however interesting to me that not just traditional fashion writers and journalists are writing about fashion. More and more people are opining on vacuous practices, calling out problematic incidents taking place in the industry. That affects the insiders. They are still getting used to being held accountable.
It does not bring about any change when you cast queer folk, differently abled people in your campaigns and chase cultural capital by using minorities as props.
I remember during the time between the nationwide CAA, NRC protests and the start of the COVID-19 pandemic, there were multiple, tasteless campaigns using Kashmir as a backdrop, as a motif, as an aid to promote new collections by designers. For decades the industry has disregarded entire communities by making clothes which aren't appropriate for them, or are inaccessible. The message is clear – you don't matter. I recall making hijabs and veils; presenting them on the runway in 2013 and faced pushback because of the same. But in a covert manner, I was trying to capture the meaning of our times. And I still try with my work. Because, as I've mentioned in the past, clothing and clothes-making at the very least needs to be anthropological in approach.
There are however a new generation of designers who are operating on their own terms, using social media effectively to disseminate information, and are making clothes for people living in a post-gender world. These designers need to become the norm.
SA: This beautiful video presentation Ms. Takahi's Kimono begins with these words: "Clothes contain memories. They bear witness. They cloak, conceal, swaddle and shroud. Clothing informs and instructs. Clothing sustains." What does this mean in the context of daily life, as a person may reach into their cupboard and pull out options of what to wear on any given day?
KD: Ms. Takahi's Kimono was a video made as part of a larger project – Volume 3 Issue 2. I had received the kimono during my stint with Aomori Contemporary Arts Center in 2021 and decided to use it as an object to drive conversation about clothing.
People occupying the highest political offices in the country call out communities on a daily basis, using clothing as identifying markers putting them in danger.
We as a species are still obsessed with policing women's (trans women are women) bodies and how they should be clothed, how they need saving.
We witness unspeakable atrocities by savarnas on Dalit, Bahujan and Adivasi people on numerous fronts, one of them being appearance. Whether one can sport facial hair, wear jeans, sunglasses, is decided by one's caste.
With the current regime, multi-generational rot has set it. We won't see marked improvement for a long, long time.
When one wears native wear, they become an immediate marker of their community. In the context of religion and migration, clothing is used as a tool to even 'assimilate' and 'integrate'.
Clothing is used as a tool to perpetuate the supremacist model minority rhetoric.
Clothes for me is our first line of defence. They are also our first act of providing relief.
SA: Thank you! A last question. TARSHI has been engaging in an ongoing process of supporting the creation of Safe, Inclusive and Self-affirming, SISA, spaces across environments. How do the ways in which we dress and construct appearance, and the way we receive these forms of expression, interact with public and personal spaces and environments? What would it take to create safe spaces using this lens?
KD: I come from a space of immense privilege and so the way I present myself is subconsciously guided by the knowledge of the same. Your question I feel needs a multi-layered answer and lived experiences which I will be unable to provide.
There are certain organisations I know – progressive trans collectives, queer foundations that conduct outreach programs among healthcare workers, police personnel, educational establishments, and corporate structures to educate and sensitise them to bring about safe and secure environments for all people. And this also I know – that it cannot just be organisations such as TARSHI who perform this labour. The onus must be on cis-hets to facilitate required change.
Image credit: Rusha Bose