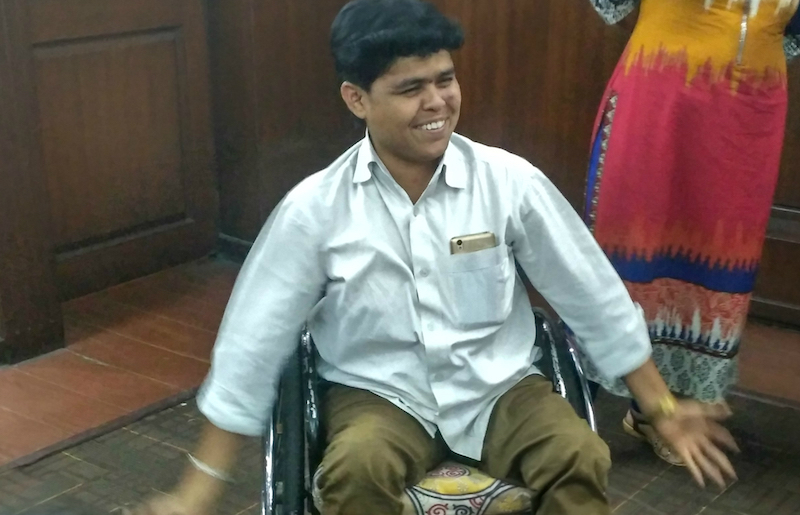 "There are many organisations working on transgender issues, but many individuals are not able to come out as female-to-male transgender. There are barriers – how to disclose your identity, no place to meet, no access to support. There are barriers to finances. No access to psychosocial support."
Kiran shares his insights and experiences, standing at the intersections of disability, sexuality, caste, and class. He is the founder of a number of support organisations that focus on sexuality and disability issues at the grassroots. He is currently working on a fellowship project on the subject of female to male transgender issues in India. Over multiple conversations conducted in Hindi and English, Kiran and Shikha Aleya discussed issues of sexuality, access and disability based on some of Kiran's life experiences. This interview presents Kiran's insights and narrative, through language translations and adaptations based on the discussions.
Shikha Aleya: Kiran, thank you for speaking to us and for sharing your experiences and thoughts with us and the readers of In Plainspeak. Please tell us something about yourself and your experiences with disability, sexuality and identity.
Kiran:  I am a female-to-male transgender person. Though my name is Bhanoth Ushakiran, I prefer to be called Kiran. I was born on the 1st of January, 1986, in Narsampet, Warangal, in the Indian state of what is now Telangana. I come from the Adivasi Lambani tribe. My village is called Hanuman Thanda. I belong to a very poor family. My parents' occupation is agriculture. They have a small piece of dry land for farming. They also do some small business.
I was born with female organs and was a female child as far as the family was concerned. At the age of three, I had polio and was paralysed in the lower limbs. Though they were poor, my parents did all they could to get me treated. They sold their cows to pay for the treatment, but with no result. My parents never neglected me but the traditional bias against girls was very strong, especially in this Lambani tribe. Besides, I was paralysed and was confined to the house. There was no going out, no socialising, and no schooling. There was also the innate fear around the security of a girl. They even brought up me as a boy with short hair and short-pants instead of a skirt!
Shikha Aleya: Were the other children, your siblings, all boys? Did they include you in their daily lives? 
Kiran: I have two sisters and one brother. One sister and one brother are younger than me. Yes, they included me sometimes, but they all went to school and I did not. So the relationship did not get a chance. They would come home from school and do their homework. I would study from their books when I could.
Shikha Aleya: Did you speak to your family about going to school?  
Kiran: I told my parents many times that I wanted to go to school. One day when it was raining, a village teacher, Mr. Krishnamoorthy, came home to speak to my parents to put me in school. My parents said that school was two kilometres away and also I had no wheelchair. The teacher said he would help and support me. He told me to change my name from Badri to Ushakiran because Badri was an adivasi name and it would give me trouble. I went to school for nine years. But I had problems. No friendships. No independence. No interest in anything. Dress was a problem because I wore shorts and they said in school that a girl should dress like a girl.
Shikha Aleya: When did you first start making friends? And what were the most important challenges you faced as you became more independent? What were the issues of access that you had to deal with?
Kiran: After completing school, I went to live in a girls' hostel 40 kilometres away from home for further studies. I did not like it because it was an all-girls hostel but I felt like a boy. I could not make friends. Then I met Saritha at the hostel. She too had a disability. We became best friends. She helped me a lot and accepted me as I was. Then we joined the same college. I did not get my Disability Certificate despite many visits to the hospital in Warangal over four years in trying to get it. They kept troubling me for documents, etc. and also troubled my mother when she went to try and get my certificate. So Saritha had her Disability Certificate but I did not.
We took up this challenge. We knew five other people with disabilities and we made a group of seven. Then we made a list of what we wanted and decided that on December 3rd,World Disability Day, we would bring together all people with disabilities in Warangal district and make our demands to the MLA. There were 35,000 people with disabilities in the district of Warangal. We met the Disability Officer and he gave us the contact details of 3,000 people. We had no funds, so we used 25-paisa postal cards. We bought 1,000 cards and wrote on them, 'Welcome to World Disability Day' and posted them all. We were not even an organisation. Then we met the local MLA. He refused to come to the function, saying he was busy. So we met the Gram Panchayat (local self-government organisation in villages and small towns in India) and got 5,000 people to agree to join the function. We had no permissions, there was no media or police. We had no tents, no chairs. The MLA gave us support on the final day, on 3rd December, and provided these things. Then we had our meeting. We asked for many things, including water, pension, service certificates. After this event, 150 volunteers came together and we made the Prajwala Disability Rights Foundation. We were invited by other districts and worked for two years in 23 districts of Andhra Pradesh. We handled many problems including those of documentation, sexual harassment, and such.
ShikhaAleya: When did you start thinking about your sexual identity? When did you first start talking about it and to whom?
Kiran: In 2008, a woman fell in love with me. Her family set her up to marry another boy. I did not want to upset the situation but she was deeply depressed and refused to marry anyone but me. So I left home, we travelled to Tirupati (temple) where we changed our names and got married. Then she told her parents. There were huge problems after this. The police came searching for us. Media was everywhere. We had to go to the office of the Superintendent of Police and assert that we were consenting adults. The media found out and came to the police station and the public came and beat and insulted us. 'Girl-to-girl' marriage. Disability. Everything was an issue. Earlier, when working on disability, there was one media person who used to support us, and he came and supported us again. We escaped to his office. We did not know what to do. Meanwhile, the crisis team of the organisation Sangama (a resource centre on sexuality) heard of us in the news and called me. They counselled us.  We travelled from Warangal to Hyderabad with them, and from there to Bangalore. Until then, I did not understand anything about sexuality; I only understood love, not sexuality, gender, body, or any of these things.
Shikha Aleya: What was it like for you after you moved to Bangalore? Did you both stay there together?
Kiran: Yes, we moved together and are together. In Bangalore I had language problems and some other problems. I was born as a female child, so all my documents were in the female name. Whenever I want to change those things I always face challenges.
With the transfer of a pension scheme also I struggled lot. When I was in Telangana, I used to get that pension, but in Karnataka they refuse to give it to me. Also, my caste was ST (Scheduled Tribe) in Telangana, but in Karnataka they term it in the caste certificate as SC (Scheduled Caste). These things are very crucial to get any support or benefits.
In Bangalore, Sangama supported me and tried to do polio corrective surgery, but the surgery failed. In 2010, both of us joined as volunteers with Sangama, and so, for the first time, we got training in sexuality, and learnt about gender. Then I got a small fellowship, to work in Chikkaballapur district on transgender and disability issues. In the district we found many problems and identified several issues. People who are transgender and who have a disability face family harassment, sexual harassment, police harassment… Also, there was no organisation to take up all these issues in Chikkaballapur. So, I started an organisation called Nisarga, with people who were transgender. It now has 3,500 members.
Shikha Aleya: You are also connected to two other organisations – Solidarity Foundation in Bangalore and Karnataka Vikalachetanara Sanghatane (KVS) in Chikkaballapur, working on issues of access. What are your experiences in this area?
Kiran: At Chikkaballapur, I started KVS to focus on sexuality and disability. We started in 2010 but only registered in 2012. We do a lot of advocacy work on access issues. We are fighting two cases in court, both on disability and access issues.
Access is a major problem. I am disabled but I must define my own accessibility needs. My needs are different from those of another. For example, a blind girl trying to reach the first floor or second floor is different from me in a wheelchair. I do not need all kinds of help. I can work with a lift and a ramp, but many places do not have even this. The public gives sympathy. I ask, why all this sympathy? We can solve our problems but we need support and encouragement. We need access to education, to sports and games, to other things and places. Not sympathy.
Shikha Aleya: Kiran, you speak of access and support together. Do say more about this.
Kiran: See, some support from the government may already be there. For instance, there is reservation (for people with disability) in the railways. The train has a disability-friendly coach or compartment. But how do I enter this without a ramp? There is no accessibility. So I have reservation but I have no access. Or there is a classroom on the 8th floor – how do I access it along with everyone else? Also, as an Adivasi I have reservation as both an Adivasi and a person with disability. They say take only one, choose only one category. I have to decide, but on what basis? Then again there are documentation problems. There are differences in state rules and policies, so between one place and another I have invalid documents.
Article 19 of the Indian Constitution says that as a citizen you can stay anywhere in India, but in reality this is a challenge and a big implementation problem. All this name change, gender change, these are all problems.
Shikha Aleya: What are you currently focusing on in your advocacy work? 
Kiran: The Solidarity Foundation has given me a small fellowship to work specifically on female-to-male transgender issues. There are many organisations working on transgender issues, but many individuals are not able to come out as female-to-male transgender. There are barriers – how to disclose your identity, no place to meet, no access to support. There are barriers to finances. No access to psychosocial support. For the female-to-male name change there are ID card problems, job problems, shelter/tenancy issues. These basic problems.
Shikha Aleya: What are your insights about intimate and sexual relationships in India as experienced by a person with a disability? 
Kiran: There is no platform to explore these issues with acceptance. In this society, people with disabilities face discrimination, especially those who are from a marginalised community, and then, as a sexual minority there is double discrimination. So as a female-born sexual minority with a disability, my experience is that acceptance is low.
Shikha Aleya: What do you think needs to change here to create a supportive and inclusive environment?
Kiran: Social entitlements. We at KVS have discussed with government officials how to get social entitlements for the transgender community and they have agreed on many things. We successfully conducted meetings on the Transgender Bill 2016 (The Transgender Persons [Protection of Rights] Bill, 2016) after facing so many issues.
To make this an inclusive environment, we need to have dignity in life and be treated like other citizens. Political participation is a crucial area in which we can raise our voice about sexual minority issues.
---
इस लेख को हिंदी में पढ़ने के लिए, कृपया यहां क्लिक करें।