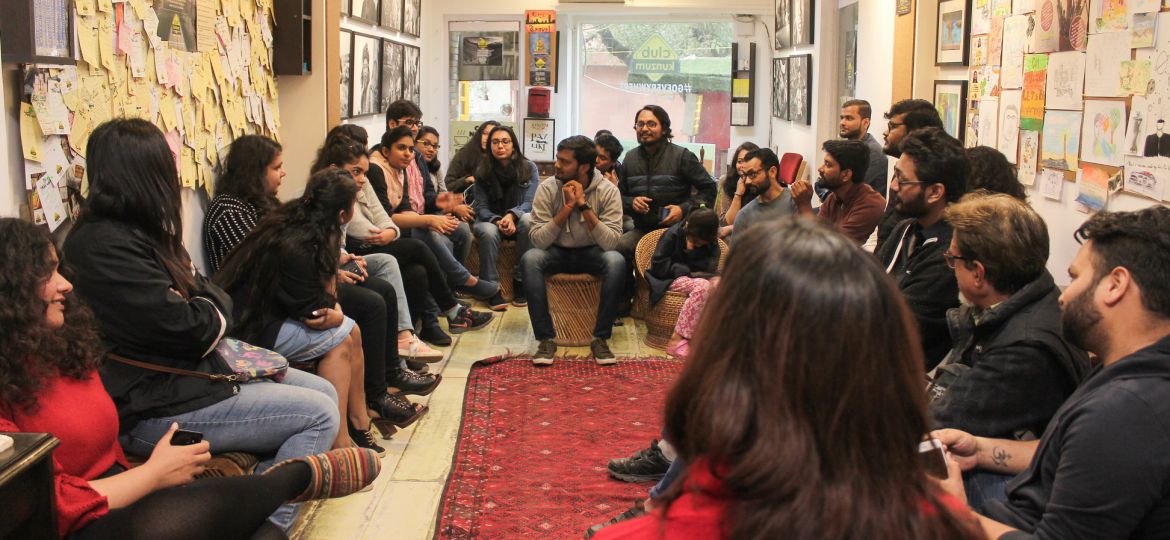 TW: Mentions of sexual harassment.
It was the last exam of my 6th semester of engineering. I had finished my exam earlier and therefore left the examination centre. As I was going to my hostel, behind the staircase, I saw a man masturbating. He hid a little more behind the staircase as he saw me. It was dark so I couldn't see his face. I just quickened my pace and walked away. This wasn't the first time that it was happening, and I was relatively unaffected.
When it happened for the first time, I was left shocked and had reached out to the authority, who did take the appropriate action to help us. They increased the number of street lights and put more guards on duty. But honestly, it hadn't made much of a difference, because even if we doubled the security guards or cameras or street lights, there would still be some nooks and cranny in the campus for nuisance creators.
Coming back to the exam day, what disturbed me was how unaffected I was, how I had normalized the incident in my head, and, like everyone else around me, chosen to ignore it. I decided that I had to do something about it.
So, I did the next natural thing, I went back to my room and shared my experience on social media. As a result, I got many responses from people. A lot of them opened up about how they had been facing it as well, while others were absolutely shocked to know that something like this was happening within the campus of their beloved college.
I also got a third kind of response, wherein people were doubting my claims. They went ahead and asked me a lot of questions like, "Are you sure, he was doing it?", "Was he standing?" "You sure his hand was moving?". Back then, these questions perturbed me.
I wanted to be believed and heard, not doubted or questioned.
It was already late at night by then. I went ahead and shared the incident on an all-girls WhatsApp group called Periodlogue. This opened up a floodgate of sexual abuse experiences. Everyone in that group had been sexually abused at some point of time in her life and I could easily extrapolate it for most other women around me as well.
The sudden influx of all that information was mind-altering. It was flabbergasting to see sexual abuse be so common, and yet still be hushed about in conversations. It was almost illogical to hush about something that atleast 50% population will have to face atleast at some point of time in their life, I say atleast because we still don't have a lot of accurate data on sexual abuse faced by men.
One major reason associated with the reticence was victim-shaming. Most women I had talked to were too hesitant, and, to a certain extent, ashamed of it. There was a stigma attached to such issues. For instance, most people around me wouldn't even say the word masturbation without hesitating, forget about calling the masturbators out.
It was night and we were not allowed to go out of our hostels. I grazed along the walls of my single-seater room waiting for the clock to strike at 6 am, because only then would I be able to go out of my hostel. I woke up with the first ray of the sun—I had hardly slept—and thereafter went to a relatively empty place in my college along with my journal.
It was happening to everyone, yet we never talked about them. If we don't even acknowledge the issues, how will we ever solve them? 
It didn't just mean sexual abuse, but signified so many other stigmas of the society—sexual abuse, mental health issues, dysfunctional families, bullying, body shaming—I realised that we needed to normalise the conversation around these issues.
Mental health issues were the most common problem in the college, and drug abuse was an absolute menace. Yet, talking about mental health was rarer than spotting peacocks on the campus.
That was how Humans of Safe Places was born. Acknowledgement is the first step towards solving any problem and we, as a society, needed to acknowledge our problems first, also know that we are not alone, but together, in this.
I contacted my friends, and most of them had already shared some stories about their lives in the capacity of a friend before. I am still thankful that they let me share their stories. As a result, more and more friends and acquaintances began contacting me, sharing the most harrowing experiences of their lives with me; experiences of drug abuse, corporal punishment, domestic abuse and much more. It was encouraging to see that personal issues that they could not share with their closest friends, they felt comfortable to share on my platform.
I was convinced that the layer of laughter and pretence that most people cover their exteriors is mostly a pretence. The more I conversed with people, the more true I found it to be. I still can't forget how a casual stroll with a friend—one of the coolest person, I know—turned out to be a revelation, when he opened up about his issues with me and agreed to share them on HoSP. A junior found solace in my room when she shared something that she had not mentioned to anyone else before.
Today, almost two years after starting the platform, we have organically grown to become a digital community of 10 thousand people, a team of 20+ volunteers, have conducted some offline sessions with people, and have shared 250+ unique stories of people about a wide range of social taboos like infertility, menstrual cups, online dating, and much more, apart from broader issues like sexual abuse, mental health, queer issues, and more.
The journey has been anything but easy. I have come a long way from being a 'backbencher' with no direction in life to a person who now knows what she actually wants from life.
As a society and as an organisation, we still have a long, long way to go but, I feel, that we have at least taken the first step and I feel proud about it.