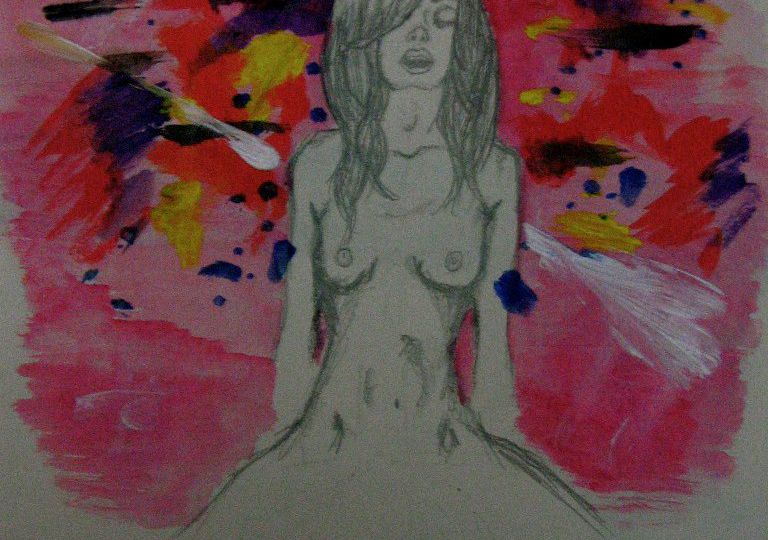 This piece won't write itself as an opinion piece or a review of experiences that happened or were bound to happen. Neither does it intend to chain itself within a specific notion of what it entails when love and sexuality intermingle. Rather it resonates more as a long interior monologue that tries to pen down feelings felt and discharged throughout a history with men. Perhaps a small surrender before that: these anecdotes are associated with a cisgendered heterosexual woman, in the throes of her twenties and usually sexually attracted to men, though there have been instances where she may have been completely caught off guard by some feisty women. But those instances have been too few and rarely have they materialised into something concrete. Similarly, this long stream of consciousness, though taking off from a personal narrative, deliberately only alludes to fictionalised and abstruse incidents so that I do not emerge enervated by this experience. They are, finally, an assortment of conversations about men who have tried to touch the right nerve in order to hit a chord.
*
I have lost count of the times I have caught myself thinking about thinking. And lately I have caught myself thinking about thinking during sex. Sometimes even of sex during sex. It is a tightrope, from daydreaming about sex, to being vulnerable with another naked body, to expecting the unpredictable and elusive orgasm. Nothing comes easy.
In the back of my head, I really worry that I may have slept with more men than necessary. It is a fear that has the potential to bloat into an existential crisis if need be. Society does manage to impinge its opinions as much as it can. But one of the things that sex with different men has taught me is self-love. With sex came not only the responsibility to take care of bodily needs but also of the body.
*
Our bodies, it is a deep sea of naked
When we collide, I am engulfed
But try to tame me, and I am the abyss.
Another day, another day under the blistering sun. I was nervous, he had hopped trains to meet me. Most of the meeting is a blur, except when I put my legs up, exposed skin parading itself on the auto rickshaw's railings. I remember him blushing. I wasn't to know until years later that I had loved and lost. When we parted, we ended up at the same juncture. A train taking him away while I barely understood the enormity of the parting. It was an affectionate interlude of utmost intimacy but there I was waving him goodbye, still unwilling to put my heart on the line.
My vagina is my wonderland.
But even lust is love. Vulnerable, but self-indulgent love. He was the first poet that I was to take as my lover. We came conquered. We had already aired our dirty laundry. He had a lover, I was with my lover. No futures were planned together in his ramshackle room. Yet the first night I spent in his bed I forgot with whom I felt more at home.Some days your heart seems to be bursting at the seams because two people overtake you. I talked to him at length, he said he had watched me for several evenings. We became friends, we became lovers, and we lost lovers.
Go slow until I tell you otherwise.
The third is never a charm and neither is he the prince charming. I remember writing something on those lines in my diary. It wasn't heartbreak. It was just disorienting to realise that modern love was as intoxicating as a quick drink stifling your throat while making you heady. Three things I learnt from him: do not kiss, always lubricate, do yourself a favour and liberate. In retrospect, he taught me that a first aid kit containing lubrication and no emotions was indeed commonplace and a necessary rite of passage. It was also ridiculously delicious. Only one memory permeates: the smell of a newly opened condom lingering sickly sweet on a sweaty summer night, so sickly sweet that he drunkenlymoaned: If only I could suck my own cock! Those nights were a delicious camaraderie.
Queef calm and carry on.
Millennial love is Tinder. Millennial love is also tediously tender in its own way: almost loves of a few fond nights and no tomorrows. But really it is about spontaneously giving into desire. It is not like I am not wary. I am very wary of the outcomes of the night. I wasn't just railing against the prevailing morality, questioning the subtle lack of my better judgment but also presumably sampling a sea of swipes as dysfunctional as me. Sometimes I want the sex, sometimes I want the cliché. Every text, every discarded condom is a distinct pattern of possibilities until I get up the next morning pretending to be a functional human being.
Rinse and repeat if my toes scrunch up with abandon.
A few too many indulgences have happened since. Men may come and men may go, but life goes on monotonous. Though beinga part of a bra-fearing sisterhood helps. Mostly consisting of my closest girlfriends, it is a rather necessary stonewall. Over time, cold logic starts to confuse emotions, and female friendships mandate interventions to restore some semblance of order. There are days when we truly fail the Bechdel Test with regard to female friendships. But we are each other's voice of reason. From insisting on why a condom is necessary, to realising that a man's true caress is the way he goes down on a woman, there is a lot of pilfering and filtering of opinions. We too are lovers. In each other's arms, we have begun to celebrate singledom as a legitimate lifestyle. We realise that neither is quite adept at this sleeping-with-strangers thing. So with our paranoias intact, we guide each other through debauchery. If nothing else, our familiar failsafe? The vibrator.
*
Sometimes you are 24, brewing your coffee, penning your thoughts but still surrounded by the same old nostalgia. You have had lovers. You have had erasures. Intimacy with stakes, and intimacy without stakes. But there will beno definite traces of it. Do you know why? Because we are devourers. Except memories of the time spent together, the rest will have ceased. But wouldn't you still kiss and unravel?
Love was not the final fantasy.
Image source: Blueberry Morning (CC BY 2.0)