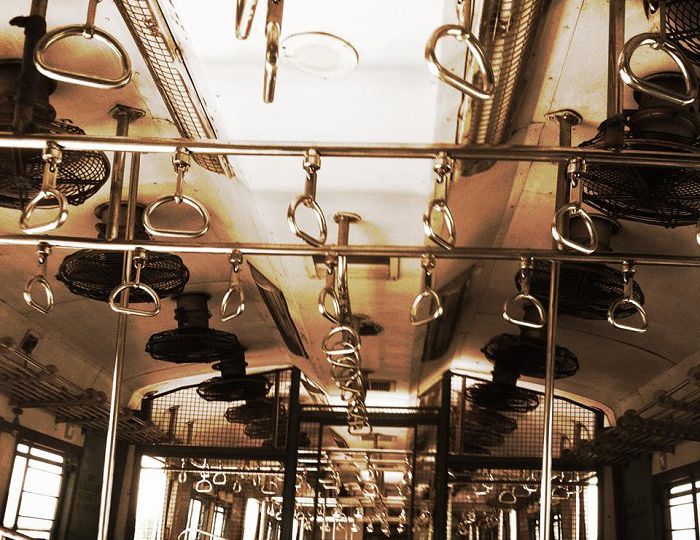 Knowing well the near impossibility of its publishing, I sent this write-up to an internet magazine published by a few journalists. Sure enough, it was not published, and they asked me to make changes as I expected. When we write about sexuality and issues related to it, people are apprehensive about many things and so many are still not ready to openly consider it as a part of life.
As an activist, I travel quite often on sudden, unplanned long-distance trips. Apart from this, I travel daily from the suburb I live in to the metro city. Every day, I travel in a slow train in which the maximum number of passengers are male.
I consider this daily trip of mine a theatre project, far from the real me: I cover myself from head to toe and wear sunglasses double the size of my face. Why? Because most of the male passengers look at all the women in the compartment as if this is something they get for free along with their ticket. The majority pull out their mobile phones and either talk loudly or place it directly in front of the face of any woman traveller (unfortunately, my fellow women travellers pretend that they are not even aware of this gesture). I genuinely fear that my face will be photographed by someone and may be morphed and put up on the Internet. Many times, I decided to file a public interest litigation to ban passengers from using mobile phones with cameras in public places and while travelling. I discussed the matter with fellow lawyers but, unfortunately, none of them were interested in joining me, and many found it too trivial an issue to take up.
A recent trip to my hometown left a long-lasting impact on my mind. As usual I was travelling alone, and had a ticket in the First Class AC coupe. While I was waiting for the train at the station, a young government official I had become acquainted with, who is a regular traveller, warned me about the presence of some 'anti-social' elements in this particular class, which made me anxious. But on entering the train, I felt happy to see that my co-passengers were a couple with a toddler.
After a few stations, however, the couple de-boarded the train, leaving me alone. I was enjoying my solitude, but after half an hour, to my horror, I saw a huge leg hanging out of the upper berth. A man jumped down and sat right opposite me. That he had been silently present in the coupe all along came as a jolt.
The man then started talking loudly on his mobile phone. In the first few calls he made, he talked about the huge sums of his monetary transactions. Gradually, the conversation switched over to my mother tongue and was indirectly hinting at me. To my extreme shock, he started talking about my age, which he had gotten to know from the chart pasted outside the coupe. He started making sarcastic comments about women travelling alone and how attractive some of them are in spite of their age. He craftily ignored my gestures of irritation, and I had to resort to leaving the coupe.
The ticket examiner along with the coupe attendant came into sight while I was standing outside. I asked the ticket examiner whether someone would be boarding the coupe at the next station and enquired about the destination of my fellow traveller. He told me that a couple would be boarding at the next station and that the man would get off the train after four stations.
The arrival of a young couple with a child led to sudden noticeable changes in my hyperactive, hyper-vocal fellow passenger. He put away his mobile phone and started acting more maturely. The couple had some doubts about my seat number as they had requested a lower berth for the young child. The man became their messiah and started asking about my seat details politely like a thorough gentleman with deep compassion towards his fellow human beings.
I erupted like a volcano and asked him to keep quiet. All my anger since the age of four when I had to save myself from the perversions of a close relative, my countless encounters with threatened physical intrusions, my position of vulnerability, all of it came out at once.
Once the man got off at his destination, I apologised to the couple for having been rude. I still feel miserable and helpless for not having reacted more assertively to that man's harassment in the coupe and for suppressing the real me.
इस लेख को हिंदी में पढ़ने के लिए यहाँ क्लिक करें।
---
Cover image courtesy of the author