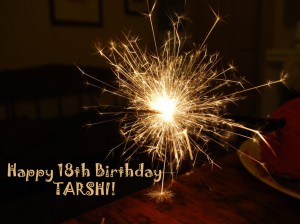 Felicitations to us at TARSHI!
As we turn 18 this month, the currently legal age of consent for sexual activity in India, this issue of In Plainspeak poses some difficult questions that we all ask ourselves in the course of not just our work but also our own personal relationships. Every day we see around us blatant violations of bodily integrity, of our right to exercise choice – of partner (because of their gender, class, caste, religion, you name it…), of whether to have sex, of what brings us pleasure, quite simply not just a violation of our right to say No, but also of our right to say Yes.
In a way, the events since December 2012 have starkly brought to the fore the absolute contempt that we seem to have as a country for the notion of consent. Be it gang rape, sexual harassment (from the streets to the highest echelons of the judiciary), so-called 'honour killings', child sexual abuse, marital rape, consensual same-sex activity, you name it – in effect not much seems to get done in terms of prevention, implementation of laws, accountability or even comprehensive sexuality education.
What exactly is consent? Is lack of consent coercion? Or something else? How do we demarcate lack of consent from coercion? Who is capable of giving consent to sex? At what age? Is maturity inevitability linked with age? Does the advent of a birthday bestow a magical ability to give meaningful consent?
Exploring these issues of consent and coercion we have for you an array of interesting articles.Vidya Reddy of TULIR in the Interview conducted by Shweta Krishnan lays out the laws of the land and the confusions and contradictions surrounding the age of consent and articulates the complexities of today's realities for determining the age of consent for young people.  Sumati Pannikar delves into the right to say Yes and No in the Issue in Focus using real life incidents from recent times to illustrate quite chillingly how consent is not even a notion, leave alone a practice that most people are familiar with in our context. From this bird's eye view, so to say, Anita takes us through the I Column to a more in-depth understanding in her personal account of her life as a Devadasi in Maharashtra, Western India, destroying in this process many stereotypes that people hold.
Artika Raj has a book review of Good Times for Everyone: Sexuality Questions, Feminist Answers. In a similar vein, Parigya Sharma exposes the  cinematic ignorance of coercion. Mukesh offers a powerful poem that was first published at Orinam.net, Pooja Badarinath from CREA writes about the many facets of consent and we have pictures of an awareness campaign about 'What consent means to people' organized by Disha Luthra in the Voices section.
Our Hindi section has an article by Dipika Srivastava about the lack of clarity, legal and otherwise, about who is a 'child' and what constitutes consent.
In the Visual Corner, you will find short videos on love, consent, and violence made by Must Bol and Brushstrokes features the much talked about Fearless Campaign initiated by Shilo Shiv Suleman as a response to the fear instilled among all post the December 2012 Delhi gang rape.  Manak Matiyani takes a closer look at the lyrics of songs in international and local media to show how they perpetuate violence in the name of entertainment. The Gallery features posters on Consent and Violence by Must Bol.
We would also like to take this opportunity to thank all those who have been with us along this 18 year ride – here's to more adventures along the way!
The TARSHI Team