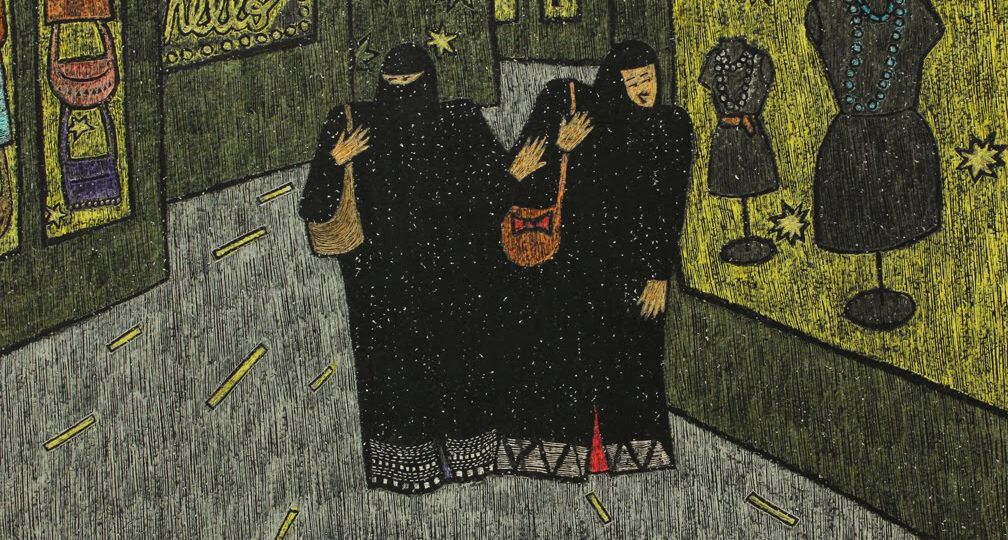 By: Priyanka Sacheti at the IMOW Blog
When you hear the word "illustration," what does it conjure for you? For four Indian women illustrators — Kalyani Ganapathy, Bakula Nayak, Shreyas R Krishnan, and Trusha Sawant — illustration produces a host of associations for each artist. The meshing of these individual visions has resulted in them forming a collective, which exhibited its first edition, My Cup of Tea last October at Kynkyny Art Gallery, Bangalore, India.
What was the story behind the formation of the collective? When Kalyani Ganapathy decided to become a full-time illustrator, she had the idea for an illustrator's collective; what she awaited was the right people and time for it to assume shape. Meanwhile, unknown to her, Kalyani's illustrations had motivated brand strategist and packaging designer Bakula Nayak to return to illustration after many years. Their first meeting over a cup of tea set the ball rolling for the collective. Kalyani then wrote to her  long-time friend Shreyas R Krishnan, also an illustrator, to ask her to the join the collective; Shreyas meanwhile had been collaborating on a sketch-book swap project with her colleague, Trusha Sawant. When the four finally met in person, they realized that between them they had varying styles and interests. However, what brought them together was their love for narrating through the drawn image. Over their discussions, the concept underlying the Illustrator's Collective grew into a space (literal and otherwise) for like-minded illustrators to come together and share common interests: it would also bring the practice of contemporary illustrations to a wider audience. Here is a glimpse into each of these illustrators' works and individual mindscapes.
"For me, illustration is a powerful medium of expression, both for self and others," says Kalyani, whose dreamy illustrations displayed in the exhibition consisted of the intriguingly titled, Memory Box, which she describes as a visual journey, a sensory experience from her recent travels. "I walk through life, observing everything in slow motion. I soak in everything around me and create a 'curated' memory box in my mind. I sit in my studio, open the box and allow the contents to spill out onto paper," she says. "Every time I put my brush on paper, it brought on so much nostalgia and emotion, reminding me of little moments in life."
Shreyas R Krishnan
Hidden in Plain Sight
Shreyas quotes the American graphic designer, Milton Glaser to aptly describe what drawing means to her: "The great benefit of drawing for instance, is when you look at something you see it for the first time…and you can spend your life without seeing anything…" She sees illustration as means to observe, document, experience and also, express. "My work usually revolves around culture and travel – both in live documentation drawing as well as finished illustrations. I connect with colors and tactility in visuals, objects and print ephemera; I look for textures and signs of a hand behind the art," she says. Her illustrations for the exhibition focused on a theme close to her heart: women's issues; in particular, she explored the notion of visibility and being hidden through the medium of veils in her works such as Hidden in Plain Sight. "Veils have a curious presence in a public space. Do they actually hide a woman or do they make her more conspicuous?" she questions.
Bakula Nayak
Onefish-twofish
Bakula finds romance in the world gone by. A hoarder of all things vintage, especially paper ephemera, she is on a constant quest to repurpose her vintage finds so they have life in a new context and can relive their glory. My Cup of Tea allows her to access the alternate world she inhabits and which she observes through multiple perspectives and lens: "in montages, sometimes in fast-forward or in slow motion." She seeks to breathe life into a forgotten piece of beauty by using a book of wallpaper samples circa 1931 as a canvas in her works such as in My cup of tea-Ohmy! The things I find in it! "The gorgeously aged paper has vintage prints on one side and my pen and ink renderings on the other," she says of her work, which marries the past and contemporary through grace and beauty.
Trusha Sawant
Do I Dare Disturb the Universe
The fourth member of the collective, Trusha finds the world a bizarre place to inhabit. She loves visually curating the odd bits and bobs that surround her, knowing that there exists an aesthetic of the absurd. Her theme for the illustrations she created for the collective was how one notices things and consciously forgets. "My work, Out of the Blue is my interpretation of these abandoned spaces between observations and memories where the absurd resides," she says of her illustrations permeated by a distinct sense of whimsy.
Given the multiplicity of thoughts and techniques, was it challenging to produce collectively? "The forming of the collective and the decision to exhibit were simultaneous. The first challenge was the obvious one of how to present four different bodies of work as one show/collective. Since all of us were creating new pieces for our first show, we needed an overall theme which would allow us to display four different types of illustration work – My Cup of Tea was an idea that worked perfectly for this," Shreyas says.
Kalyani mentions that she loved the experience of sharing each piece with the collective as soon as it was done. "What I particularly love about the people I collaborated with was the space and freedom to create on paper without interference — and still being able to work together to reach certain goals," she says. She feels that working in a collective is a joy, especially when there is "criticism that pushes you to strive on what works best for you. A collective is about shining individually and as a group."
Even a brief glance at the illustrators' works will reveal distinctly and excitingly different approaches, techniques, and themes. Yet what binds the artists and the works together is that of presenting a mosaic of stories, each part contributing to a vibrant larger whole.
This post was originally published here on February 17, 2014.