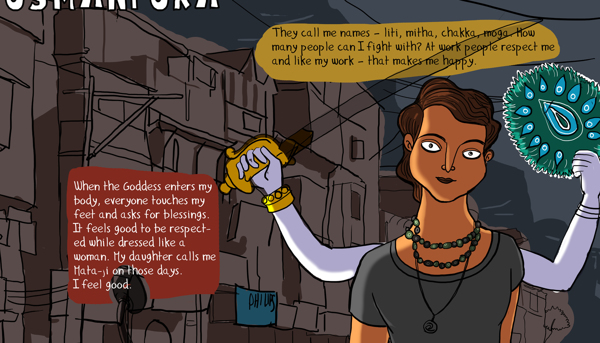 Illustration Reportage: Monaz Diary
About MONAZ DIARY
Manish Nayak likes to call herself Monaz as she feels the name completes her. Monaz lives in Ahmedabad and works at the Civil Hospital as a senior 'male' nurse. Married at the age of 11, Monaz's daughter was born when she was only 18. She calls herself a transgender (Male to Female) and has made up her mind, not to succumb to the pressure of the society anymore.For her relatives and family members who would never understand the concept of being transgender and probably murder him if he comes out to them as a homosexual man, Monaz is an incarnation of Mother Goddess, Bahuchara-ji*. In the month of Chaitra – Monaz believes that the Goddess enters her body, transforming her completely. At this celebrated time of the year, Monaz's daughter refers to her father as Mata-ji (Mother Goddess).
*Bahucharaji
Bahuchara Mata or Bahucharaji is a popular deity or 'Devi' of Hindus. She is particularly worshipped by the hijra and transgender community in India. At the Mehsana district of Northern Gujarat, there is a temple of Bahuchar Mata. The Goddess armed with weapons sits on a rooster – because of which she is also popularly known as the Murga Mata (Rooster Goddess).
*Kothi
Kothis are feminine men or boys who take a feminine role in same sex relationships with men, often with a desire to be the penetrated member in sexual intercourse. The word kothi is common across India, similar to the Kathoey of Thailand. Kothis are different from hijras as they do not live in the kind of intentional communities that hijras usually live in.. Additionally, hijra may be classified as a branch of the kothi family, differentiated by their castration and initiation rites.

I tried to capture some of the motifs of the Bahucharaji temple – scans from my sketchbook

The spire of the temple and the flag – scans from my sketchbook

The Rooster on which the deity sits – scans from my sketchbook
Trying to capture the posture/face of Monaz – scans from my sketchbook
Monaz and her signature pose – elegant and beautiful!
The scooter that Monaz rides – scans from my sketchbook. I tried to juxtapose this vehicle and the rooster (vahan) of the deity through similar use of colour and proximity in placement in the composition.
Scanned from a poster of Bahicharaji
The artwork was featured in VSUAL
Click here for more details: http://vsual.co/2012/08/diaries-of-transformation-anirban-ghosh/
This post was originally published here.