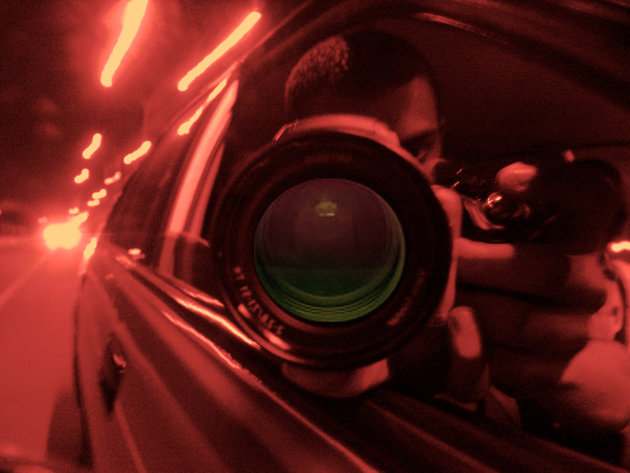 By Sonia Khan | Grist Media – Mon 18 Aug, 2014
Doubting doctors, corrupt cops, jeering lawyers and, of course, mercenary reporters. A middle class woman gang raped in the heart of Mumbai makes for a perfect storm of anxiety and righteousness. But what if the rape survivor is also a journalist? A year after the Shakti Mills gang rape, a colleague of the survivor writes of their reluctant ringside view of the circus of such cases, and the stark lesson that the system will not spare you even if you're part of the system.
Are You Ready by Shazeen Samad via CC BY 2.0
That hashtag was my colleague.
As #MumbaiGangrape started trending on Twitter on the night of Thursday, August 22, 2013, we were living out a nightmare that we never thought would be ours.
Around 7.30pm, Sandhya*, an editor at the publication we work at, asks me to speak to our two photo interns, Deepak and Megha, who are shooting a photo-essay on the city's abandoned spaces. They've already shot a vacant bungalow and deserted cars, and their next subject is the Shakti Mills compound by the Mahalaxmi Railway Station. The interns have just rung up Neha, their immediate senior. Sandhya doesn't have any details, but can make out that one of them is hurt, because Neha is rushing with them to a hospital.
A little anxious, I try both their numbers but cannot get through. If she's fractured a bone, it's going to be so frustrating, I think. I ring Deepak the intern again. This time he answers, but before I can ask if everything is alright, he tells me he can't speak and hands the phone to Abha, another colleague who ran into them on the way to the hospital. Abha cannot speak either, because she is sobbing.
My heart slows down. I just want to hear one of them saying Megha has broken a bone, but there's only howling at the other end. I hear myself repeat, with a calm I'm not feeling: Stop crying and tell me what happened. We'll deal with it. Is she ok?
No, she says eventually. Megha was raped.
* * *
Outside the railway station, the two young photojournalists are waiting at a signal. Why is she crying, a traffic policeman asks Deepak. She fell down while coming up the steps and hurt her knee, he answers.They take a taxi to Jaslok Hospital and pick up Neha on the way.Deepak sits in the front seat with his head in his hands. In the back, Megha is cowering in a corner, crying. On the way to the hospital, she narrates to Neha what will be forever etched in our memory.
They had wound up the assignment, and were leaving the mill compound. Near a busy exit that leads to Famous Studios, they were confronted by five men, two of whom had shown them the way in. They said they were railway officials and that the interns were trespassing on government property. They began to get aggressive, accusing Deepak of being the culprit in a recent murder at the mill, and told the two they'd have to meet their boss further inside the compound, who'd settle the matter.
Megha and Deepak protested their innocence, tried to reason with the men, and eventually, sensing that the situation was turning dangerous, offered them their expensive camera kits and phones to ransom their way out. One of the men pulled a broken beer bottle out of his pocket. They asked the interns to remove their belts, and used them to tie up Deepak. They forced him to the ground, and one of the men stood watch over him.
The other four pushed Megha further inside the mill, to a bare complex which looked in a state of either interrupted construction or partial dismantling: a wrecked ceiling and a rubble floor bridged by chipped pillars. Here, the five took turns to assault her.
Afterwards, they took photos of her with their phones, threatening to come after her if she told the police. They led her out to Deepak, untied him, and escorted them to the train, repeating their warnings. Then, they left in the opposite direction, towards Lower Parel station.
* * *
At work, after the conversation, I avoid eye contact with alarmed colleagues who've heard me on the phone. I say something vague about the interns being okay, that everyone should continue working and that I'll be back in a couple of hours. No one believes me, but no one attempts to ask me any questions. Sandhya, the editor, and I are out of office within seconds. I can barely put one foot in front of the other, but she has the presence of mind to suggest that we draw some money before going to the hospital. Inside an ATM, I am shaking so much that I have trouble withdrawing my card. The taxi ride cannot have taken more than 20 minutes but it feels like the longest one of my life. My hair is standing on end. It's August in Bombay but my teeth are chattering with cold.
In a vacant way, I wonder if Megha and Deepak will look like the assault victims from Law & Order, with broken bones, bloody faces, and black eyes. I don't know then that this is a gang-rape but I know it is all going to blow up. I want to shriek, but I am unable to.
How are we ever going recover from something like this? You can cope, other things may occupy your brain, but can you ever go back to zero? I hear nothing except static in my head. Later, I realize that I have been mumbling over and over again: This changes everything.
Inside the casualty ward I look for our colleagues, and wonder why everyone looks so unperturbed. I push aside the bedside curtains of two other patients before I find Megha – looking more fragile than ever – lying on a bed, an intravenous drip threaded to her arm. Although she is quietly crying, I am relieved just to see her. I can't find one useful thing to say to her, so I kneel beside the bed, grip her free hand, and pat her hair. The silence in our cubicle is filled up by a loud monologue from the next one: the patient's wife is complaining about her husband's prolonged hernia problem.
The last time I was in a hospital was to see a friend who had just delivered a baby. Now, I am trying to sift through the confusion and remember what we are supposed to do next. What if the hospital refuses to treat her? Do we have to inform the police or is that the hospital's responsibility? Can we inform them without consulting her family? After what seems like hours, a woman doctor flicks aside the curtain and asks me who I am. (Weeks later, Megha will tell me that this doctor asked her whether she'd given the five men her consent, while also conducting a conversation on the phone.) A nurse comes in with a medico-legal case form, and gently begins asking us clueless questions and wants us to tell her what has happened. Megha asks her several times to be cleaned up; the nurse tells her to calm down but is stuttering with nervousness herself.
Megha's terrified mother arrives, and I desperately compose and dispose of ways to tell her what's happened. There's no privacy inside the ward so I clutch her hand, and along with Faiza, another senior colleague, lead her out into the hospital compound. (Instinctively, I scan the area for cameras and busybodies: a nervous tic that will stand our team in good stead over the next few days.) Her mother only wants someone to say the words, and deny what she thinks she knows. I hold her arms to steady her – or to steady myself – and say, You need to be brave. Then I tell her.
* * *
Inside a doctor's office, Deepak sits immobile on a cushioned bench, his eyes unfocused. Except for large red welts on his arms where the men had bound him, he looks unhurt physically. My colleagues Neha, Sandhya, and Abha surround him, showing their concern by asking if he's hungry, if he needs water or coffee. The cops will be here soon and Manish, the head of the publication, asks Deepak to recount the sequence of events. It is not even 9 pm, but he's already been over this many, many times in the hospital.
Through the glass doors that will become our stakeout point for the next couple of hours, we watch a posse of policemen walk in. They've clearly been informed about the nature of the assault, but there isn't a single woman officer in the team. Everyone is ordered out of the doctor's office, and Deepak is soon spirited off to the scene of the crime to help the cops gather evidence.
Megha's initial medical examination is completed, and I'm back inside the private ward, where our lives are getting rearranged. Her statement is being recorded and mercifully, a woman officer is now present, even if two male officers are the ones taking notes and asking questions in soft tones. Behind me and within earshot of everyone, another officer with a kind face engages in intermittent chatter with the nurses. Ye bahut bura hua par wahan jaane ki zarurat kya thi? Wo bhi akele? Ladkiyon ko lagta hai wo kahin bhi ja sakti hain? (What happened was awful, but why did they have to go there? And all alone? Do girls think they can go just about anywhere?)
I hold my breath for about half an hour, before I hiss at them to shut up.
Around this time, I begin to get calls and texts from identified and unidentified numbers. Friends who had heard about the rape want to ensure that I wasn't the one hurt. Former colleagues offer help liaising with the police. Some journalists I've met in the field ask if I'll speak to their channel/ publication's crime reporters. That's when we know that DNA's website has an initial report of the incident, and even though they've left out the name of our publication, they've described it in such specific terms that it's narrowed down the pool to one.
I receive a one-line SMS from a friend, advising me to delete Deepak and Megha's pictures from their social media profiles. In the most absurd moment of that night, I have to interrupt Megha's statement to get her Facebook and Twitter passwords. It annoys the officers, but I can already see tomorrow's reports. A survivor of a sexual crime is protected under Section 228A of the Indian Penal Code, which makes any disclosure of her identity a criminal offence. But who knows what editor might decide to run her picture with a pixelated face or a black band over her eyes?
Megha's statement has finally been written. It has been read back to her. Her clothes have been gathered and sealed as evidence. I walk out into the waiting area at midnight, where other colleagues are also deflecting calls, while keeping count of the VIPs who are beginning to visit Megha. Someone pats my head, and for the first time that night I truly unravel. Don't cry here, says someone else, the cameras can see you through the glass doors. In the darkness, the flash of nearly three dozen video and still cameras twinkle like fairy lights.
It is 4 am by the time I am back in my flat. I take everything I am wearing – clothes, flip-flops, jewellery – and throw it all into the dustbin. I take off clean utensils from the rack and wash them all over again. Then, afraid to sleep, I sit in a catatonic state on the floor until morning – when I can call my family, who live in another city, and confirm that it wasn't me.
* * *
Around the same time, the police take Deepak from the crime scene, which is teeming with cameras, to the NM Joshi police station. It isn't much better outside the station, but at least there's an inside, and there's an exit at the back that journalists haven't discovered yet. Deepak is going through stacks of photo albums of history-sheeters from the Dhobi Talao, Lower Parel, and Mahalaxmi slum settlement areas.
Early morning on Friday August 23, Deepak is back at the crime scene with the officers, who now cordon off the area to keep journalists from trampling all over potential evidence. Around 9am, Deepak exits the mill with Akhil, our colleague from another department, to wait for the cops at the police van parked in the lane. This is the first time they've ever interacted. He asks Akhil for a cigarette and the two light up. Within moments, two men with raised cameras are loping in their direction, followed by a swarm of 30 others. There's barely time to leap into the van before the photographers descend, stuffing their lenses through the vehicle's window and door grills. Deepak, sitting on a raised bench, buries his head in his hands. Under different circumstances, he'd probably have been outside the van with his peers, who are now taking low-angle shots of him. Akhil is powerless to stop them. Finally, he puts a towel over Deepak's head, as they do when accused criminals are led out of a courtroom. For the next 10 minutes, they can only hear the camera shutters going off. One photographer yells to a colleague, Woh dekh, cigarette le, cigarette le! (Look at that! Take a picture of the cigarette).
Meanwhile, the rest of us come in to work in a haze of incomprehension. On my desk, a cup of coffee from last evening sits next to an uncapped pen – as if I'd left to take a stroll around the office; as if the last 14 hours hadn't happened. We gather around the TV, waiting for the press conference that the police commissioner is due to address. There are grave faces all around; occasionally, someone will break down. But those of us who were at the hospital are too exhausted to cry. We hear that an India TV reporter reached the security gates at the office, but was thrown out when our co-worker recognized him. Every few minutes, someone's phone buzzes with a call, or a text message appended with a sheepish, "When is a good time to call?" Never, I say to myself. But we can't afford to miss a call from the cops, so everyone installs the TrueCaller app on their phones.
Neha, the photographer, is fending off calls in her gentle but firm way from a senior editor at DNA, whom she knows from before. Now he calls her to say that he couldn't sleep all night because he has a daughter the same age as our hurt colleagues. Then, he casually attempts to get some details about them. Two days from now, the pretence will drop: his probing will take on a slightly threatening edge when he hints at his proximity to a local right-wing MLA, insinuates that Neha was responsible for endangering the interns' safety, and finally, ominously regrets over SMS that, "Sumtimes pals cause more damage unwittingly". "Friends" and former colleagues in different news organizations will subject all of us to similar tactics.
There's a spot of comfort by noon – Deepak has identified the first suspect out of a line-up, and is looking a little chipper. But by late afternoon, the first of what we've been fearing hits us. Deepak's uncle and aunt are calling him frantically. Lemon News has just flashed his face.
* * *
Saturday, I wake up to an email from a friend and former colleague, who sends us love and strength. I write back: "When there are no more convicts to be rounded up, no more hospital formalities, the bruises go away, the papers begin talking about other things, and there's nothing left to do with our hands, we'll only have ourselves to be with. What will we do then?" I should have opened the papers before sending that email. When I eventually do, I know I won't have to worry about having nothing to do for a long time.
I can barely believe what the Times of India has done. Their coverage of the incident includes medical details – the extent of injuries to Megha's private parts – attributed to a "hospital source". Their reporters have turned up at her building and asked questions of her unaware neighbors and the building's guards. They've even quoted a religious leader from her community.
I go to work. At the office, one colleague is making pre-emptive calls to all news channels on his radar, requesting them to cover the incident with caution. Another is frantically trying to reach the editors of Afternoon Despatch & Courier and Free Press Journal, tabloids that identified our publication in their reports. The latter even named our Editor. In print, the damage is done; the least that they can do is to remove the details from their website.
In the afternoon, we congregate at Faiza's home, where we learn that MiD-Day's 15-page coverage of the assault includes an easily recognizable, full-body picture of Deepak from the mill the day before. It accompanies a tacky article and a caption pointing out the irony of the "message of peace" on his T-shirt. It's clear that MiD-Day's Editor hasn't paused to think that the pictures might endanger our colleague or reveal his identity. People on Twitter are pointing this out. The Editor's defence: "We have blurred his face completely. The message on the tee is telling. Also, friends know, no? They were all there at Jaslok?" This wasn't even true. His family and friends wouldn't find out until much later. It takes several emails from journalists in other publications before the pictures are pulled off  MiD-Day's website.
At the hospital, the security staff is now alert, and there is a secret entry and three checks on the way to Megha's room on the 16th floor. Despite that, the head nurse catches four people trying to go up. They tell the nurse that they are "PhD medical students". Hospital security forces them to open their bags: all four are carrying cameras.
Soon afterward, a DNA reporter slips inside the hospital on the pretext of using the restroom. The ground-floor women's restroom is next to the staircase: The elevators are all heavily guarded, but the staircase is unsupervised. The reporter climbs 16 flights and reaches the intern's room. Eight policepersons are stationed at the door. She tells them she is Megha's friend. When they probe further, she says, "I am her cousin and we are from the same field. I just want to know how she is doing." The cops pass her on to hospital security. The CCTV cameras have recorded her and another journalist lurking around the hospital premises all day, talking to other patients. They had finally snuck in pretending to accompany another patient's family.
Waiting for permission to meet Megha, Faiza and I take a walk down Marine Drive. She tells me about the 2005 Marine Drive case, when a teenager was raped by a police constable. Faiza, who has lived all her life in Mumbai, speaks about the shock that everyone around her had then felt, treating it like an assault on the city, and not on the body and psyche of one person. Now, we both confront the reality that people around us are discussing our case with the same pity and horror.
As we are talking, an SMS from an editor at a national news magazine lands in Faiza's phone: is Megha in a position to write a "first-person account" for her magazine? It's only been 46 hours since the incident, and this is her second request. This time, Faiza asks her if she is serious. The editor launches into a simultaneously confused, berating and pious explanation about how her "organization's resources would be rolled out" for our hurt colleague. We decide there's no point reasoning with her, but it doesn't take away the question – what do they want to know?
* * *
The cops are working non-stop. There's too much media attention, and too much heat to nab the assaulters – not just because the assault was brutal, or because it took place in daylight in India's most cosmopolitan city, but because the survivor was an upper-class young woman. By Sunday, August 25, four of the five accused have been arrested.
Mumbai Mirror has printed front-page pictures of the accused, dealing a blow to the case on two counts. First, it violates the first principle of criminal procedure, that a suspect is innocent until proven guilty, and interferes with due process of the law. Second, the Press Council of India's Norms of Journalistic Conduct (2010) suggest that suspects' "pictures should not be shown" to avoid a bias during identification parades, and thereby compromise the prosecution of the accused.
The same day, MiD-Day carries a report with pictures of the main accused and three of his family members. The accompanying report, ironically, blames the cops for callousness. The Press Council also advises against identifying the family members of convicts to "eschew suggestive guilt." Mumbai Mirror and The Indian Express are the only newspapers that refrain from naming the juvenile accused in the case. Express goes a step further and withholds the name of his grandmother, who has been quoted and pictured everywhere else, sometimes with the address of the shanty in which she lives.
By Monday, August 26, all five of the accused are in custody. In the following days, the calls and text messages begin to abate. Newspapers that have already violated Megha's privacy print an appeal from her family to respect her privacy. She leaves the hospital. Every evening after work, we alternate between visiting her and Deepak. We distract ourselves with a little bit of fake cheer, with talk of future assignments, with an occasional game of Taboo. Now that there is time to breathe, our grief slowly starts becoming real.
I am taking the train to work on Monday, September 2, when a colleague sends me Times of India columnist Bachi Karkaria's defence of the paper's"saturation coverage" of the assault. The editorial, headlined "Don't make her lose her face", says the survivor must reveal her identity "and help cast aside the veil of misplaced disgrace." Karkaria concedes that TOI might have revealed her identity to "an inner circle" but says that, "The purdah of anonymity is the accessory of disgrace." It's also the law. I am less upset with Karkaria's go-girl posturing than with the realization that she is only articulating the same brief that's been given to TOI reporters, and those from other publications. In print and television newsrooms, journalists are required not just to report personal tragedies, but to hunt for exclusives, and look for "human angles" by hounding relatives and friends of those affected. Crossing the line is not only encouraged, it is mandatory.
* * *
On Thursday, September 3, Neha and I are called in to the police station for questioning. The officers – almost always deferential, but chatty – tell us that earlier in the day, a 19-year-old girl had approached them, claiming that she had been assaulted by the same men in the Shakti Mills compound, less than a month before Megha was assaulted. The details of both the cases are distressingly similar: the male companion of the young woman was tied and beaten up while the accused assaulted her. The young woman, who we are told worked as a telephone operator, now sits with a bowed head outside the questioning room, looking lost and even more vulnerable than our young colleagues, accompanied only by her mother and brother. There are no cameras surrounding her, no one is asking her to write first-person accounts. We do not know it then, but her destiny is closely linked with that of Megha.
The following day, on Friday, September 4, both Megha and Deepak are called in for a Test Identification Parade (TIP), where they have to pick out the accused from a line-up of similar-looking men. They are both nervous, but putting on a brave face. The police make Megha wear a burqa to avoid the cameras outside, but inside the room where the suspects will be called in by turn, she is required to take it off. A tehsildar and two more personnel bear witness to the process.
Here is the routine of the identification parade that Megha is told to follow. There are separate line-ups of seven men, and the survivor has to pick the accused by touching him on the arm. She then has to go to a corner of the room, and announce loudly what the suspect did to her.
And this is what Megha does on September 4, in a room full of men that include her attackers, without any women officers present to aid her. She touches the men on the arm to identify them, and then says, Isne mera balatkaar kiya (He sexually assaulted me). She repeats this four times over.
In the following days, Neha, Deepak and I visit the police station several times over to testify, or help iron out small details. In the days prior, we've befriended a tiny cat that prefers to snooze in a nook on the tyre of a stationary police van, and a puppy that lives inside it. The officers tell us that the chargesheet will be filed soon; the trial will be in a fast-track court, just like the December 16 Delhi gang-rape. On Friday, September 13, as if on cue, the verdict for the Delhi case is the death penalty for the four surviving adult convicts. Six days after that, the 600-page chargesheet in our case is filed.
I learn about the chargesheet when Faiza calls: she has found out that the police is handing out the document to anyone from the media, without redacting Megha's identity and personal details. Every neurotic precaution we have taken over the past weeks seems to turn to dust.
Still, there's some relief. It's only been a month since the incident, but Megha and Deepak are back at work, looking just like their cheery, bobblehead selves again. My struggles, and those of my colleagues, however, remain private. I cope with insomnia. When I do manage to get some sleep, I wake up every time with the feeling that someone is at my window. To counter the sleeplessness and to mute my thoughts, I try to tire myself out. I go for a run with my headphones plugged in, the way I have for a few months, but now I spend as much time looking over my shoulder as looking in front. I shut out all my friends. At work, my colleagues and I know that none of us will ever be whole again, but we pretend we are – for some part, we believe it too.
It is afternoon, three days later, when my phone lights up with a news alert. I am in the middle of an interview, so I am about to mute it but the hashtag catches my eye. It is a tweet by DNA, announcing that one of the accused, Siraj-ur-Rehman, has escaped from the Thane jail where he was in custody. Within seconds, NDTV sends out the same alert. Sitting in a coffee-shop several kilometers away from work, I blanch, apologise to the interviewee, and run out into the sun. I feel the terror of August 22 wash over me again. Frantic, I call colleagues to find out where Megha is, and beg them not to let her go home. Plans are made and unmade at work. Forty-five minutes later, we learn that there was a clerical error, and that the accused was in the jail the whole time. The media had not bothered to verify these details. My legs give way and I sit on the pavement and exhale.
* * *
The trial begins in the middle of October. I am at work when I receive court summons to appear on the morning of Tuesday the 15th, the same day as Megha's mother and Neha. I am glad that things are moving, but I am on edge all of the previous day. The accused will be in the courtroom, and I have no idea how we will react. By the time I make my way up the creaky wooden steps of Esplanade Court, I have a terrible, sluggish sense of foreboding. The static in my brain has returned.
At the entrance to the courtroom, two officers in civvies try to temporarily board up a part of the door's glass pane with an old file that will not hold. I have no idea what an in-camera trial looks like. Since the whole point is privacy I presume it will be inside the judge's chamber with maybe four other people. I am shocked when I see the size of the room, the four defence lawyers, and the number of clerks and admin staff inside. A few reporters are lounging about too, trying to make eye contact and smiling our way until they're asked to leave.
The accused are brought in: barefoot and cuffed, which prevents them from keeping their hands folded in supplication to the judge. All but one look petrified, and I try not to stare. I clutch the wooden bench I am sitting on and ask myself if I am feeling anger, pity, or frustration. But I can only make out a sense of bereavement. The shock of how this happened to us, or how it happened at all, refuses to wear off.
The intern's mother will be questioned first and Neha and I will appear only after lunch. I spend the morning in the courtroom's small covered balcony, squinting out at the cricket games going on in Azad Maidan through the tiny dust-lined windows.
When it is our turn, we go in aware that the defence lawyers will lob questions designed to embarrass and throw us, but we are not ready for the lies and mocking assertions: Your colleagues were having an affair and had gone to the mill for privacy. What sort of an editor allows a male and a female intern to go to an abandoned area? You only want to implicate innocent men for the loss of her honor. She was not assaulted.
We are not prepared for how little this life-altering event will mean to other people. The defence lawyers banter among themselves. One of the accused, now relaxed, yawns; the others look like it's all happening to someone else. At one point, one of the lawyers badgers Neha about whether she noticed semen stains on Megha's underclothes, hoping that because she is a woman, talk of semen will embarrass her. He stops when the judge objects, but he laughs with the other lawyers. Two of the accused also laugh.
* * *
Three days later, it is time for Megha's deposition. We're afraid she'll not only have to face the accused again, she will be asked by the clerk to give out her personal details in their presence: her address, where she works, her phone number, her mother's phone number, how she gets to work, what time she leaves from work.
The first defence lawyer stretches the questioning for well over two hours, pressing her for details about her assaulters' eyes, ears, and nose. Another tries to insinuate that she's signed a fake statement, because it was obvious that she doesn't know Hindi or Marathi. There is a yelling contest between the defence and the prosecution. They ask her to identify a pornography clip that the accused had shown her during the assault, at which point, she begins to feel faint and has to be escorted to a hospital. While this is happening, a photographer takes a picture of her, but is detained before he can slip away.
The lawyers press her on more irrelevant details the following day. Do you know the difference between the colours grey and pink? Why didn't you volunteer to give the court your appointment letter? Do you know how to use the Internet? When did you last have your period? For how long did each of the accused assault you? One lawyer wants to bring in a doctor to find out if it is possible for the assault to have lasted as long as she says it did. The intern screams into the mike to say that she wasn't clocking the minutes. The defence guys laugh again.
Their closing statements are: We put it to you that you were not assaulted. The blood on your clothes is because you were menstruating. You're doing all this to become a famous photojournalist.
* * *
Despite the nightmare in court, we're all in a steadier place a few days later. Megha visits me on a Sunday evening, and over tea, we go over the aftermath of the attack.
I tell her that in the past, I have seen reporters at AIIMS, Delhi, confront sexual assault victims, women who were from impoverished backgrounds, women who didn't know their rights, women who were so afraid that they caved in to the demands that they tell journalists their stories.
That evening we wonder why we expected the media to behave with propriety with us, to accord us the luxury of time and distance when they've proceeded heedlessly with so many others?
I also tell her that even though it wasn't my body that withstood the assault, it's taking me so long to shake off the instinct to cover myself up. Before she turns to leave, she shrugs and says, I am not going to change the way I dress, or the way I am. It isn't much, and we both know that there will be no straight path away from what happened. We will go back and forth. We will circle around.
But for the first time in weeks, I smile.
*All names have been changed to protect privacy.
Editor's Note: On April 4, 2014, three adult offenders found guilty in both the cases at Shakti Mills were sentenced to death under Section 376E of the Criminal Law (Amendment) Act, the first conviction of its kind since the amendment. This report was written and published with the permission of the survivor.
This post was originally posted here on Aug 18, 2014.