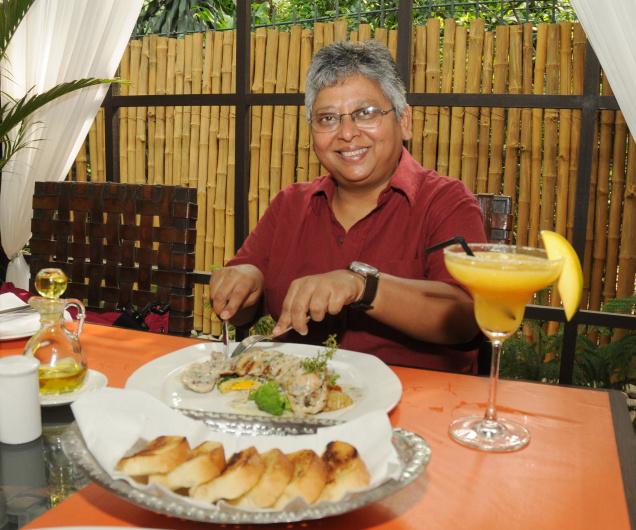 By: Nupur Sharma
Over a hearty meal, film scholar Shohini Ghosh dwells on the intersection between cinema and sexuality
With her eclectic body of work on media theory and practice, Shohini Ghosh promised to be a most agreeable luncheon date. One knew she'd have interesting things to say on all manner of themes. As it turned out, the Lodi Garden restaurant in New Delhi is a regular "adda" of hers. It's the mango season and like most good Indians we find the aam panna hard to resist. Taste buds suitably tickled, there's no reason not to go the whole hog and order a round of appetizers. The Lebanese platter with chicken sheesh, lamb kababs, hummus, tomato baba ganoush, pita and pickles proves a smart choice.
Teacher and taught
A natural peg for conversation is her teaching career that spans two decades. As professor of Media Studies, Ghosh has had a long association with the Mass Communication Research Centre of the Jamia Millia Islamia in Delhi. Writer Khushwant Singh had once famously said that he learnt more by being a teacher than a student. Does that hold true for her too? "Most certainly. Teaching at the post-graduate level, I find great meaning in engaging with informed students. Prepping for a lecture and being equipped to answer questions is a big learning," she says. When it's time to order the main course Ghosh decides to go for some 'comfort food'. The tried and tested 'wild rice and parmesan stuffed chicken breast with tangy caper sauce' it is. "I'm not much of a cook. Every Indian curry I've made ended up tasting the same! I do nurture the ambition of someday being able to fix a decent meal. As a family we are lucky to have a cook who was taught typical Bengali recipes by my mother. I have encouraged and nurtured that tradition," she says with a smile.
Our meal arrives before long — piping hot and wonderfully garnished. I bring up her documentary film,Tales of the Night Fairies, an offbeat and somewhat controversial take on sex workers in Kolkata. Where did the idea spring from and what shaped it? "I have been an advocate of decriminalising sex work for a long time. I was drawn to this sphere because I felt that all the struggles of the feminist movement are contained within it. As women we all live in the shadow of sex work. 'She was dressed like a whore' and 'she asked for it' are commonly used expressions. I wondered what it would be like to embrace the shadow," she replies.
How does she respond to the criticism that in some ways her film romanticised the profession? "A group of people with moralistic objections cannot claim to represent all. For many sex workers the prospect of hazardous industrial labour and exploitative police raids are the real issues. They feel they are 'renting' their bodies, not 'selling' them. By supporting these women we will enhance their access to healthcare. Not to mention the bargaining power with clients about what they will and will not do. Ultimately, a sex worker's chances of getting out of the profession (if she was forced into it) will be much higher if we stop pretending she doesn't exist," says the filmmaker.
Ghosh has also written extensively about how in the grip of rapid cultural transformation, Hindi films have become a site for competing discourses on sexuality. She expands on that by saying, "As a society we have many contradictory responses to homosexuality. Bombay cinema rides that paradox too. Interesting spaces are beginning to manifest in our films. Prime examples are movies like Kal Ho Na Ho and Dostana. In the first one, the behaviour of the characters played by Shah Rukh and Saif is misconstrued as homosexuality. The persona of the maid 'Kanta behen' is used to express shock. Together these two elements are contrived to evoke laughter in the audience. But are we laughing at the homosexuality or the homophobia? Dostana straddles the same erotic versus phobic dichotomy."
Fire, Deepa Mehta's landmark film that chronicled the love affair between two women from a conservative family, is the basis of Ghosh's recently released book. "It's the Indian edition of the queer classic series brought out by Orient paperbacks — both a textual reading as well as an assessment of the debates surrounding the release of the film," she explains.
For all her edgy intellectual exploration, Ghosh tends to play safe with culinary choices. Dessert is an old favourite too — the Philadelphia cheese cake. It has interesting texture and a subtle aftertaste. Quite like the work of Shohini Ghosh.
This post was originally published here on June 29, 2011.