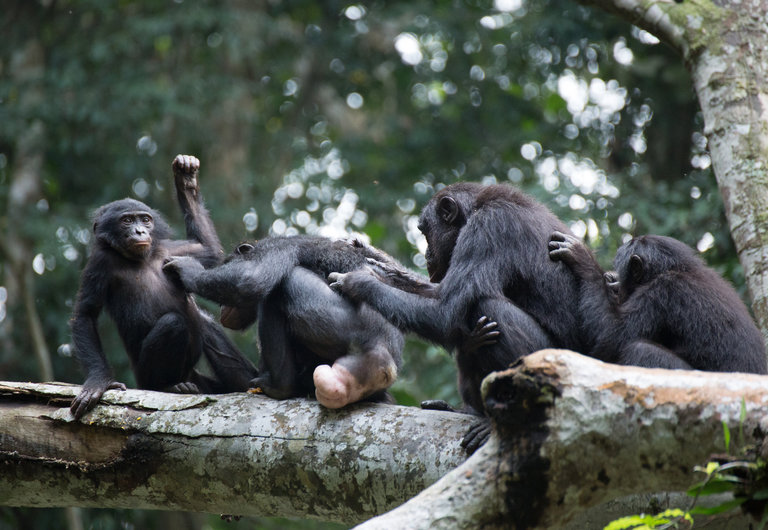 But one of the females was in estrus, her rump exceptionally pink and swollen, and four males in the group were too excited to sleep. They took turns wildly swinging and jumping around the fertile female and her bunkmates, shaking the branches, appearing to display their erections and perforating the air with high-pitched screams and hoots.
Suddenly, three older, high-ranking female bonobos bolted up from below, a furious blur of black fur and swinging limbs and, together with the female in estrus, flew straight for the offending males. The males scattered. The females pursued them. Tree boughs bounced and cracked. Screams on all sides grew deafening.
Three of the males escaped, but the females cornered and grabbed the fourth one — the resident alpha male. He was healthy, muscular and about 18 pounds heavier than any of his captors. But no matter.
The females bit into him as he howled and struggled to pull free. Finally, "he dropped from the tree and ran away, and he didn't appear again for about three weeks," said Nahoko Tokuyama, of the Primate Research Institute at Kyoto University in Japan, who witnessed the encounter. When the male returned, he kept to himself. Dr. Tokuyama noticed that the tip of one of his toes was gone.
"Being hated by females," she said in an email interview, "is a big matter for male bonobos."
To read the full article, please visit the New York Times.
---
This article was written by Natalie Angier and originally published in the New York Times. A version of this article appears in print on September 13, 2016, on Page D1 of the New York edition with the headline: A Society Led by Strong Females.