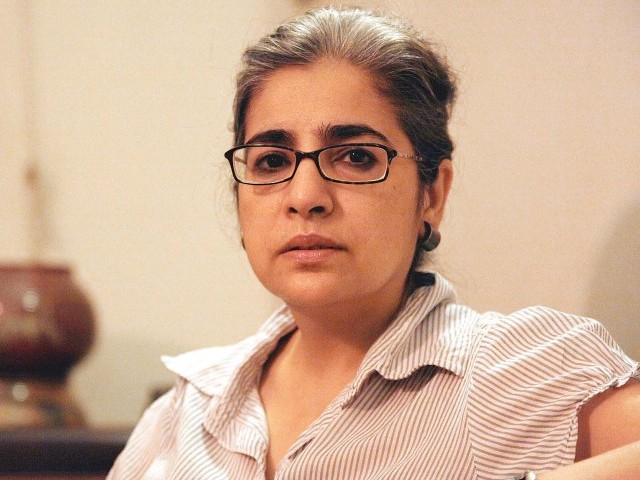 [Editor's note: This Women's Day, we have Surbhi Dewan talking to Sabiha Sumar about her films Good Morning Karachi, and Saving Face. She also talks about her journey as a successful Pakistani filmmaker over the last 20 years. The article has been published in two parts. Part two will be released on March 15th 2014.]
From her first feature film 'Khamosh Pani', which was banned in Pakistan, to bringing home an Oscar for her latest short documentary film 'Saving Face', Sabiha Sumar has come a long way. Having garnered a global audience for her films, and won numerous international awards including the Golden Leopard Award for Best Film at The Locarno International Film Festival, two Emmy Awards, and an Oscar, Sabiha has put Pakistan on the map of World Cinema.
I was in my second year of college when I first came in contact with Sabiha Sumar. Over the phone she asked if I had good typing skills, and that was it – I had just got my very first film job. Over the next few weeks, I was given the simple yet laborious task of watching many hours of footage to transcribe, and translate. That film went on to become 'Dinner With The President: A Nation's Journey' – screened at Sundance, winning the Best Documentary Award at Anasy Documentary Awards in Abu Dhabi, and broadcasted simultaneously across 200 countries on television. For me, those months of staring at the screen became a window into contemporary Pakistan.
Be it the lives of urban or rural women, or travelling gracefully between documentary and fiction Sabiha has consistently created stories that sprout from the reality around her. Her latest offering, 'Good Morning Karachi', tells the story of a young woman who has little hope in life until she finds a dream and a way to reach out for it. The film addresses the tension between religious extremism and modernity through the eyes of Rafina, who comes from a poor background but dreams of making something of herself. She wants to become a model, but when the opportunity arises she faces resistance from both her mother and fiancé.
The opening up of the media and fashion industry in Pakistan, and the freedom it entailed for the women involved in it, caught Sabiha's attention. It was back in 2004, she says, when she noticed women becoming more ambitious and getting more opportunities to voice their ambition. 'Due to the lack of institutions for trainings in film, fashion or performing arts in Pakistan, everyone was eligible for jobs in production companies and modeling agencies. Unlike India and the West, conditions of modelling in Pakistan are not exploitative to women, since it is an industry controlled by the women – created by the women, and for the women.' Rafina, the protagonist of the film, is based on many such real women, who would not have had the opportunity to be economically independent or have a say in important matters of their lives, if it were not for the changes unfolding in the city around them.
Despite being specific to a time and place, the film addresses universal themes that open it up to a global audience. 'All societies hem us in, because control is a huge factor in every society', said Sabiha. 'Women's struggle to gain economic independence, to be the determining voice in their lives, and to fight the control imposed on them and their sexuality by the society is a universal struggle – even if it manifests differently in different societies. Also, the film is aspirational, and about release from poverty'.
While 'Good Morning Karachi' portrays a booming industry giving rise to urban ambition, another reality was unfolding not too far away in the country. 'The opening up of the media industry, which provided opportunities to urban women at an unprecedented scale, happened parallel to a growing Islamic fundamentalism in the country. Rural life continues to be heavily feudal, and tribal culture has persisted. In [large parts of] Pakistan, a woman complaining to a policeman about her husband or her brother is told that this is your personal matter. Women are not seen as individuals here. They are a part of a unit headed by the patriarch. If a woman is suffering at the hands of the patriarch, so be it. Sadly, this is the attitude of Pakistani society that exists today.' Sumar added, 'Someone from Germany recently told me that until the 1970's German women had to seek permission from their husbands to get a job. Europe has evolved since then – India and Pakistan are also in the process. Even in America, it is wrong to let New York and San Francisco represent the whole country. The reality in other parts of America is very different – the 'Bible-belt' is extremely conservative. So I would say that it is an ongoing struggle for women across the world.'
To Be Continued…
To read more about Sabiha's Oscar winning film 'Saving Face' and her experience as a Pakistani filmmaker.
Born in Karachi, Pakistan, Sabiha Sumar studied filmmaking and political science at Sarah Lawrence College in New York and history and political thought at the University of Cambridge. She has earned much acclaim for both her documentary and narrative films, which deal with political and social issues such as the effects of religious fundamentalism on society and especially on women. Her first feature film, 'Silent Waters (Khamosh Pani)' has played in film festivals around the world. Silent Waters won the Golden Leopard award at the Locarno International Film Festival in 2003. Sabiha Sumar runs a production house Vidhi Films along with her husband Dr. S Sathananthan (http://www.vidhifilms.net).