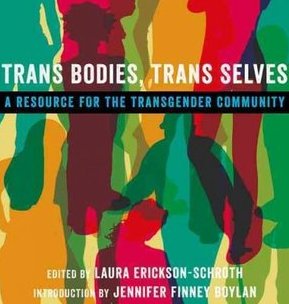 This article was originally published at NPR.org
The growing number of people who identify as transgender is raising a lot of interesting and complicated questions about gender identity.
The new book Trans Bodies, Trans Selves is a collection of essays describing the varied experiences of transgender people — and the social, political and medical issues they face. It's written by and for transgender and gender-nonconforming people.
The idea was inspired by the groundbreaking 1970s feminist health manual Our Bodies, Ourselves.
That book "was put together … by a group of women who … weren't getting the care that they needed from what was mostly male physicians at the time," the book's editor, Laura Erickson-Schroth, tells Fresh Air's Terry Gross. "And so they put together this really radical book that included topics like abortion and rape and lesbian identity. And this was something that I thought we could duplicate — something that was written by and for trans people about all aspects of life."
Erickson-Schroth is a fellow in public psychiatry and LGBT health at Columbia University Medical Center. She's also a founding member of the Gender and Family Network of New York City. When she was in medical school at Dartmouth, she says, she met a lot of patients who were transgender.
"I started to see that there were some patterns — there were people talking about this disconnect between trans communities and providers," Erickson-Schroth says.
There is relatively new language within the transgender community, like "cisgender," which means not transgender, says Jennifer Finney Boylan, who wrote the introduction to the book. Finney Boylan transitioned from male to female.
"It's worth noting that it didn't seem that this was a word that people knew we needed for a while," Finney Boylan says. She's a professor of English at Colby College and the author of several books, including Stuck in the Middle with You: Parenthood in Three Genders. She is now a writer-in-residence at Barnard College.
The book covers all ages, including a chapter about gender-nonconforming children written by Aidan Key. He's the founder of the family education and support organization Gender Diversity and co-founder of Seattle's Transgender Film Festival.
Key transitioned from female to male.
"I never felt female, and I don't fully feel male," he says. "And I'm not sure whether that's my innate sense of myself or just because of … my socialized experience in life. But I do feel at peace and at ease with who I am, and when people ask me questions about my gender I say, 'I've got a lot of it!'
To read more: http://www.npr.org/2014/07/17/332051691/trans-bodies-trans-selves-a-modern-manual-by-and-for-trans-people