This post was originally published in VICE.
A Bengaluru woman poses for her lover—and the followers of /r/IndiansGoneWild.
Catching the twinkle of fairy lights and beaded curtains, a teal chillum sat atop a stool in the corner of the room, surrounded by half-filled bottles of Jim Beam and Antiquity Blue. The walls were red, and the curtains silk. "Our love nest," Aditi* called it.
Sprawling across a queen mattress, Aditi balanced her weight on a throw pillow and lit a cigarette. Her boyfriend Praveen readied his camera and toyed with the light. She finished her smoke and trotted off to the bathroom, where she undressed, then emerged, naked and slouching. Her hand hung lightly, moving slowly across her pelvis to reveal her vagina.
"Is this okay?" she asked.
Praveen smiled. The camera was in position. "Let's start?" he said.
R/IndiansGoneWild is an adult subreddit that, surprisingly, has little of the toxic misogyny that pervades not only much of Reddit, but much of the Indian internet. The community, which has over 83,000 subscribers—mostly Indian men—was founded in 2014 for Indians to post nude photos. One would expect a high level of abuse, but instead IndiansGoneWild celebrates body positivity in a society that largely associates nakedness with shame. The moderator told me over email that he spends only about 20 minutes a week removing abusive comments.
This is noteworthy, considering the lack of accountability: most of the men on the forum are unverified—which means they haven't sent the moderator an image of themselves nude or partly nude, holding a card with their username and date. Verification is meant to weed out users who post pictures of strangers. To find out whether the IndiansGoneWild was really as respectful and encouraging as it seemed, I began messaging verified profiles—mostly women—to ask them about their experiences in the community.
After a month of replies like "you creep" and "fuckboy," I chanced upon Aditi's profile. The captions on her photos hinted at a tinge of insecurity: "Does this work?" "Is this okay?" Two days later, she told me she didn't mind meeting me for a profile.
Before we met last October, Aditi explained that she is polyamorous, and has been with her boyfriend for nine years. "When we began hooking up with other couples, our relationship took a turn," she said, "for the good of course." Having only ever read about polyamory on the internet, I was slightly in awe.
Aditi and Praveen live with their parents but rented a place for hook-ups.
Aditi, 26, is a tax analyst and Praveen, 28, works as a construction contractor. They both live with their parents, but have rented a place for hook-ups. "We do our foursomes in our love nest," Aditi told me. She invited me to join them for a photoshoot.
In Bengaluru, I waited in a mosquito-ridden café for Praveen to pick me up on his bike. My mind raced. What does a polyamorous man who is comfortable with his girlfriend being naked on the internet look like? A man with an average height and build walked in, wearing a white shirt and holding a helmet. He shook my hand and stopped himself before he could tell his real name.
"Fake name?" I asked.
"Fake name," he said, pursing his lips.
As the bike snaked through small lanes in south Bengaluru, Praveen told me he was on r/IndiansGoneWild with his former lover for two years. Aditi joined last August, and was still opening up to the idea, though she and Praveen regularly met other couples for hook-ups through Reddit and Tinder.
We stopped in a quiet neighborhood, in front of a rusted iron gate. The apartment was up two steep flights of stairs. Aditi—slim, taut, with long hair—opened the door and looked dreamily at Praveen before swaying into the house.
We started chatting about her motivations. Aditi told me she wanted to know what strangers thought of her body. "You know, your boyfriend, the people you know, they all carry a bias. Of course they accept and love the way I look. What about the ones you don't know?" she said.
We commiserated about college dress codes, having both attended conservative institutions. "No leggings for a month and all that. Regressive," she said. Aditi told me that she, like me, used to be terrified of wearing shorts on the street. For her, r/IndiansGoneWild was the pinnacle of body positivity.
We commiserated about college dress codes, having both attended conservative institutions.
"It allows me to say 'this is how I look, this is what I am, say what you want to say, I can take it," Aditi said. At the same time, a photo that remains ignored while other women are upvoted can be a blow to this confidence. "When you begin to connect your self-esteem to it, you're stuck in a downward spiral," Aditi agreed. Outside r/IndiansGoneWild, she doesn't seem overly concerned with her body—she doesn't bother with the gym, for example. Praveen and Aditi carefully curate their shoots, picking only about four frames out of 25 for posting.
After several smokes to loosen up, Aditi was ready. She stepped out of the bathroom, tugging at a neck guard she was wearing for a sprained neck, in jest. "I slept wrong. But isn't this hot?" she giggled. I watched her lie awkwardly on the bed, her contoured silhouette blocking the light from the kitchen. "The end result may look sexy, but this is not a sexy process at all," Praveen laughed.
Forgetting perhaps that only her body was being photographed, Aditi asked if she should smile or not. Praveen told to her to relax and throw her hair back.
As she bared her butt to the camera, Aditi told me that she sought affirmation not from men, but women. During foursomes, she often looked for judgement from the other woman involved. "Men don't care," she said. "I'm right here, you know!" Praveen interrupted.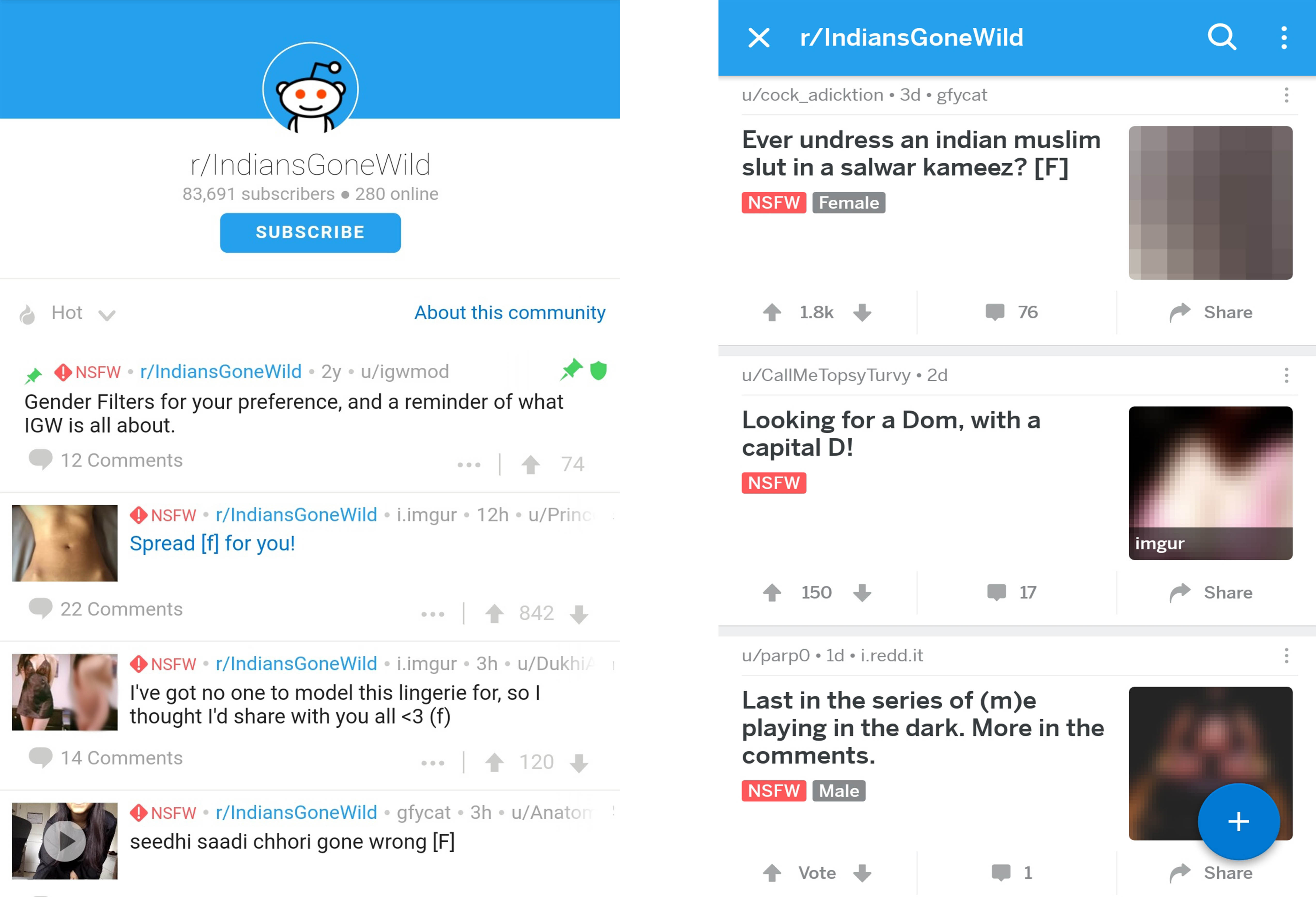 But women haven't commented on Aditi's photos yet; given Reddit's user base, most comments seem to be from men in the US and Europe. As we scrolled through her comments, I was surprised by the good grammar and perfect sentence construction—not a "vagene" or" penus" in sight.
The private messages were fascinating. "I am from the US and I love the brown skinned ladies! You're stunning. Send me your snapchat or kik, and your details so I can book you flight tickets."
There were detailed pieces of erotica: "We walk into a room, and I'm standing there, ready to give a massage. I escort you to the…" The message was too long. We skimmed it and moved on to men who had written roleplaying as athletic pilots, bodybuilders and doctors.
"I like your pictures and you're very hot, but don't show so much skin," wrote one user. "Leave something to the imagination."
"Spot the Indian!" I grimaced.
In a society where this message is repeated everywhere—that only your partner should be privy to your naked body; that women should be attractive, but not sexual—r/IndiansGoneWild is an affirmation, for Aditi, at least, that it's okay to show off your body.
Praveen posts on Reddit too, but he, like most male users, gets barely any upvotes. He does get threatening private messages from men. No one, he said, "likes a dick turning up when they are masturbating to a forum of largely naked women."
A few days after meeting Aditi and Praveen, I noticed that the community moderator had posted an announcement, warning trolls and users who post abusive comments, or harass male users who put up nudes. The subreddit has a separate category for men, women and transgender people, and subscribers can choose to follow whichever category they prefer. Yet a recent flurry of penis pictures got some users riled up, and the moderator had to delete a lot of homophobic comments.
"It's a straight man's club," Aditi told me. But for her, it was also "a safe space."
*Sources interviewed used pseudonyms.
Follow Divya Karthikeyan on Twitter.