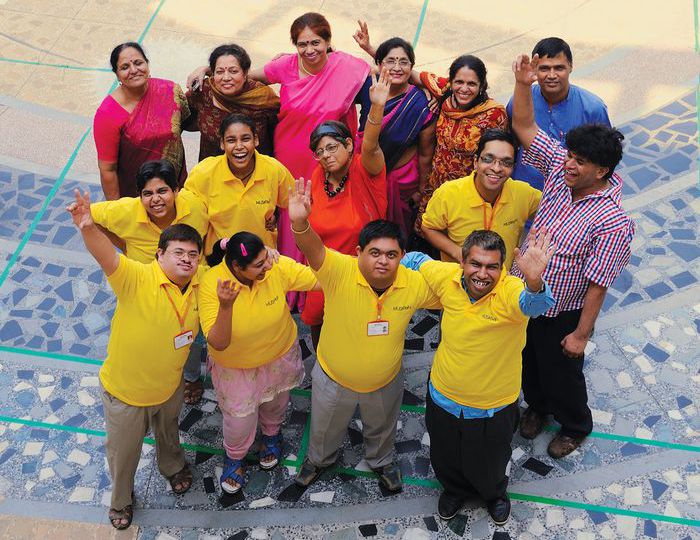 Muskaan, established in 1982, is a voluntary organisation of parents and professionals that has grown into one of New Delhi's premier institutes providing comprehensive education, vocational training and work opportunities to young adults who are intellectually challenged. Support services to parents are also offered, as well as on-going efforts to raise awareness more generally about the various issues surrounding people with intellectual disabilities, including advocating for their rights.
Dr Shanti Auluck, Founder President of Muskaan, is a parent and a Ph. D. in Psychology. Dr Auluck took early retirement as Reader, Dept. of Psychology, Lady Shri Ram College, Delhi University to devote all her time to Muskaan.
1. Do issues of sex, sexuality and gender come up in your work with young adults with intellectual disability? If yes, what kind of issues?
Why would they not come up, we work with adolescents and adults, and they have the same set of needs as other 'normal' adolescent and adult groups have. Why is it expected that these issues do not exist or matter for our young friends?
We do confront these issues in our training and work environment in subtle ways. Our students get attracted to people from the opposite sex, they want to make friends – and not necessarily with people with special needs! Within the institution too, we see young ones seeking each other out, clearly expressing that they want a boyfriend/girlfriend. Many of our students express a desire to 'marry'.There is curiosity about issues of sexuality and relationships. In some instances, some individuals may step out of line and display, socially inappropriate behaviour such as masturbation or touching one's genitals in spaces which are away from public view. There are issues about physical changes and sexual and reproductive health, specially with our adolescent young girls. There are issues around intimacy, body image, self awareness.
These are very common issues normally, but in the context of intellectually challenged people, they are considered 'inappropriate', sadly so, and there are no opportunities or fora for them to talk about and exchange information with peers and friends, as other 'normal' people do.
2. Do teachers in Muskaan talk about sexuality with young people living with disability? 
Very early in our work, we learnt not to get fazed by these issues but to address them head on. Our strategy has always been to 'listen to our students, and to talk to them' and we do address the issue in a fairly substantive and systematic way.
First, we set up clear do's and don'ts of conduct within the institution, which we reinforce constantly in our conversations with our students.  So while we allow young boys and girls to intermingle freely, we do not allow them to kiss or touch inappropriately. Male and female privacy is strictly maintained. In this way, we also teach them how to conduct themselves in social settings and set up norms where public and private are clearly defined.
On the other hand, we do confront issues around sexuality head on too, and do not brush it under the carpet. We have created fora where conversations around sexuality and sexual needs are conducted with students on a routine basis, almost as often as once a month. The privacy of the student is maintained and they are encouraged to talk openly to their peer group and teacher in charge. So, our students may talk about a girl that they like or some other urges, which remains confidential between the student and the teacher. Usually it is not even shared with parents because we want to create a forum where he/she can talk freely. However,in some instances, parents or counselors may be roped into the conversation subtly, but all efforts to respect the students dignity and trust are maintained.
In addition, we conduct workshops for students around awareness raising and understanding their body, and also to protect them from abuse by teaching them issues like 'good touch' and 'bad touch'.  The idea is to give them the vocabulary to clearly articulate these needs.
We also equip out teachers and other staff to deal with these issues.Teachers can also have biases and misconceptions – after all they are also products of the same society that treats issues around sexuality as taboo! At Muskaan, teachers are constantly sensitized to understand these issues so that they are more comfortable with the sexuality of those in their care and deal appropriately with these issues. Workshops with experts as well as regular in-house discussions are conducted so that we can provide a sensitive and supportive direction for our students, even those who may be demonstrating inappropriate behavior.
Of course, as in most other things that we do, we are constrained by limited resources – not just funds but also lack of teachers trainings, teaching materials, good professionals and institutions, who could work with our students and teachers to address this issue. For example, we have to constantly use simple language and not hide our embarrassment around sexual issues in complex and complicated responses. We have to help our students accept their sexuality in a social context. These are not easy tasks and we could also do with some support!
3. If these issues are discussed in Muskaan, how do the parents manage it? Are parents given information about sexuality and how to deal with it?
Muskaan is a parents body and we see parents as integral partners in everything we try to achieve with our students. There is so much negative societal attitudes to sexuality, often parents who want to address the sexuality concerns of their son/daughter, do not have any services that they can access. At Muskaan, we try to address these challenges that parents face.
During the orientation program that we have with the parents of new students, sessions on sexuality are always included. And to give credit to the parents, of late I have observed that parents are aware and sensitive to the issues, though they may not be clear about how to handle them. As I mentioned, our effort is to enrich the lives of our students holistically, so we do not just concentrate on the eight hours in a day that he/she is with us but also the many hours at home. We want our students to come to terms with their sexuality, and be comfortable with it; and in order to do so we need cooperation and partnerships which extend to our students homes too. So parents are critical.
Besides, regular awareness raising programs and capacity building workshops for parents, we also provide one to one help through our senior and experienced teachers and in house counselors. We also encourage parents to talk amongst themselves – a younger parent can learn a lot from an older one. In order to do so, we create platforms for interactions, which are formal such as meetings and workshops but also make informal linkages between families who can support each other.
If need be, we connect our parents to experts and counsellors outside of Muskaan too but that is very rare. In my opinion, if we listen carefully to our special needs friends, they themselves are able to provide the solutions to their problems and abide by them. They need to be shown channels and forms of expression and we have seen well adjusted intellectually challenged young adults.
Personally, I have learnt a lot from my son – by just being sensitive and patient and by listening to him and trying to understand him and his needs. When he was young, I was nervous, yes slightly afraid too, of his adolescence! But I simultaneously realized that it is something we all have to deal with and I could not brush it aside or ignore it. So, I decided to deal with it head on and brought my personal learnings with my son to Muskaan and its students.
However, the fact is also there that most of the intellectually challenged people do not find the right opportunity and fora for sexual expression. I personally feel that 'dating' and even 'marriage' can work but we do need very good and sustained support systems. And that critical'support' is so lacking for our children –in the community, from the government, not in opportunities, in resources!!! Like every other need of theirs, this also remains unaddressed and largely in the shadows.