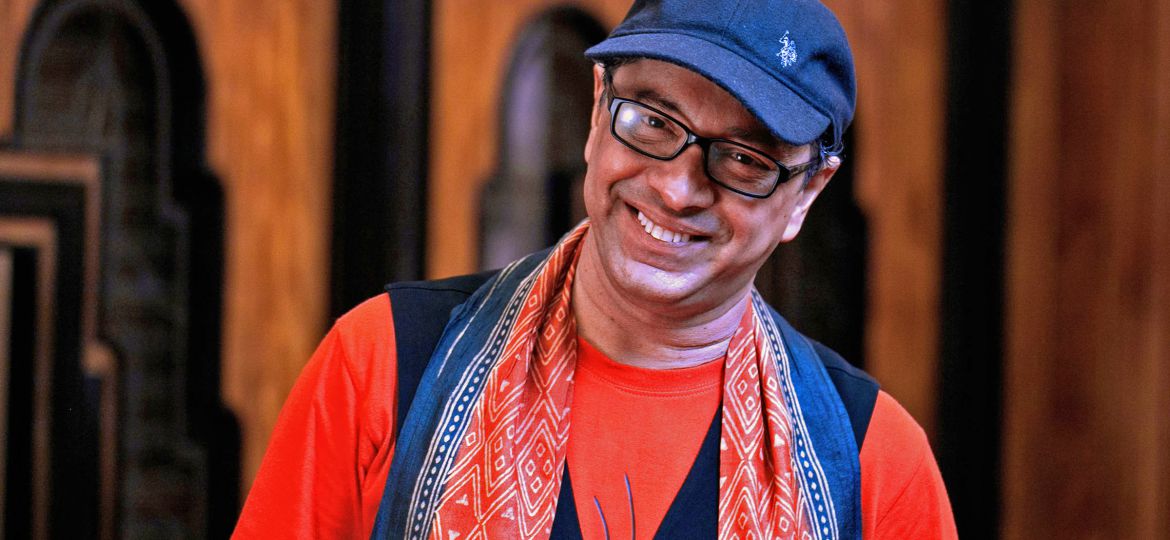 In this Issue of In Plainspeak, we speak to Sridhar Rangayan about dimensions of friendship and sexuality. Sridhar is an award winning film-maker, producer and screenwriter, Founder Festival Director of KASHISH Mumbai International Queer Film Festival, and has been at the frontline of LGBTQ and human rights activism for years. He was a Founder Member and Trustee of the NGO The Humsafar Trust and he designed and edited Bombay Dost, India's first gay magazine in its initial years. He has served on the jury of various international film festivals. His own production company, Solaris Pictures, founded with his partner, writer and art director Saagar Gupta, has produced content for TV, corporate films and films with gay themes. Gulabi Aaina, one of the best known amongst these, has won multiple awards and been screened at many international film festivals. In 2016, Sridhar's film Breaking Free won the National Award for Best Editing. We thank Sridhar for taking time out for this interview and sharing his experiences and perspective.
Shikha Aleya: Please tell us something about yourself Sridhar. What role has friendship played in your own life and your understanding of sexuality? Has your perception of friends and friendship changed with time?
From feeling very isolated as a child growing up in a small town in India in the 1960s and 70s with very few friends to having friends in almost every city in India and around the world has been a journey for me. So you can call my life a 'Friendship Yatra'!  A couple of my classmates were very supportive when I was down, though they didn't know it was because of my sexuality. Now that they know, they continue to be amazing friends, with no judgment whatsoever. Friendships of over 45 years!
When I came to Mumbai to do my post graduation at IIT, my classmate Suhail and I bonded closely. Two years at IIT and couple of years after that we never discussed our sexuality because during those days, the 80s, we didn't discuss sexuality! It was only in 1990 when Suhail joined the team to bring out India's first-ever, gay magazine Bombay Dost, that we started talking about homosexuality and gay lives. From the second issue onwards I joined the team of Bombay Dost and from then on my personal became my political. Suhail and I, along with Ashok Row Kavi, co-founded India's first gay organization, The Humsafar Trust, in 1994. Our friendship has been the backbone of my journey as a gay man, his support has been intrinsic to my confidence. Suhail and I continue to be soul-mate friends even today, 33 years later.
All my professional friends have stood by me too after my coming out. Friends treat me as just a friend. They invite me to their weddings and social gatherings, pooja ceremonies and family functions, just like they would invite any friend. That feels inclusive and strengthens my confidence to reach for higher goals in life.
My only advice to youngsters is, don't count your friends by the number of friends you have on Facebook, or followers on Instagram. They might like your posts, shower online love. But at ground level do they stand up with you in your life's ups and downs? And don't judge that by a Facebook poll! They have to go through the test of life. Friendships are about a deep emotional connect and that can only happen when you come out of the virtual world and bond with human beings, with empathy and love.
Shikha Aleya: KASHISH Mumbai International Queer Film Festival is in its 9th year. This year's theme is 'Together, With Pride' and you have spoken of the festival as "embracing diversity of LGBTQ community and allies". Please tell us more about diversity of allies. How have friendships within and beyond the LGBTQ community contributed to the evolution of KASHISH?
KASHISH is no more just anLGBTQ film festival, but transcends it and is recognized as an important event in Mumbai's cultural calendar. Around 30% of the audiences are non-LGBTQ–they are friends, family, co-workers and just film aficionados. KASHISH offers a safe-space for everyone to be who they want to be, with no masks. There is also a joke going around at KASHISH, "We don't discriminate against heterosexuals, they are as welcome"! The festival offers a social space for intermingling of the LGBTQ and the non-LGBTQ community so that they can share and learn from each other. Deep friendships are formed between people of different LGBTQ identities as well as non-LGBTQ persons. And many of these friendships continue through years of KASHISH and many a times extend to outside social life too.
Allies are a huge support structure for KASHISH – from the people owning the venues, and funders, to celebrities, film-makers, panelists, jury members, media – everyone who believe in dignity and equality comes together. That's what our theme for KASHISH 2018 underlines: "Together, With Pride".
Shikha Aleya: Indian corporate houses such as Godrej, VIP industries, IBM India, have partnered with KASHISH, supporting the festival over the years, creating a corporate culture that values inclusion and diversity. Would it be correct to say that this too reflects a dimension of friendship, building the capacity for acceptance and engagement across differences? What are some of your observations and experiences around inclusion, friendship and sexuality at the workplace?
Expressing your sexuality at the workplace is very challenging. Because most employees feel that if anything goes wrong they can lose their job, their livelihood. Most companies say they don't care about their employees' sexual orientation, but it does come into play at a subliminal level. There is discrimination and marginalization at the workplace, many a times, unsaid. Everyone presumes that everyone is a heterosexual and cis gender, so most conversations centre around family, different gender girlfriend/boyfriend, children, etc. LGBTQ people can find it very isolating.
But companies like Godrej, VIP, IBM, Nomura, are frontline leaders in India who not only have clear anti-discrimination policies but also openly welcome employment of LGBTQ persons. They offer facilities specifically forLGBTQ persons like unisex washrooms, partner benefits, etc.
Friendships that are formed at the workplace go a long way in making LGBTQ persons welcome in the environment as well increase the productivity of the person. You don't have to make a queer person feel special, you just have to make them feel 'normal'. There is no need to discuss LGBTQ issues particularly, but just discussing general issues without any bias or prejudice can itself be very special and healing.
Shikha Aleya: Recently, your company, Solaris Pictures, funded and facilitated a meeting of the group called Sweekar – The Rainbow Parents. Group members included a grandparent as well. Please tell us what you have observed of friendships across such inter-generational spaces amongst individuals brought together by issues of sexuality.

I was the closest to my grandmother. And lots of my friends have said that as gay men they too have felt close to their grandmothers. There is a deeper connection, a deeper friendship of unspoken words. I remember when one my friends came out to his family, his grandmother told him, that she "knew of such people" even in her younger days in her hometown, and that it is "alright to be so".  When you're with your much older grandparents or with your much younger nephews and nieces you can form a friendship that is comfortable. You can share far more things compared to that with your parents. They also seem to be more accepting and understanding. My six-year-old niece made a painting once where she drew 'our family' – a group of matchstick figures. In it apart from my father and mother, her father and mother, next to me was another matchstick person. I asked,"Who is this?" She said, "This is Saagar uncle, he is part of the family." Saagar is my partner! That was precious, how this young child integrated my same-sex partner into the family group without an iota of doubt.
The Sweekar – Rainbow Parents group, which I'm helping organize, is a support group for parents of LGBTQ people. The group in Mumbai already comprises about 30 members and is networking with parents in other parts of India, as well as the diaspora outside India. The parents in the group are forming friendships that will help them navigate their journeys of acceptance. What makes it interesting is that the group is a mix of people from different regions, different languages, different economic backgrounds, and, of course, parents of children who are gay, lesbian, bisexual, or transgender. The parents are forming a much deeper personal connection and friendship and have been in constant touch, comforting each other or sharing each other's happiness.
Shikha Aleya: In a 2016 online article, you have spoken about your film Evening Shadows, saying that it is "not just a 'gay film', it's about people trying to understand the diversity of identities different from theirs, and that's what we hope will appeal to the audience." How can this approach be expanded to friendships across diverse sexual identities, so that they are not restricted to the 'birds of a feather flock together' concept of friends?
Whether you like it or not birds of a feather do flock together. At least the friendship circle begins there, and possibly later extends in concentric circles. I still remember in the early 1990s when the LGBT community was invisible and there was no discussion but only derision about anything related to homosexuality, a few friends and I huddled really close. It was also a time when everyone thought gay men are interested only in sex and all gay men had sex with each other! We were a bunch of gay men who were not romantically or sexually linked with each other and formed very intimate friendships. Soon these friendships evolved into an alternate family, a new support system. Since we were marginalized and discriminated against by society, we had only each other to turn to. Those friendships have lasted for more than 30 years already and are still strong. Earlier we were just gay men, now the friends / family circle includes lesbian and bisexual women as well as transgender people. We are there for each other through thick and thin.
However sometimes friendship can also be an illusion. From the same early circle of friends, one of my dear friends committed suicide a couple of years ago. We all thought we were the closest of friends, but the fact that he committed suicide at the age of 45, on his birthday, without reaching out to any of us, is distressing. I still can't forgive myself, maybe there was a way we could have helped him, maybe we were not friends enough. Friendship is not only about sharing our joys but also sharing our anguishes. With friends we should be able to show our weaknesses and warts.