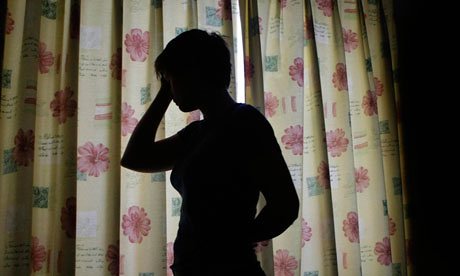 Twelve minutes by taxi from Mumbai Central station, opposite an old convent school and next to a busy restaurant serving excellent keema pao, is a government building that houses Special Court No. 54. This court, one of its kind in the country, was set up specially to handle cases under the Prevention of Immoral Traffic Act – those related to prostitution, pimping and the running of brothels.
Special Court No. 54 is a hall filled with whizzing ceiling fans. When the magistrate enters or exits, people rise to bow. Lawyers in black coats and white pants or saree/suit, sit at a long desk in plastic chairs a level below the magistrate with a clutch of researchers like myself, and anti-trafficking missionaries who "rescue fallen women". The clerical staff sit in the middle level. There appears to be no fixed position for the victims/accused.
Often, proceedings are in Marathi, sometimes Hindi and rarely English. Much of the day is spent giving dates for cases, dealing with documentation and reproaching groups of 'accused' for not following procedure. Case files are thick with documents, "received", "stamped", "certified", "attested", words repeated on loop through the day. Sometimes the long silences in which an old dot matrix printer is at work is interrupted by the clinking of bangles and anklets in the katghar (fenced area at the back). People come with hankies and plastic bags like outside a pathology lab. Henna unites defendants, witnesses, police, and lawyers with their red-tinted hair.
On several days, it is almost lunch-time before prostitution is mentioned for the first time in the court. Some days, almost all the cases are, to my surprise, to do with ownership of property operating as brothels, and landlord-tenancy issues.
One morning I sit through a case on pornographic CDs seized in a raid (by implanting "bogus clients") in 2008. A policeman in full uniform is the witness today. The prosecutor asks questions in Hindi, the magistrate translates them into Marathi, the policeman answers in Marathi, which again the magistrate translates into Hindi for the prosecutor. Two hours later, after the witness examines the contents of a manila envelope, CDs (from the outside) and currency notes used to purchase them, "case is adjourned".
The session after lunch deals with the case of a bust in a brothel (again with "bogus customer"). Two women stand next to the witness box along with a policewoman. One in a cotton sari identifies herself as Pushpa, 60 years old, and one in a churidar as Shobha, 40. There is confusion (privately amongst them, but visible in the courtroom) about which name they will use, leading the magistrate to repeatedly ask them their real names. Near them stands an old man. He is a taxi driver, the landlord of the chawl (settlement) where Pushpa and Shobha live. He is hard of hearing and can't hear what the magistrate is saying.
The magistrate herself is questioning the women, who are being advised in loud whispers by their lawyer. When he continues to intervene, the magistrate says in frustration: "Mere hi saamne bata rahe ho kya bolna hai?" ("You are prompting them right in front of me?") shaking her head as if resigning herself to lies.
To anything the magistrate asks, the women mutter: "Jhoot hai, madam." ("lies") or "Galat hai, madam." ("wrong").
Their case took place three years ago. Information was received by a mobile-phone call to the Deputy Commissioner of Police that "wrong things were happening in the flat: Shivanand building, room no. 4, floor no. 3". An "operation" was then set up in which a policeman dressed as a bogus customer was given 5 notes of 100 rupees, with the numbers noted and the currency notes Xeroxed, and sent into the area while the "rest of team waited at signal near the Bata showroom".
The women deny that they were there when this took place. "Bahar tha," says Pushpa ("I had gone out"). "Main wahan nahi tha," ("I wasn't around") says Shobha. "The woman who was caught, her name was also Shobha," says the magistrate caustically.
"It is said that you took 300 rupees and let him go with someone named Meena to the cabin," the magistrate says to the older woman. "Then the lady constable knocked on the door and took girl into custody."
"Bekaar hai, madam," ("Baseless") she interjects. The magistrate continues without stopping:
"Lakshmi and Manju were also in the cabin, said they lived there also, plus Meena. They said you make them do dhanda (sex work) and don't let them go out. The police also found the 3 notes that had been given to the bogus customer, on your premises. They also found 26,000 rupees in a box under the sofa and 27,000 in a cupboard. Inspector Sawant who was waiting around 50 metres away near the Hanuman temple then took you all to the DB Marg police station. Shobha also used to do dhanda and collect money to give to Pushpa. Condoms were also found in the cabin. An electricity bill that was found was in the name of Ram Prasad Pandit," she looks pointedly at the taxi driver. "Meena came to this place via another woman, Asha, who gave her a number. You picked her up from Dadar station in a taxi. Aapne use majboor kiya dhanda karne ke liye. (You forced her to do this work)."
Pushpa bursts out suddenly: "They were doing prostitution on their own!" The magistrate is triumphant at the admission implicit in this comment, and nods in satisfaction. She persists. "Meena says you took 170 rupees from the customer and give her only 50 rupees. You told her she can't go home for 2 years. All three tried to escape, but you gave dhamki (blackmail). Did you know Meena was HIV positive?" Pushpa says weakly: "Nahin, madam, yeh sab jhoot hai" (No, madam, these are all lies).
The magistrate is getting louder: "She says you made her take 10-12 customers a day and used to beat her if she said no. She says you took at least 320[1] rupees per customer and you gave her food twice a day – at 3 am and 3 pm". The taxi driver says out of turn, "The place is mine but I didn't give it to them."
The magistrate continues with Pushpa and Shobha as if he is invisible, "They said this to the shelter home officer. They lied to police earlier because they're afraid of you. Do you have anything to say?" They don't. The next hearing is set for 3 months later.
The next 'victim', Seema, is different from the previous set. She is visibly pregnant, accompanied by a policewoman and needs no lawyer to prompt her. She speaks smartly to the magistrate, explaining how she is still seeking someone to give surety on her bail. There is no 'accused'. Seema is 6 months pregnant, and is to remain in the remand home till further notice.
What does the court really want from her, I wonder. That she find a 'protector' to bail her out? That they 'protect' her by keeping her captive in a remand home (that are, by most accounts, in dismal conditions)? That she stop doing sex work – even if it is by circumstance a livelihood option she wants to continue in?
After Seema's graceful exit, seven men troop in, shuffling their feet as more papers are produced, and a discussion ensues about Xeroxes and anticipatory bail. I leave for the day, wondering when the court will catch up to what the world is talking about: separating 'trafficking' and 'sex work'. Evidence finds many enter sex work by their own choice for financial reasons and to support dependents, their family. These women, often at society's margins, need the court to protect their rights rather than violate them. But in Special Court No. 54 the victim is the accused, is the punished, is the imprisoned by conflating the two and criminalizing all those in sex work, painting everyone with the same brush. Not all those in prostitution have been trafficked. And by that logic, not all women produced in Special Court No. 54 really have any business being there.
—
[1] Meena is attributed to having said three different amounts – 300 in the case of the police bogus customer, 170 in the second instance, and 320 in the third.
Photograph Credit: The ILO estimates that, worldwide, less than a quarter of those in coerced labour are involved in forced sexual exploitation. Photograph: Niall Carson/PA