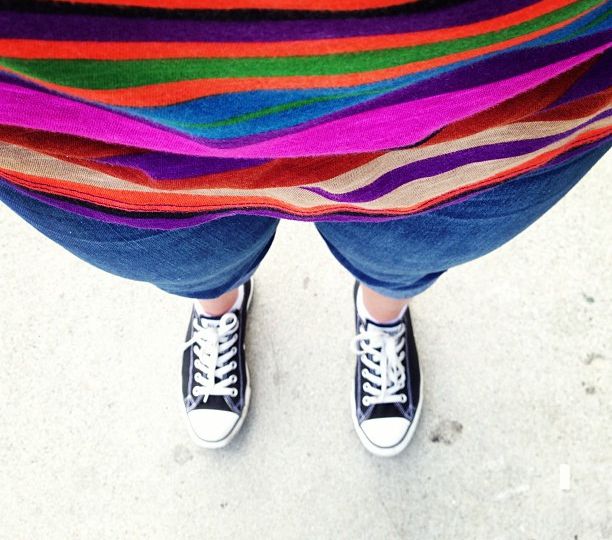 Sometime last year I got hooked to Instagram. Although I'd been on it since 2012, I'd been slightly scornful of it because of its reputation as a place to post mediocre photos of food, people and random nothings from the streets, all salvaged through filters. Instagram seemed to be a place to only show off what one did and ate and where one went.
But things changed over the months, and last year I found myself seeking out Instagram as a place for relaxation, and weirdly, to know the 'in things' about people from Chennai, where I was born and raised but haven't lived in for several years.
I'm not alone in both: studying the motives for using Instagram among 239 university students in the USA, Bryant and Sheldon[1] found that "surveillance/knowledge about others", "documentation", "coolness", and "creativity" were the main reasons for using the platform.
Personally, I don't know if it's because of how the platform has evolved, or the people using it, or, well, me. Among its most wonderful sights – jaw-dropping beautiful travel destinations; delicious-looking home-cooked South Indian food neatly arranged on a stainless steel plate; doodles and handicraft – what I love about the platform is watching people, mostly women, dressed up.
I don't know most of these women – at most, they might be friends-of-a-friend, but they are strangers whose significant everydays I get to see while they most likely don't even know of my existence. I'm a quiet observer: I don't follow them, like or comment on their photos, but, scrolling through their Instagram feeds, I feel a mix of curiosity, mild admiration, and a resultant sadness because I could never do what they did and look as effortlessly beautiful as them.
As someone who doesn't have the patience, sustained interest or talent in buying clothes and bothering to accessorise them, what I love most about these women is the chic sexiness that they confidently flaunt. They are masters of their game; they know what to post with what hashtags (your own, or joining a herd like #ootd?), and how to time them (you can't post them day-in-day-out; keep your followers waiting and wanting more). Although all this sounds like a carefully thought-through social media strategy playing out, I think the only thing that these women do is position their clothing as only a part, even if a significant part, of their larger self that comprises their jobs, what they cook/ate, where they travel, their handiwork, etc.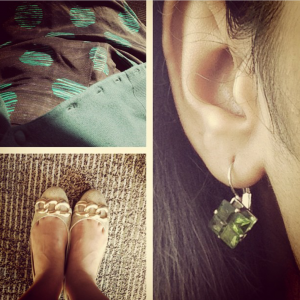 So what about these women on Instagram has me going back again and again? I think I can classify it along the following lines:
The clothing itself – the saree, the blouse and accessories laid out; the dress in that handmade Indian fabric that they have purchased and got tailored: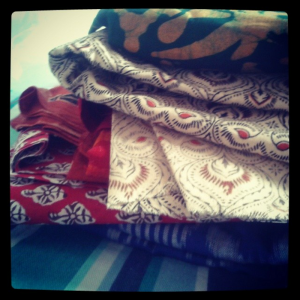 Gorgeous-looking makeup – eye-shadow palettes, rich lip colour and so on: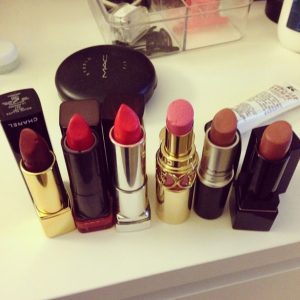 Owning it like a boss – because we need to see how pretty (and hot!) the women look wearing these pretty clothes. And we need to see how some of them flout rules with their minor transgressions: a low-cut blouse with a traditional silk saree; saree pallus (the loose ends of sarees) worn askew, not covering the chest as the pallu is 'supposed' to, etc.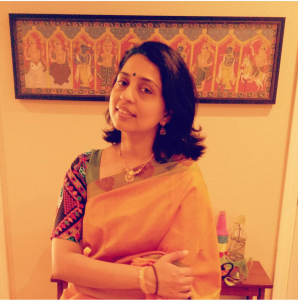 Endearing photos of them in which they flaunt their near-perfect decked-up selves with family: cousins, parents, in-laws and adorable little children
Instagram, unlike any other medium, offers a platform to modestly parade yourself free of charge, globally, and forgiving of (or maybe even rewarding – the more you post, the more you tag, etc., the more you can 'collect' followers with time who are beyond your immediate known circle) one's tendencies to post the same kind of photos with an alarming frequency. So, everyday, I watch these women post their photos in cyclical routines: this event one day and that on another.
A conscious attempt is made to show that they can't be put in silly boxes like 'traditional' or 'modern': they blend their Indian wear, sarees in particular, in exotic locations that you wouldn't associate with the clothing, such as a posh restaurant serving Mediterranean cuisine or in the Swiss mountains or a Parisian street or while baking apple cinnamon pie at home.
They also showcase the variety in their wardrobe – and selves – with pictures of themselves in hot shorts, downing beer by the beach. Almost unfailingly, they look stunning in their pictures in a way that resonates with me, because there's makeup but it's mild; the clothes are subtle but they're classy, trendy and unique, with a mark of their individual style; their accessories complement their clothes well and are beautiful by themselves.
My quiet consumption of Instagram is also guilty pleasure; belatedly, I realised (not without some shame) that most of these women are upper-caste and upper-class, representing, it seems, a microcosm of Chennai on the platform. My secretive Instagram journeys have no diversity!
And so, aligned with the popular notions that upper-class, upper-caste women have associated with them, these women effortlessly switch identities – or should I say, display their multiple identities comfortably, one after another.
I see them in sarees for a religious ceremony and a kalamkari (hand-printed cotton from South India) dress for an evening of drinks with the girls. I see them in wedding finery with the husband who is shirtless, lines of sacred ash and a (Brahmin) caste-marker thread across his chest, while another image is of their pre-marriage shenanigans and cuddles (tagged #throwback). I see them happily displaying expensive Amrapali jewellery one day and Pondy Bazaar accessories (inexpensive street shopping) the next. It's Starbucks one day and food from kaiyendhi bhavan (roadside food stalls) on another. Through these photos, there seems to be an unapologetic embracing of caste and class identity, a nod to their privileged background, but conscious efforts to show that that's not all – there's more to them.
And each time, it's this confidence – an unspoken but apparent 'I look good, I know it, and I enjoy it' – that I admire because I could never do the same: in this perfect-looking universe with these self-assured women, very few photos of mine qualify to be posted (less than a tenth of my Instagram photos have me in them).
Living this dual life is a strange and comforting thing, and that's what I like about Instagram and these wonderful, unknown women who confidently and cheerfully flaunt themselves for the world to see. It gives them an opportunity to make no qualms about their social identity or feel guilty about it, even if on Facebook or Twitter, they could be up in arms against caste and class hegemony… or otherwise! The truth is, I don't know, and I don't have to. Instagram allows them to unapologetically, unabashedly be themselves and bask in their glory, and when they do it well, it rewards them with thousands of followers who lap up what they share. And it lets me be in the know without putting me in the uncomfortable state of show-and-tell.
---
[1]Bryant, K., & Sheldon, P. (2016). 'Instagram: Motives for its Use and Relationship to Narcissism and Contextual Age'. Computers in Human Behavior, 58, 89-97.
All images have been used with the permission of the Instagram users. Cover image by AngryJulieMonday (CC BY 2.0)