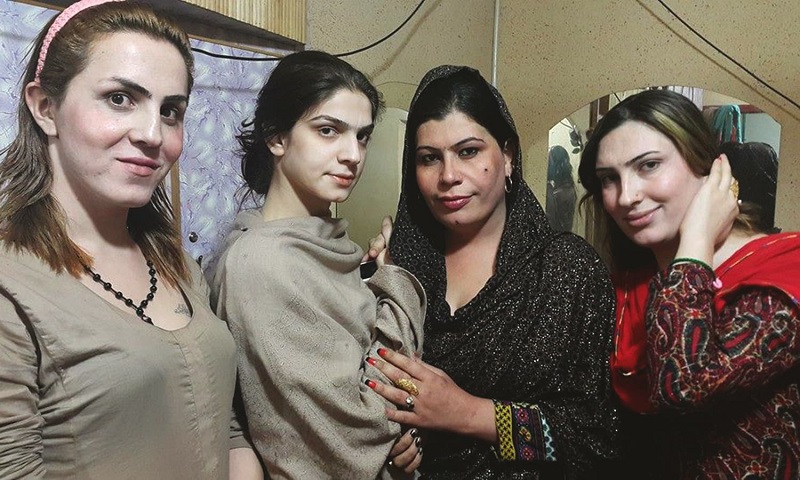 PESHAWAR: "We sell sex," 24-year-old Gulmakai says simply, "Because we don't have any other means to earn money."
Gulmakai is a sex worker. Discrimination against the khwaja sara community means no one wants to hire them or associate with them — except when it comes to prostitution. The community lives on society's fringes, catering to thousands of men, while society pretends it does not exist.
As a result, the community's problems are brushed under the carpet. Gulmakai is well-aware that HIV/AIDS is common in her community, but she doubts any authority is concerned, even though official figures are troubling. In Peshawar alone, the community consists of over 500 transgenders. At least 20 per cent of these have AIDS.
Their risk of contracting AIDS is higher, since 59 per cent of khawaja saras report to have at least one sexually transmitted infection.
Gulmakai decries the discrimination against her community. She says hostility towards khwaja saras is "embedded at every level, from every day affairs to the government".
'Nobody uses condoms'
There are over 94,000 HIV positive patients in Pakistan, making it the second largest South Asian country with the epidemic. Out of these, 16,000 are in Khyber Pakhtunkhwa (KP) alone.
Pakistan established an AIDS control programme in 1987 to eliminate the fatal virus from the country. While its prevalence among the general populace is below 0.1pc, the transgender community and injecting drug users (IDUs) who use unsterilised syringes and needles, are highly susceptible.
The biggest cause behind the increase of AIDS among khawaja saras, 94pc of whom are sex workers, is unprotected sex. The prevalence is 1.6pc among male sex workers, and 0.6pc among female sex workers.
Qamar Naseem, a human rights activist based in Peshawar, says that over 99pc of these sex workers do not use protection.
"Most clients don't want to use condoms during intercourse," Gulamaki confirms.
According to a research study published in the Journal of Pakistan Medical Association, 84pc of them never ask clients to use condoms.
Naseem, therefore, stresses on the need for awareness campaigns. "The transgender community needs to know: unsafe intercourse is the biggest cause of contracting HIV."
Drug and sexual abuse
Dr Idrees Afridi, a treatment coordinator at the HIV family care centre at Peshawar's Hayatabad Medical Complex (HMC), explains the other cause of the spread of HIV: unsafe sex with men who use drugs and share needles.
A report by the United Nation's office on Drug Abuse and Crime suggests that half of 47,000 injecting drug users (IDUs) share syringes only due to the unavailability of sterile needles. When these drug users have sex with khawaja sara sex workers, they pose a threat to the whole community.
Many sex workers also undergo abuse at the hands of their clients. According to the study, 40pc of khawaja saras have reported physical abuse or rape. Their assaulter is either a police official (49pc), or a client (46pc).
Clients come from all backgrounds and professions ─ businessmen, drivers, students, law enforcement personnel, rickshaw drivers and some unemployed men.
In Karachi, the violence is even higher ─ 71pc of transgenders have reported assault by policemen.
Just last week, Seema* accused a policeman for raping her in the jurisdiction of Peshawar's Faqirabad police station, but police officials present refused to file a First Information Report (FIR).
Khushboo— a guru and mentor figure for many of the khwaja saras, says that the problem is common: she was once coming back from an event when policemen stopped her, demanding bribes and sexual favours. While the online FIR system has certainly made things easier, the core problem lies with the perception of transgenders among policemen.
Naseem has seen this while helping out countless khawaja saras file FIRs. "Policemen always respond harshly," he says. "They tell khawaja saras, 'How can you register an FIR against the assaulter when this is your profession?'"
Preventing AIDS through better healthcare
Until the 18th Amendment was passed, AIDS control was a national subject. Now, it has been handed over to the provinces. KP, however, has not yet initiated a proper programme to address the virus, even though Rs500 million were allocated by the prime minister's special initiative program for the combined treatment of renal transplant, renal dialysis, hepatitis, AIDS and cancer.
Currently, there are only two centres treating HIV patients in KP: one in Peshawar's HMC, and another in the district of Kohat. HMC alone is treating over 2,000 patients, 75pc of them male. The rate has been steadily mounting since 2005, when only 35 patients reported to the facility for treatment.
The care centres provides treatment free of charge, and also deliver medicines and diagnostic tests as required. However, an official of KP health department privy to the matter says that "the government is not really interested in tackling the issue". The official spoke on condition of anonymity as he is not allowed to speak to the press.
Naseem has a recommendation: the government can help combat AIDS by establishing free-screening facilities and treatment centres in district headquarters' hospitals.
Combatting stigmas
"The disease spreads because of the stigma attached to it," believes Afridi, who has been working at the centre for six years. He explains that the stigma results in a lack of awareness, because sexual health ─ especially in the khawaja sara community's case ─ is simply not discussed.
"Instead, improper awareness campaigns indirectly contribute to its spread," he says.
Khawaja saras fear that if they are tested positive, they will be expelled from their community. Naseem believes this is another social stigma that comes in the way of better healthcare for the community.
"There is dire need of a mass awareness campaign through media and humanitarian agencies," emphasises Dr Afridi. Media coverage has helped them in this regard; every time they have been highlighted in the news, the centre's patient count has gone up.
*Names have been changed to protect privacy
This article was originally published here.