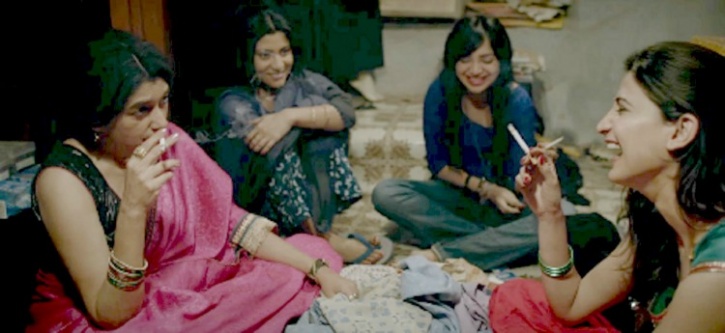 It has troubled me for a long time now that there are hardly any Bollywood block busters that focus on friendships between women. Bollywood has had countless films depicting friendships between men, such as Anand (1971), Sholay (1975), Dil Chahta Hai (2001), Rock On (2008), Zindagi Na Milegi Dobara (2009), 3 Idiots (2009) and Kai Po Che (2013), just to name a few. (I will not deny that we just got lucky in 2017 when the Central Board of Film Certification, after all the controversy, agreed to release Lipstick Under My Burkha). In most of these films, friendships between men are represented as long lasting and an intrinsic part of the protagonist's life – more important than family matters. Even though all the films I mention are works of fiction, I think even in the real world friendships between men are given more attention in middle-class society than strong friendships between women.
Friends are often not seen as an important part of women's lives by their families; girls are conditioned to think of friends as people who are in their lives only until they get married. It is expected that women will accept their husband's family and friends and limit or let go of their own friendships. Moreover, society views disagreements between friends in a gendered way: friendships between women are often discredited by just one argument, whereas two male friends arguing is seen as part of 'brotherly love'. In that sense, it is almost as if the patriarchal structures of family and marriage are at odds with the strength of friendships between women. But even outside the marriage framework, we are often surrounded by and live with dominant and internalized ideas about boyfriends and partners being of primary importance. The time, money and emotions people invest in sexual relationships signify the higher status that sexual relationships are given in society. Feminist and queer scholars who have written on the sexual politics have argued that the dominance of monogamous sexual relationships is embedded in the heteronormative culture (Warner, 1993 pp. xxi) which privileges reproductive sex (Rubin, 1984, pp. 278). Even though any critical analysis of monogamous or polyamorous sexual relationships in the contemporary Indian context is beyond the scope of this article, I think a limit of recreational time and money that women are allowed for themselves does make the world of friendship operate differently for men and women.
Friendships between women often fall back on the gender and sexual norms that exist for women. Family members and boyfriends and/or husbands often feel entitled to approve or disapprove of the friendships that the women in their lives develop. I remember in college, a close friend stopped talking to me because her boyfriend thought that I was 'too loud and too outgoing', probably a bad influence on her. In that sense, the markers of sexuality which define who a 'good', 'ideal' woman is, also decide who we are friends with, who we help out and who we can be 'seen' with. Women who have a reputation for being in multiple relationships, sex workers, single or unmarried women, lesbians and transgender people who are reading this will probably resonate with the experience of being categorized as a 'bad influence' on their peers.  The fact, also, is that many times they are the targets of violence and bullying in educational and work places by peers and authoritative figures for not falling within society's restrictive gender and sexual norms.
Not all friendships between women can be essentialised as being positive, supportive and subversive, given the fact that women too exhibit the tendency to judge or be biased. I also know that friendships, like all other relationships, can be difficult and tough, and demand both time and money. Sometimes when friends shift their priorities, it can leave one with a feeling of bitterness. Sometimes when friends take us for granted, one can feel disappointed. Sometimes when friends are not in the same city, one can feel lonely, unsettled and frustrated.
An expression of gender and sexuality without fear, shame and self-censorship is significant in developing deep attachment and intimacies, especially in a patriarchal context which restricts women's autonomy. Imagine calling up your friend in the middle of the night to tell them about the best orgasm you had, imagine receiving a call from your friend to help them out when they were harassed by the police for making out in public, imagine going on a risky Tinder date and experiencing the comfort of a friend who would help you escape if need be and would sleep next to you (after probably cursing a little bit). Many of us manage to end toxic relationships because of the emotional support of our friends. Developing these intimate friendships would mean thinking of a new ethics of friendship which allows for a space of expression of outlawed desires, and the happiness and the vulnerabilities attached to it.
References
Rubin, G. 1984. Thinking sex: Notes for a radical theory of the politics of sexuality in Carol Vance (ed.)Pleasure and Danger. Boston and London: Routledge.
Warner, M. (Ed.)1993. Introduction: Fear of a queer planet: Queer politics and social theory. (Vol. 6).University of Minnesota Press.